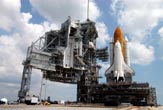 NASA's Discovery orbiter will fly next month, with concerns it could suffer damage from launch debris akin to that which doomed the Columbia mission all but settled, shuttle officials said Friday.
Modifications made to Discovery's external tank since April have lowered the risk from potentially harmful ice debris, which shuttle officials feared could shake off during launch and strike the orbiter, to within acceptable parameters, mission managers said. But more work is still needed to better understand the risk of ice debris striking an orbiter's protective thermal tiles, they added.
"This is going to require constant vigilance, but as far as [STS] 114 is concerned, I believe our concerns are put to bed," said John Muratore, NASA's manager for shuttle systems engineering and integration, during a teleconference with reporters. "We're ready to fly."
Muratore's comments came after shuttle managers concluded a debris verification meeting at NASA's Kennedy Space Center in Florida.
Discovery's STS-114 mission is slated to launch no earlier that July 13 and is expected to mark NASA's return to shuttle flight. NASA grounded Discovery and its two sister shuttles after the loss of the Columbia orbiter, which broke apart during reentry on Feb. 1, 2003, killing its seven-astronaut crew. The STS-114 mission is designed to test new shuttle flight safety methods and hardware, as well as resupply the International Space Station.
Shuttle officials will hold a flight readiness review meeting for the mission between June 29-30 before deciding on a final launch target.
"I would go the flight readiness review with the mindset that we could make the opening of the launch window," NASA space shuttle program manager Bill Parsons told reporters. "Where we are today, we have every opportunity to make the opening of the launch window."
Discovery's launch window stretches from July 13 to July 31. A second window, currently allocated to the second return-to-flight mission STS-121, opens on Sept. 9.
Launch debris work
External tank debris has been a major concern for shuttle managers and engineers preparing the Discovery orbiter for flight.
Investigators attributed the Columbia accident to a suitcase-sized chunk of insulating foam that separated from the Columbia's external tank at launch and struck the orbiter's left wing. That damage, investigators concluded, fatally wounded Columbia and allowed hot atmospheric gases to enter the wing during reentry, which led to its destruction.
Engineers spent two years redesigning portions of shuttle external tanks to cut down the amount of foam debris shaken loose during launch.
In late April, mission managers pushed back their initial May flight target to July after realizing that ice debris posed a larger hazard to the shuttle than previously thought, especially from a section known as the liquid oxygen feed bellows. That unit expands and contracts due to the supercold propellant that runs through it, allowing ice to form and potentially break loose at launch.
Discovery swapped external tanks earlier this month and is now attached to a tank equipped with a bellows heater to keep ice from forming on the bellows unit.
Meanwhile, an independent safety panel - the Stafford-Covey Return to Flight Task Group - is expected to hold its final public meeting on June 27. The group has monitored NASA's return to flight progress and passed the space agency on all but three of the 15 items which Columbia investigators recommended should be completed before the another shuttle launch is attempted. Those items included two debris mitigation recommendations and a third pertaining to orbiter repair.
"I believe that at least two of the remaining three will be closed," Parson said. "I'm fairly optimistic."
Fixing NASA: Complete Coverage of Space Shuttle Return to Flight