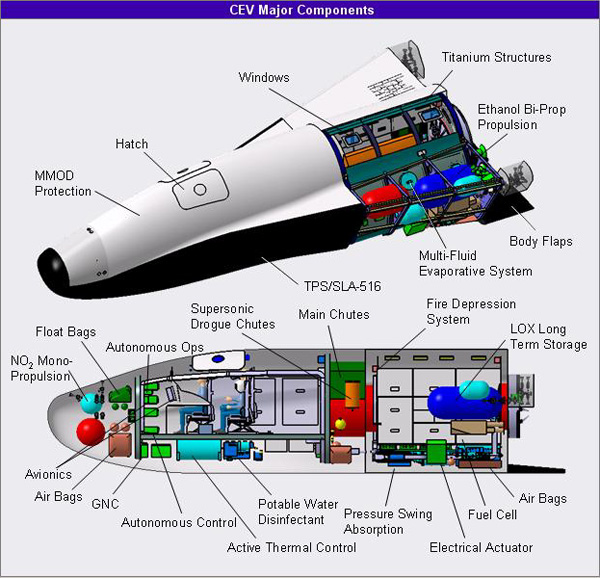 CAPE CANAVERAL - NASA's next spaceship almost certainly will launch from Florida's Space Coast.
Now, local and state economic development officials are mounting a campaign to build it here.
The recruitment effort got a boost this month when the Florida Legislature agreed to provide $3 million to help local and state officials woo companies competing for a multibillion-dollar contract to build the new spaceship, which will replace NASA's shuttles after they retire in 2010.
"We are reaching out to the contractors to see what it is that we need to do as a state to capture some of the work that, in the past, we haven't been able to do," said Lynda Weatherman, president and chief executive officer of the Economic Development Commission of Florida's Space Coast. "We're not just going to wait around."
Florida long has had a lock on the work necessary to prepare and launch NASA, Department of Defense and commercial space missions. But the rockets and spaceships that launch from the Space Coast always have been built in other states and transported here.
Weatherman's group, along with the Florida Space Authority and other organizations, hope they can persuade companies to build the Crew Exploration Vehicle in Florida.
NASA's aim to speed up development of the shuttle replacement might end up being a great selling point for Florida, Weatherman said. New Administrator Michael Griffin has accelerated NASA's plans, shifting the selection of a contractor from 2008 to 2006 in hopes the new ship can be spaceworthy by 2010 so the United States is not without its own way to get people to orbit.
The launch pads and processing facilities already in place at Kennedy Space Center and Cape Canaveral Air Force Station could be easily modified for use -- regardless of what kind of rocket system NASA chooses to get the spacecraft off the Earth.
Also, the state has a core of experienced space workers. That could help lure contractors looking to design and build a shuttle replacement on a tighter schedule than expected.
Another advantage: proximity to the launch sites. By building the spaceships in Florida, companies could save money because they would not have to transport them across the country.
Part of NASA's plan to return astronauts to the moon and later send human expeditions to Mars and other destinations in the solar system is keeping the cost within the agency's current share of the federal budget -- about 1 percent. Anything that keeps costs down, such as cutting the cost of getting the spacecraft to the launch site, could be attractive to the government when it selects a contractor.
Regardless of whether the new spaceship is built here, Florida government officials are aiming to capture other work from the vision for space exploration, most notably research and development. A new life sciences lab at KSC is one example.
"Whoever wins the contractor will be constructing the CEV wherever they want," said Sen. Bill Nelson, D-Melbourne, who flew on the shuttle in 1986. "But in the long-term future of KSC, I want to see it become more and more of a research and development center."
Published under license from FLORIDA TODAY. Copyright ? 2005 FLORIDA TODAY. No portion of this material may be reproduced in any way without the written consent of FLORIDA TODAY.