Virgin Orbit, the beleaguered satellite launch company that filed for bankruptcy close to two months ago, said it has agreed to sell key assets worth over $35 million to three aerospace companies and will cease operations.
The piecemeal sale of the California-based company — which was operating at a $50.5 million loss and filed for bankruptcy in early April, days after failing to secure long-term financing and furloughing all but 100 staff members — is subject to court approval today (May 24), "with the transactions expected to close shortly thereafter," according to a company statement on Tuesday evening (May 23).
California-based aerospace companies Stratolaunch, Rocket Lab and Launcher are the winning bidders of a weeks-long sale process that ended in a bankruptcy auction held on Monday (May 22), according to a new court filing. Six rockets in assembly stages are still pending sale, a Virgin Orbit spokesperson told CNBC's Michael Sheetz.
Related: Failed Virgin Orbit launch leaves open opportunity for UK as a space 'underdog'
Stratolaunch, the builder of the world's biggest airplane, called Roc, won its initial $17 million bid for Virgin Orbit's flagship carrier plane and related assets required to operate it. Cosmic Girl, a modified Boeing 747, hauled Virgin Orbit's LauncherOne rocket to high altitudes and then dropped it, after which LauncherOne made its own way to orbit. This air-launch system worked four consecutive times from January 2021 to July 2022, but the company's latest mission, in January of this year, failed, resulting in the loss of nine satellites.
Stratolaunch, which may use Cosmic Girl as a boost stage for its hypersonic Talon vehicle, will deposit the amount in escrow immediately after court approval, although the company has not yet publicly announced its bid.
Rocket Lab, a private spaceflight company providing launch services to the small satellite industry, was selected as the winning bidder for Virgin Orbit's headquarters and manufacturing facility in Long Beach, California. The $16.1 million deal includes the 144,000 square feet (13,400 square meters) of room, 3D printers, a specialty tank welding machine and other equipment at the location.
Rocket Lab said it hopes to use these assets to make progress on its new launch vehicle, called Neutron, a powerful, reusable rocket slated to debut in 2024. The company aims to fly heavier payloads, and eventually even astronauts, using Neutron.
Virgin Orbit's California headquarters, which are only a short drive away from Rocket Lab's main office, will provide engineering, manufacturing and test capabilities to the Neutron team, Rocket Lab said in a statement on Tuesday evening. The company added that it will not be using Virgin Orbit's launch system for existing launch services.
"With Neutron's design and development well-advanced, this transaction represents a capital expenditure savings opportunity to augment our production capability to bring Neutron to the launch pad quickly to serve our customers and their future success," Rocket Lab CEO Peter Beck said in the statement.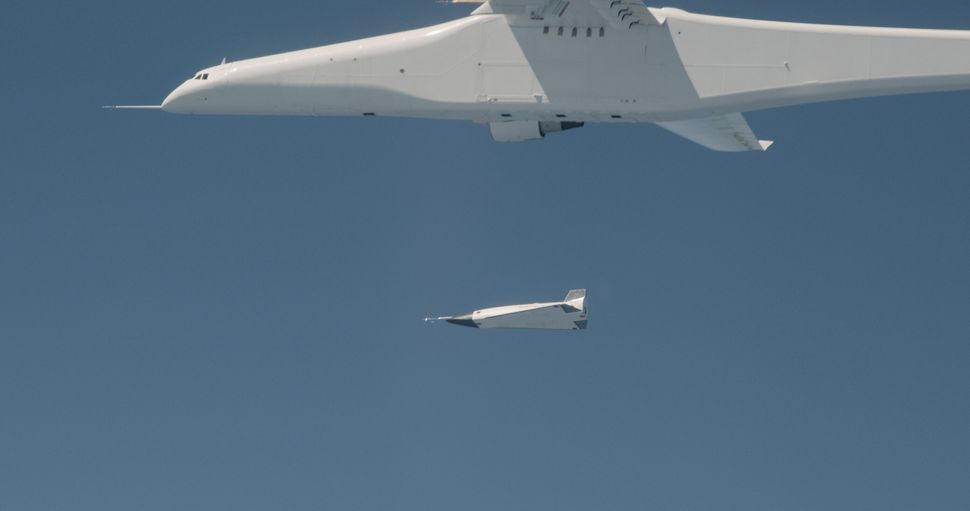 Space launch startup Launcher, which was recently acquired by space station builder Vast Space, won a $2.7 million bid for Virgin Orbit's test facility in Mojave, California. The deal includes rocket engine test stands, an aircraft hanger and associated machinery.
Launcher's parent company Vast Space, funded by a cryptocurrency billionaire, announced last year that it plans to build large, artificial gravity rotating space stations, in part to reduce bone loss and muscle wasting caused by long-term space missions. Details are few, but the company apparently aims to launch its first four-person space station by 2028 and a whole fleet of them across the solar system by the 2040s, according to its website. Meanwhile, Launcher's first-ever spacecraft stopped operating shortly after launching on a SpaceX Falcon 9 rocket early this year.
A liquidation company called Inliper won a $650,000 bid to buy Virgin Orbit's office equipment, according to Tuesday's court filing.
Virgin Orbit announced earlier this month that it had received interest for its assets from over 30 different parties, although none of them were obligated to continue operating the business as is. The distribution of various assets across three different companies confirms the folding of the company, whose sale hearing is scheduled in the Delaware court, where it first filed for bankruptcy, today at 2 p.m. EDT (1800 GMT).
Follow Sharmila Kuthunur on Twitter @Sharmilakg. Follow us on Twitter @Spacedotcom or Facebook.