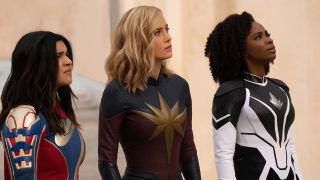 (Image credit: Disney/Marvel)
While the whole enterprise is still profitable and one of Disney's most reliable brands, the Marvel Cinematic Universe (MCU) has seen better days. That's a fact. Disney and Marvel Studios' operations have been spread too thin over the usual number of Marvel movies per year and all the Disney Plus shows (aka content) demanded by the streaming platform to stay afloat, and Nia DaCosta's The Marvels might be this model's biggest victim so far.
Ant-Man and the Wasp: Quantumania, released in February 2023, already felt like a wake-up call to Disney and Marvel. Even if you generally enjoyed the threequel, the cracks in the production and post-production process were becoming more and more apparent. Critics and audiences noticed, and this time it was proved that we weren't crazy as there were some issues surrounding VFX.
Later, the Nick Fury-led Secret Invasion limited series became the MCU's lowest-rated Disney Plus show so far and it felt like the excellent Guardians of the Galaxy Vol. 3 (an expected win that has "James Gunn" written all over it) was the only thing keeping the Marvel spark alive for now. Thankfully, the second season of Loki has made us believe there's still some hope left for the larger Multiverse Saga and Marvel Studios' once-natural knack for putting out quality entertainment.
Related: Marvel movies, ranked worst to best
The writers and actors strikes (finally resolved now) have also messed with whatever release schedule plans were in place after the Quantumania and Kang drama, but we'd like to believe this has given Disney and Marvel extra time to rethink how to approach these movies and shows moving forward. Looking at The Marvels, which is kind of a giant mess, it's very evident there are too many cooks in the kitchen cooking too many dishes at once.
Those familiar with Nia DaCosta's work (go watch her Candyman sequel) might forget over the movie's short runtime that she supposedly was behind the cameras for this one. Beyond the Teyonah Parris (Monica Rambeau) connection, her spirit simply isn't here. There are some inspired action moments – mostly related to the tangled powers of the protagonists – and two or three off-beat sequences which remind us of James Gunn's zany science fiction, but this comes across as the producer-helmed project that DaCosta herself essentially confirmed weeks ago.
A lack of audiovisual personality isn't what kills The Marvels though (it at least looks marginally better than Captain Marvel's solo movie). It's the nightmarish editing which feels straight out of 2016's Suicide Squad and Joss Whedon's Justice League, (part of the DC Extended Universe movies collection) coupled with a script reminiscent of a four-issue, middle-of-the-series comic book arc designed to kill the time between major events for the main characters. For a movie whose main hook is the first-ever live-action team-up between Carol Danvers aka Captain Marvel (Brie Larson), Kamala Khan aka Ms. Marvel (Iman Vellani) and Monica Rambeau (Teyonah Parris), the whole affair feels shockingly mundane.
Spoilers ahead for 'The Marvels' and its mid-credits scene.
Things start off on the wrong foot as we're introduced to Zawe Ashton's Dar-Benn, a member of the problematic Kree empire (Carol's former allies-turned-enemies). She who wants to save her planet by killing off others with the help of an ancient bangle identical to the one Kamala Khan found back on Earth. The bangle allowed the heroine to use her dormant mutant powers (something which isn't acknowledged here at all), but we also saw them literally transport Kamala across time and space, and that's what Dar-Benn wants them for: to open scary portals in the sky for the eleventh time in the MCU. Wait, you were expecting something more creative given the bangle's powers? Ha, don't be silly!
Dar-Benn is the kind of villain that already felt "whatever" back in 2013 (the Thor 2 vibes are strong with this one). This late into the MCU's grand on-screen history, you know they're just filler tyrants biting more than they can chew with zero development, and that's exactly what happens here. At least, she's not presented as a very reasonable villain who makes good points until she randomly becomes a terrorist. No, she's awful from the get-go.
The role of the forever-doomed Skrulls in this story is kind of baffling too. We get to see the faraway colony that was briefly mentioned during Secret Invasion, but their presence is reduced to being the first victims of the big purple portals that suck up whatever Dar-Benn needs to restore her post-apocalyptic world. All the stuff about peace talks between the Kree Empire and the Skrull people happens off-screen, much like Captain Marvel's return to kick the Supreme Intelligence's butt after messing with her head for years. The things that should've been the backbone of the Captain Marvel sequel are actually footnotes, much like Brie Larson's presence in more than one scene.
It's hard to deny the idea of Captain Marvel returning to retaliate against the Kree and dooming an entire world in the process sounds conceptually amazing, however we barely get to feel how she feels about that whole thing. Instead, she's slightly grumpy about Dar-Benn trying to fix her planet by breaking others, which could easily be unconscious commentary on the Multiverse Saga's ongoing issue of making many "solo" movies more boring for the greater good.
Also, is it just us or was Carol nerfed in this one? After going "Super Saiyan" at the end of the first movie and becoming so incredibly powerful that she had to be written out of most of Avengers: Endgame, it feels odd to see her not straight-up obliterating a Kree Accuser and her goons.
On a more positive note, the chemistry between the three leads is good. In fact, their quick banter and a sweet training montage are the most entertaining bits of the movie. When surrounded by Teyonah Parris and Iman Vellani, however, Larson tends to get the short end of the stick. The juice is there, yet anything close to interesting about the character is relegated to quick flashbacks. These only serve to contextualize the plot which often made us wonder if we had missed a show or movie due to how fast-paced and overcut the 105-minute runtime is.
If anything, the producers realized early on the heart of the movie was Iman Vellani and her portrayal of Kamala Khan. It speaks volumes about the character and the actress that Ms. Marvel remains a fan-favorite addition to the MCU's post-Endgame era in spite of how mediocre the projects she's been a part of so far are. Her relationship with Carol could've been one-note and grating, yet it comes across as sincere and develops into mutual respect as the adventure goes on. This might also explain why the Kamala-led final scene of the movie feels like a mid-credits scene brought forward only because she's so cool.
Speaking of stingers, there's only one mid-credits scene in the movie and it's kind of huge. Following several teases in recent weeks, the X-Men are brought into the MCU after Charles Xavier's part in Doctor Strange in the Multiverse of Madness. For plot reasons (and future crossover plans, of course), Monica Rambeau ends up stuck on a different reality's Earth. One where the X-Men are a thing. She's greeted by Beast (seemingly played by Kelsey Grammer, although redesigned) and her mother, who's Binary in that universe. Expect more X-Men goodness next year – if everything goes according to plan – in Deadpool 3.
Amidst all the tonal and narrative chaos caused by a weightless script and disastrous editing, The Marvels' best moments comes from its simpler ideas and character-centric moments. Seeing the three heroines work together is a delight even when the action and the scenery fails to impress. Plus, Samuel L. Jackson clearly isn't tired of playing Nick Fury after more than 15 years and everything about the Flerken (alien cats) rocks. Another nice bonus – probably caused by the strategic delays of the movie calendar – is that most of the CGI work doesn't look as poor as in other recent Marvel releases.
For many, all these positives will be more than enough to justify the trip to the cinema. On the other hand, it's only natural and logical to expect more from Marvel Studios, or at the very least a movie which isn't fundamentally broken and botched in the editing room. When you leave the cinema thinking about similarities to the DC Extended Universe's lowest lows, maybe things aren't great right now at the House of M.
Get the Space.com Newsletter
Breaking space news, the latest updates on rocket launches, skywatching events and more!
Fran Ruiz is our resident Star Wars guy. His hunger for movies and TV series is only matched by his love for video games. He got a BA of English Studies, focusing on English Literature, from the University of Malaga, in Spain, as well as a Master's Degree in English Studies, Multilingual and Intercultural Communication. On top of writing features and other longform articles for Space.com since 2021, he is a frequent collaborator of VG247 and other gaming sites. He also serves as associate editor over at Star Wars News Net and its sister site, Movie News Net.
I'm going to be honest. And I'm just being honest here. This review sucks. Easily one the worst most obvious bias articles I've ever read.

Reply