SpaceX's powerful Falcon Heavy rocket is getting ready to fly again.
The Falcon Heavy has launched four times to date, most recently on Nov. 1, 2022. That flight, for the U.S. Space Force, was the first in 40 months for the heavy lifter.
There will be no such long drought between flights four and five, for SpaceX is already prepping the next Falcon Heavy for liftoff at NASA's Kennedy Space Center in Florida.
"Falcon Heavy in the hangar at Launch Complex 39A in Florida," SpaceX said via Twitter on Saturday (Jan. 7), in a post that included two photos of the massive rocket and its 27 first-stage engines.
Indeed, the launch is currently targeted for Friday (Jan. 13), according to EverydayAstronaut.com.
Related: Why SpaceX hadn't flown a Falcon Heavy rocket since 2019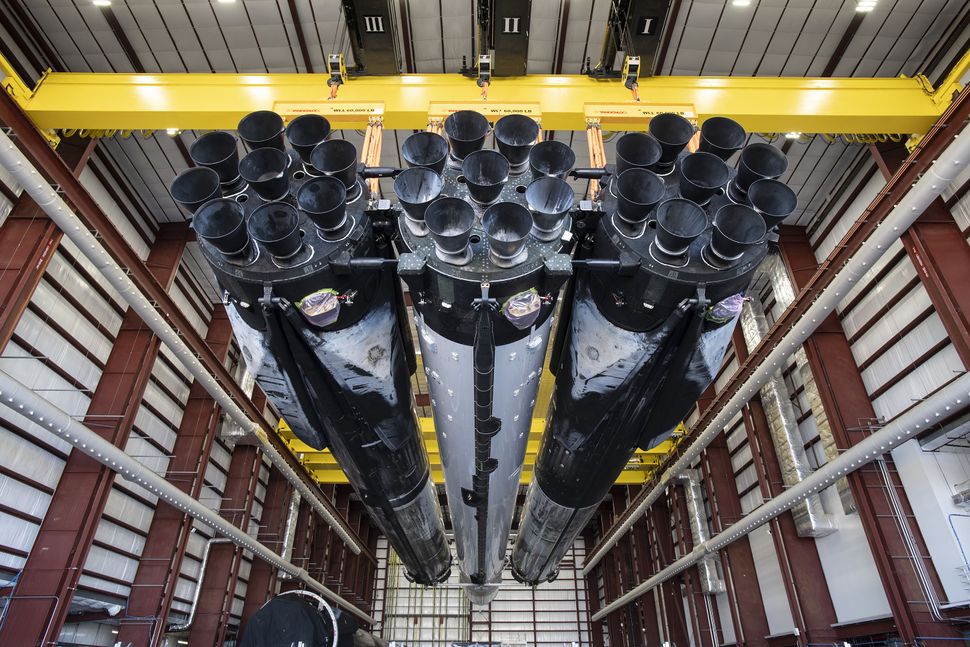 The Falcon Heavy is based on SpaceX's workhorse Falcon 9 rocket. It consists of three strapped-together Falcon 9 first stages, with the central booster topped by an upper stage and the payload(s).
The Falcon Heavy is capable of delivering nearly 141,000 pounds (64,000 kilograms) of payload to low Earth orbit, compared to 50,265 pounds (22,800 kg) for the Falcon 9, according to the vehicles' specification pages.
The SpaceX heavy lifter generates more than 5 million pounds of thrust at liftoff, which made it, until recently, the most powerful rocket in operation. NASA's Space Launch System megarocket, which produces about 8.8 million pounds of thrust, took that mantle after launching the Artemis 1 moon mission on Nov. 16.
Like the November 2022 flight, the upcoming flight, known as USSF-67, was purchased by the U.S. Space Force.
USSF-67 will carry classified payloads to geostationary orbit, about 22,200 miles (35,700 kilometers) above Earth, according to SpaceNews.
Mike Wall is the author of "Out There" (Grand Central Publishing, 2018; illustrated by Karl Tate), a book about the search for alien life. Follow him on Twitter @michaeldwall. Follow us on Twitter @Spacedotcom or Facebook.