Michael Collins, Apollo 11 astronaut who orbited moon, dies at 90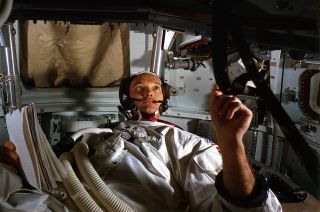 (Image credit: NASA)
Gemini and Apollo astronaut Michael Collins, who orbited the moon during the world's first lunar landing mission, has died at the age of 90.
Collins' death on Wednesday (April 28) was made known his family and NASA.
"We regret to share that our beloved father and grandfather passed away today, after a valiant battle with cancer. He spent his final days peacefully, with his family by his side," Collins' family said in a statement. "Mike always faced the challenges of life with grace and humility, and faced this, his final challenge, in the same way. We will miss him terribly. Yet we also know how lucky Mike felt to have lived the life he did. We will honor his wish for us to celebrate, not mourn, that life."
"Please join us in fondly and joyfully remembering his sharp wit, his quiet sense of purpose and his wise perspective, gained both from looking back at Earth from the vantage of space and gazing across calm waters from the deck of his fishing boat," his family said.
NASA responded with a statement by acting administrator Steve Jurczyk.

"NASA mourns the loss of this accomplished pilot and astronaut, a friend of all who seek to push the envelope of human potential. Whether his work was behind the scenes or on full view, his legacy will always be as one of the leaders who took America's first steps into the cosmos. And his spirit will go with us as we venture toward farther horizons," said Jurczyk.

Related: Michael Collins, Apollo 11 Command Module Pilot
As the command module pilot on NASA's Apollo 11 mission, Collins circled the moon while Neil Armstrong and Buzz Aldrin touched down at Tranquility Base on July 20, 1969. When his two crewmates returned from the surface, Collins was in the unique position to capture a photo of all of humanity — his fellow astronauts on board the lunar module and everyone else on Earth off in the distance.
Mission Control likened Collins' experience to that of the first human in existence. "Not since Adam has any human known such solitude," a mission commentator said. Collins later rejected that notion.
"That's baloney," Collins said on the 50th anniversary of the Apollo 11 mission in 2019. "You put some Samoan on his little canoe out in the middle of the Pacific Ocean at night and he doesn't really know where he's going, he doesn't know how to get there. He can see the stars, they're his only friend out there, and he's not talking to anybody. That guy is lonely."
"Columbia [the command module] was a nice, secure, safe, commodious place. I had hot coffee, I had music if I wanted it, I had nice views out the window," Collins said in an interview with collectSPACE.com.
Alone at the moon: What Michael Collins thought during the Apollo 11 landing?
Path to the moon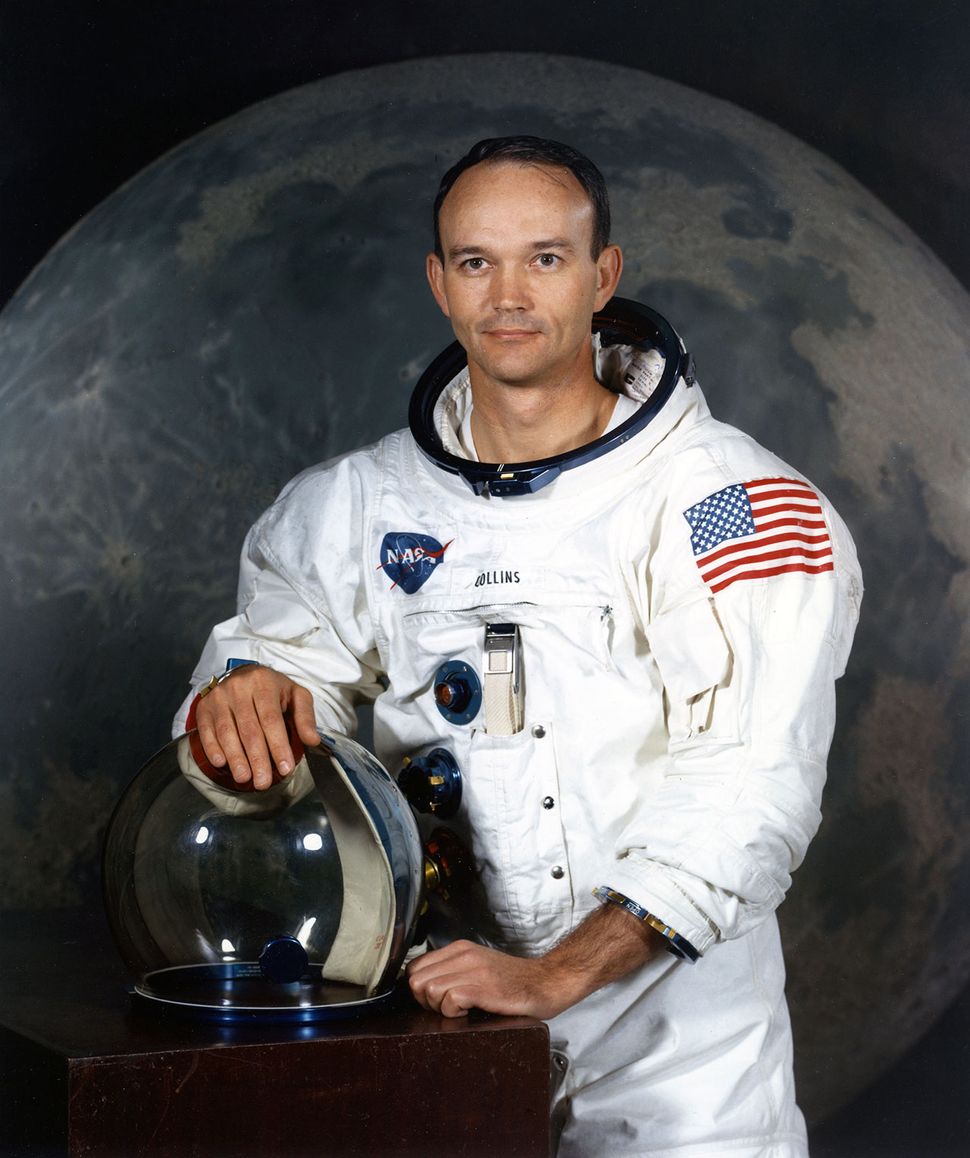 A member of NASA's third group of astronauts selected in 1963, Collins path to joining the first moon landing began with a three-day flight in Earth orbit. Assigned as the pilot aboard Gemini 10, Collins launched with John Young in July 1966 on a mission that demonstrated rendezvous and docking with two rocket stages.
Collins performed two spacewalks on Gemini 10, becoming only the fourth person to exit a spacecraft to work in the vacuum of space. On his second extravehicular activity (EVA), Collins became the first astronaut to transfer to another vehicle, retrieving a cosmic dust collector from the exterior of an earlier launched Agena target stage. His spacewalk, though, was not without difficulty.
"I arrive at this goddamned Agena, which is not meant to be grabbed, and I've got to grab it," Collins said in a 1997 NASA oral history interview. "So, the first time I grabbed it, I went to the end of it and it had a docking collar. Docking collars are built to be nice and smooth so that the probe that goes into them will be forced into them. They have smooth lips and edges on them, and that's what I was grabbing."
Gemini 10: NASA's epic 1st double rendezvous mission in photos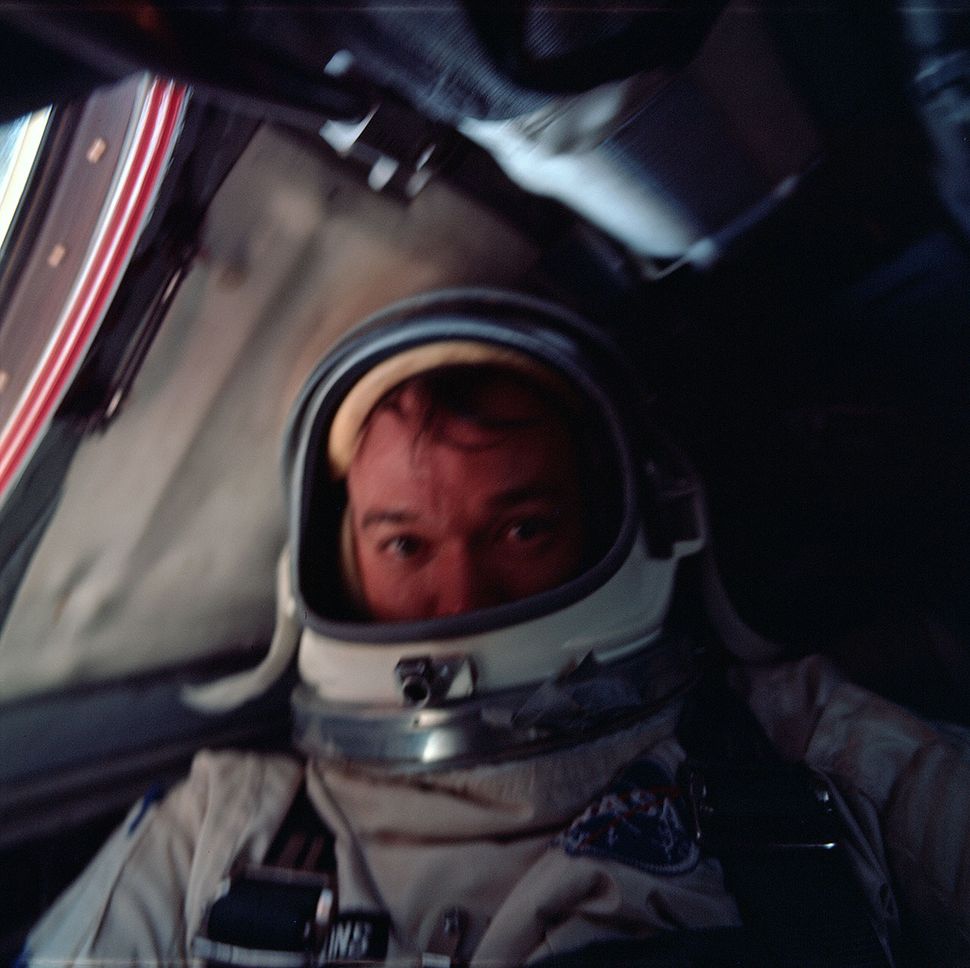 "Well, I grabbed the docking collar. It wasn't meant to be grabbed — bulky glove[s], and my momentum is still carrying me along, so I just slipped, and as I went by, then I went cartwheeling ass over teakettle, up and around and about, until I came to the end of my tether and then it swung me in a great big arc," he said.
Collins used a handheld gas thruster to get himself under control and after Young moved the Gemini capsule closer, tried again, this time successfully grabbing hold of some wires on the Agena to steady himself.
"It was more acrobatics and a guy on a trapeze and stuff that you don't think about in the space program," said Collins. "If we'd really given it more thought, we would have said, 'Well, when you get over there what are you going to grab? And then what are you going to grab it with, which hand? How are you going to stabilize it? Where are you going to put your hand and your feet, and what's going to hold you in place?'"
"Maybe the answer would have been, 'Hey, you get Lockheed to install a couple of handholds on the front end of that Agena,' and then it would have been a relatively simple thing. But we didn't think of it," he said.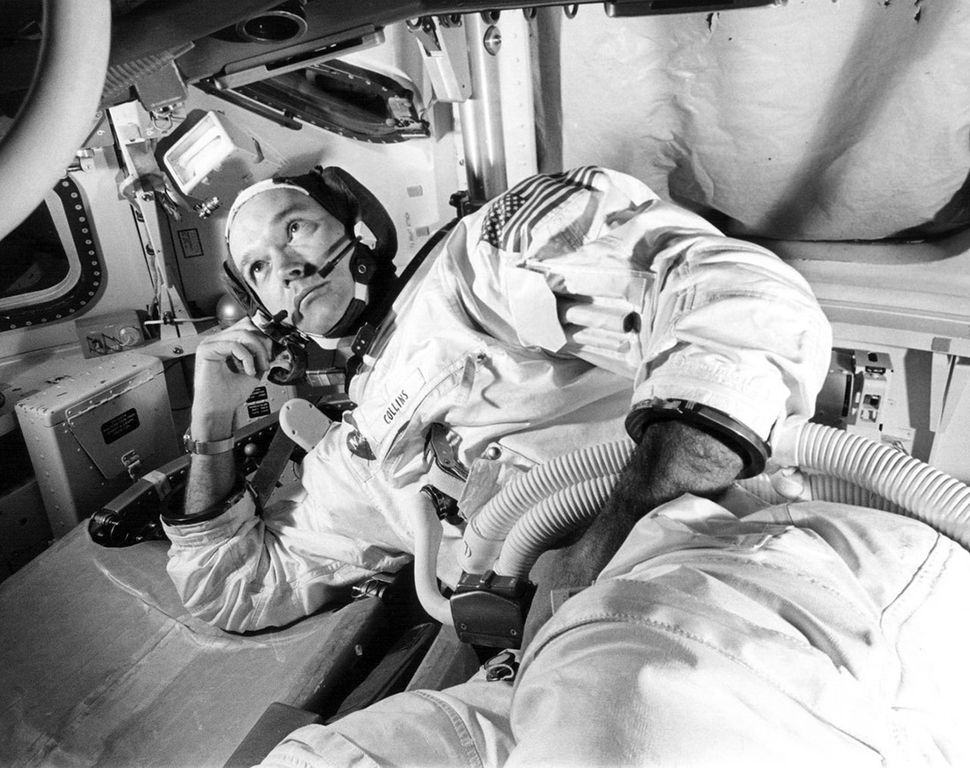 After Gemini 10, Collins was assigned to what was slated to be a test of the complete Apollo spacecraft in Earth orbit (that flight, Apollo 8, later was changed to be the first mission to send humans into orbit around the moon). In the course of his training, though, Collins developed problems with his legs and ultimately required surgery to correct for a cervical disc herniation. Given the time needed for his recovery, Collins was removed from the crew and reassigned to Apollo 11.
Though he later pondered if Apollo 8 might someday be seen as the more historic mission ("As you look back 100 years from now, which is more important, the idea that people left their home planet or the idea that people arrived at their nearby satellite?"), Collins was very happy to be part of the Apollo 11 crew — even if he was not one of the moonwalkers.
"It's one of the questions I get asked a million times, 'God, you got so close to the moon and you didn't land. Doesn't that really bug you?' It really does not," he said.
"I honestly felt really privileged to be on Apollo 11, to have one of those three seats. I mean, there were guys in the astronaut office who would have cut my throat ear to ear to have one of those three seats. I was very pleased to have one of those three," Collins said. "Did I have the best of the three? No. But was I pleased with the one I had? Yes! And I have no feelings of frustration or rancor or whatever. I'm very, very happy about the whole thing."
Among his many contributions to the mission was the design of the Apollo 11 patch. Following a suggestion by backup crew member Jim Lovell, Collins sought to incorporate the American eagle into the emblem.
"Of course! What better symbol — eagles landed, didn't they?" he recounted in his memoir "Carrying the Fire: An Astronaut's Journey" published in 1974. "At home I skimmed through my library and finally found what I wanted in a National Geographic book on birds: a bald eagle, landing gear extended, wings partially folded, coming in for a landing. I traced it on a piece of tissue paper and sketched in an oblique view of a pockmarked lunar surface. Thus the Apollo 11 patch was born."
Having decided before Apollo 11 lifted off that it would be his last mission, Collins splashed down from the moon having accumulated a total of 11 days, 2 hours and 4 minutes in space over the course of his two flights.
Around the world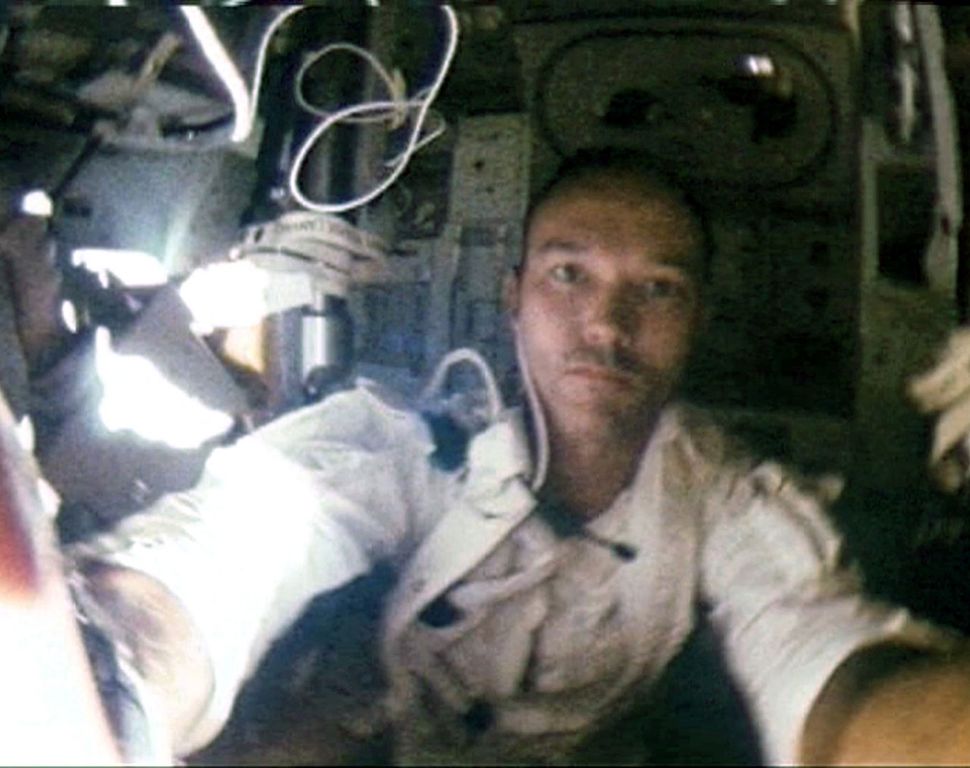 Michael Collins was born on Oct. 30, 1930, in Rome, Italy, where his father, a career U.S. Army officer, was stationed. After moves from Oklahoma to New York to Maryland to Ohio to Puerto Rico to Texas to Virginia, Collins attended St. Albans preparatory school in Washington, D.C. He then received an appointment to the U.S. Military Academy at West Point, New York, where Collins earned his Bachelor of Science in 1952.
Enlisting in the Air Force, Collins was trained on and flew F-86 fighter jets out of Nellis Air Force Base in Nevada and George Air Force Base in California, before being assigned overseas to the Chambley-Bussières Air Base in France and to West Germany during the 1956 Hungarian Revolution. He returned to the U.S. the following year, where he attended an aircraft maintenance officer course and then commanded a mobile training detachment, traveling to air bases around the world.
In 1960, Collins reported to the Air Force Experimental Flight Test Pilot School (later Aerospace Research Pilot School) at Edwards Air Force Base in California, where he joined the same trainee class as fellow future astronauts Frank Borman, Jim Irwin and Thomas Stafford. He applied for NASA's second class of astronauts but was not selected.
Instead, in 1962, he took a postgraduate course on the basics of spaceflight, which included flying F-104 supersonic jets to 90,000 feet (27,000 m) and training in weightlessness on parabolic flights. He graduated and returned to fighter operations at Randolph Air Force Base in Texas when he was accepted with the third group of NASA astronauts.
Prior to flying on Gemini 10, Collins' first assignment was to specialize in the development of the program's spacesuits. He then served as backup pilot for the Gemini 7 mission.
Prior to the 1967 Apollo 1 fire, which claimed three astronauts' lives, Collins was training with Borman and Stafford for the then-planned second crewed flight of the Apollo program (in the wake of the tragedy, the mission was canceled).
Had he chosen to stay in the astronaut corps after the Apollo 11 mission, Collins believed he would have been offered a spot on the Apollo 14 backup crew, likely leading to him to commanding Apollo 17, the final moon landing, in 1972.
"In June 1969, I couldn't even count to 17, nor do I have any regrets today over the decision," Collins wrote in 1974. "Still, I watched Gene Cernan with more than average interest during that flight three and half years later."
Instead, after spending 21 days in quarantine to protect against any possible "moon germs," riding in ticker tape parades in New York and Chicago, attending a state dinner, addressing a joint meeting of Congress and touring 22 countries in 38 days, Collins resigned from NASA in January 1970.
After the moon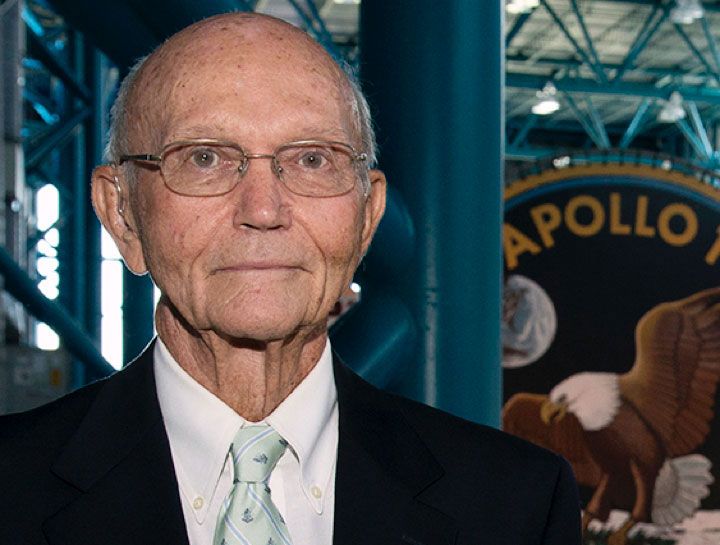 Recruited by the Nixon Administration, Collins accepted a position as Assistant Secretary of State for Public Affairs, but found he did not enjoy the job and left after a year to become the first director of the Smithsonian Institution's National Air and Space Museum.
Collins advocated for its funding and oversaw the museum being built once its budget was approved by Congress. He presided over the museum's opening on July 1, 1976, when his Apollo 11 command module, Columbia, and many of his own personal effects flown on the mission went on public display.
Collins headed the National Air and Space Museum until 1978, when he became undersecretary of the Smithsonian. He completed Harvard Business School's advanced management program in 1974 and took a position as vice president of LTV Aerospace, a NASA contractor, in 1980.
In 1982, Collins retired from the Air Force with the rank of Major General. In 1985, he left LTV to found his own consulting firm.
In addition to "Carrying the Fire," which is still held as the best of the astronaut memoirs, Collins authored "Flying to the Moon and Other Strange Places" (Farrar, Straus and Giroux, 1976), "Liftoff! The Story of America's Adventure in Space" (Grove Press, 1988) and "Mission To Mars: An Astronaut's Vision Of Our Future" (Grove Weidenfeld, 1990).
For his service to the space program, Collins was honored with many awards, including the NASA Exceptional Service Medal, the NASA Distinguished Service Medal and the Legion of Merit. With his Apollo 11 crewmates, he was bestowed the Collier Trophy, the Presidential Medal of Freedom, the Harmon Trophy and the Congressional Gold Medal. He was also inducted into the U.S. Astronaut Hall of Fame and the National Aviation Hall of Fame.
A crater on the moon and an asteroid were named in Collins' honor. Armalcolite, a mineral first found at Tranquility Base, includes part of his name, along with those of his crewmates. With Armstrong and Aldrin, a statue of Collins stands at NASA's Kennedy Space Center in Florida and his name appears on four round plaques on the Hollywood Walk of Fame.
Collins played an "Old Man" in the 2009 film "Youth in Revolt," and appeared as himself in the feature-length documentaries "In the Shadow of the Moon" (2007), "Armstrong" (2019) and "Apollo 11" (2019). He was portrayed by actors Jim Metzler ("Apollo 11," 1996), Cary Elwes ("From the Earth to the Moon," 1998), Lukas Haas ("First Man," 2018), Ryan Kennedy ("For All Mankind," 2019) and Andrew Potts ("The Crown," 2019).
Collins was preceded in death by his wife of 57 years, Patricia Finnegan, and son, Michael. He is survived by two daughters, Kate Collins and Anne Collins Starr, and seven grandchildren.
Editor's note: This story was updated at 3:30 pm ET to include comments from acting NASA administrator Steve Jurczyk.
Follow collectSPACE.com on Facebook and on Twitter at @collectSPACE. Copyright 2021 collectSPACE.com. All rights reserved.
Get the Space.com Newsletter
Breaking space news, the latest updates on rocket launches, skywatching events and more!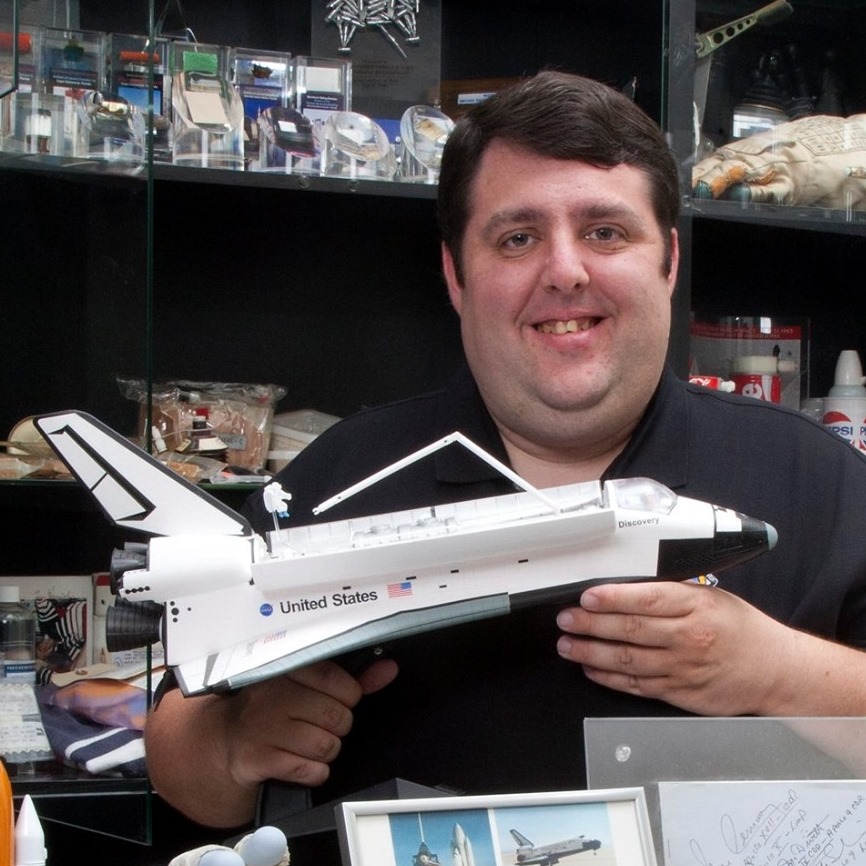 collectSPACE.com Editor, Space.com Contributor
Robert Pearlman is a space historian, journalist and the founder and editor of collectSPACE.com, an online publication and community devoted to space history with a particular focus on how and where space exploration intersects with pop culture. Pearlman is also a contributing writer for Space.com and co-author of "Space Stations: The Art, Science, and Reality of Working in Space" published by Smithsonian Books in 2018. He previously developed online content for the National Space Society and Apollo 11 moonwalker Buzz Aldrin, helped establish the space tourism company Space Adventures and currently serves on the History Committee of the American Astronautical Society, the advisory committee for The Mars Generation and leadership board of For All Moonkind. In 2009, he was inducted into the U.S. Space Camp Hall of Fame in Huntsville, Alabama. In 2021, he was honored by the American Astronautical Society with the Ordway Award for Sustained Excellence in Spaceflight History.