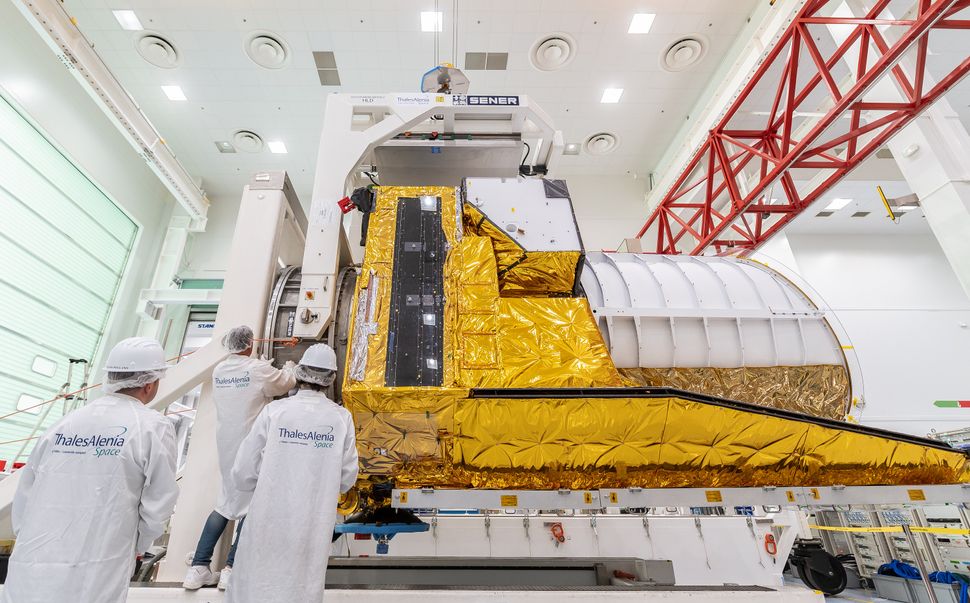 Europe's newest space telescope is set to cross the ocean ahead of its voyage to space this summer.
The Euclid spacecraft recently completed a rigorous environmental and mechanical testing program at a facility in Cannes, France, Thales Alenia Space, the prime contractor for the Euclid satellite, said in a statement on Friday (April 14).
Euclid has been transported by road to the port of Savona in Italy and will soon set sail for a port near its launch site, Florida's Cape Canaveral Space Force Station. The telescope is due to launch on a SpaceX Falcon 9 rocket in July.
Related: Euclid mission could solve 2 of the universe's biggest mysteries
The spacecraft — named for the Greek mathematician Euclid of Alexandria — will map the geometry of matter in the universe and investigate the history of its accelerating expansion.
By looking at galaxies up to 10 billion light-years away, Euclid aims to provide insight into how dark energy and dark matter have impacted the development of the cosmos and the mysteries of the dark universe itself.
After launch, Euclid will have a roughly 30-day journey to the Sun-Earth L2 Lagrange point. L2 is a gravitationally stable area around 1 million miles (1.6 million km) away; it's inhabited by other observatories, including the James Webb Space Telescope.
More than 80 European companies were involved in the making of Euclid, with Airbus Defense and Space delivering the payload module encasing visible near-infrared sensors. The pair of instruments were developed by an international consortium led by the Paris Astrophysics Institute (IAP).
Euclid was originally planned to launch on a Russian Soyuz rocket from Europe's spaceport in French Guiana, but Russia's invasion of Ukraine brought an end to the launch agreement.
Follow us @Spacedotcom, or on Facebook and Instagram.