Chinese Military Communications Satellite Reaches Orbit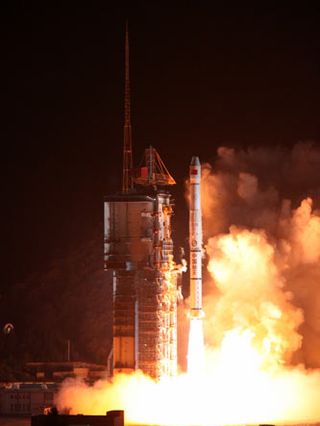 (Image credit: China Academy of Launch Vehicle Technology)
Chinaorbited a militarycommunications satelliteWednesday (Nov. 24) on a Long March rocket, continuing the country'sbusiestyear of space launches since the Chinese space program dawned more thanfourdecades ago.
TheLong March 3A rocket launched at 1609 GMT (11:09 a.m. EST) Wednesdayfrom theXichang space base in southwestern China's Sichuan province. It wasjust aftermidnight Thursday morning at the launch site. [Photoof theLong March 3Alaunch]
The172-foot-tall rocket delivered the Zhongxing20A communicationssatelliteto a geosynchronous transfer orbit stretching from alow point of 125 miles to a high point of 26,000 miles, according totrackingdata. The satellite will use an on-board propulsion system to reach anear-circular orbit about 22,300 miles above Earth.
Zhongxing20A, also known as Chinasat 20A, is believed to be a Chinesemilitary communicationssatellite.Official state-owned media reported the spacecraftwould help improve the country's radio and television broadcasts.
Butthe satellite likely provides secure communications coverage forChinese groundforces.
Thespacecraft is based on the DFH-3 satellite bus from the China Academyof SpaceTechnology. It likely weighed about 5,000 pounds fully fueled atliftoff.
Theflight was the 14th successful Chinesespace launch this year, setting a new mark for thecountry's launchindustry. Before 2010, China had launched no more than 11 rockets intoorbit ina single year.
MakingHistory:China's First HumanSpaceflight
ChinaUnveilsFirst Moon Photos FromNew Lunar Orbiter
Copyright 2010 SpaceflightNow.com,all rights reserved.
Get the Space.com Newsletter
Breaking space news, the latest updates on rocket launches, skywatching events and more!
Spaceflightnow.com Editor
Stephen Clark is the Editor of Spaceflight Now, a web-based publication dedicated to covering rocket launches, human spaceflight and exploration. He joined the Spaceflight Now team in 2009 and previously wrote as a senior reporter with the Daily Texan. You can follow Stephen's latest project at SpaceflightNow.com and on Twitter.