Astronauts Offer Their Thanks, Giving Space on the Shuttle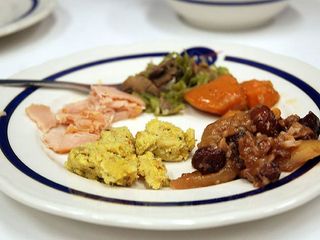 (Image credit: <a href="http://www.collectSPACE.com">collectSPACE.com</a>.)
Spaceshuttle Endeavour's crew of seven American astronauts are spending Thanksgivingon the International Space Station today, sharing a traditional (well, almost)dinner with the outpost's three residents and offering their gratitude to thosewho got them there through a small, but special payload.
"Theysent us up with enough meals for the shuttle crew for Thanksgiving, with turkeyand cornbread dressing, a cranberry dessert, and candied yams, and... greenbean casserole," STS-126 mission specialist Stephen Bowen described onTuesday during an in-flight media interview. "Since then, we've been kindof collecting food now that we're going to be here with the ISS crew, and nowwe are going to have enough food for everybody onboard, which is part ofThanksgiving anyway, sharing what you have."
If thethought of a space food Thanksgiving brings to mind squeezetubes, think again. This is not your father's three-course astronautdinner.
"Itmay be called space food, but it is actually very good," added Endeavour'scommander Chris Ferguson. "A lot of it is thermostabilized, a lot of themeals come from the military and it's food like you and I enjoy at home. I'mfrom the Navy and I like Navy food, and I enjoy space food as well."
Don't letFerguson fool you, though. There is something missing from his idealThanksgiving meal aboard the ISS.
"Ilike the white meat with the gravy, that's my favorite," he admitted in apre-flight interviewwith collectSPACE.com. Though their menu includes smoked breastmeat, NASA hasn't yet perfected the art of flying gravy.
"It isa little more challenging when you can't open every thing up in the same wayand put dressings on," explained pilot Eric Boe. "It is usuallybunched together but that is usually how it ends up on my plate anyway, so I amsure it is going to taste great."
For missionspecialist Shane Kimbrough, it is not about the dressing, but how the turkey isprepared.
"Justa fresh one that came out of the oven, which we won't have," he shared ofhis favorite kind of turkey. The ISS's galley has an oven, but its more of afood warmer than it is capable of baking. "I am not sure I am going to getmy wish," resigned Kimbrough.
And thoughshe said she prefers dark meat, Heidemarie Stefanyshyn-Piper was more concernedabout the sides.
"Ilike my stuffing," she stated proudly. "I don't know what makes itspecial, but I think it is the way I like it. I use bread cubes instead ofbread crumbs. I know some people will sometimes run it through a food mill orsomething, but I like the chunkiness. I put celery and onions, and I even put alittle mushrooms in there. I just like the textures in it. And it's mine."
Accordingto Stefanyshyn-Piper, there just wasn't enough time before the flight to gether stuffing packed for launch.
Thanks-giving
What did makeit aboard Endeavour were small souvenirs intended to convey the crew'sgratitude for those close to them.
"Ihave brought a lot of things for the folks who worked on this mission,"Ferguson explained. "The first time I flew, I brought the things I wanted,like the flags for my home school, a t-shirt for my high school. But I haveasked a lot of the folks who worked very hard this flight, and there are thousands,but the folks who we worked day in and day out, 'Is there anything I could takefor you on the shuttle?'"
"Thatis my way for just giving a little back," he shared.
The crewmembers, as well as divisions within NASA and its contractors, can request tohave items flown inside the OfficialFlight Kit (OFK). Limited to two cubic feet (0.057 cubic meters) insize, the OFK is flown on every mission as a means of providing a token ofgratitude to the groups that contribute to the mission's (and astronauts')success.
Boe, wholike Kimbrough and Bowen was making his first spaceflight, wanted to give backto the organizations that prepared him to launch into orbit.
"FromGeorgia Tech, I have a shirt that is going up, and I have a cap from the AirForce Academy." He also took "a few odds and ends from the units Iwas in or programs that I participated in along the way."
Stefanyshyn-Pipercarried items for similarreasons as she did on her first mission, STS-115, in 2006.
"Thereare similar items but they are different. Like on the last flight, I flew aswim cap for my son's high school swim team. Well this time, I have got one forhis college swim team. And like I flew last time in honor of my father, I havea small Ukrainian flag."
"Kindof have to spread the wealth a little bit to give other people the opportunityto have a flown item in space," she added.
And as thesaying goes, sometimes what comes around, goes around.
"I'mbringing up my spoon," STS-126 mission specialist Don Pettit told collectSPACE.com."It's a Russian spoon and it has this really long handle."
Pettit wasgifted the spoon, which has come to be known as the "Spoon ofExploration", during his 2002 five-month stay aboard the space station.Since then, he's taken it with him on his other NASA expeditions to Antarcticaand elsewhere.
"It'sdesigned for on-orbit use. It's really good for digging down into a deep pouchthat has food in it so you don't get your fingers all gooey," Pettitdescribed, which should be perfect for the Thanksgiving meal he'll be sharingwith his crewmates.
Readthe complete the manifest of the STS-126 Official Flight Kit, onlyat collectSPACE.com.
NASA isproviding live coverage of Endeavour's STS-126 mission on NASA TV. Click here for SPACE.com'smission coverage and NASA TV feed.
New Video - Drinking Water From Space Urine
The Top 10 Best Space Foods
Get the Space.com Newsletter
Breaking space news, the latest updates on rocket launches, skywatching events and more!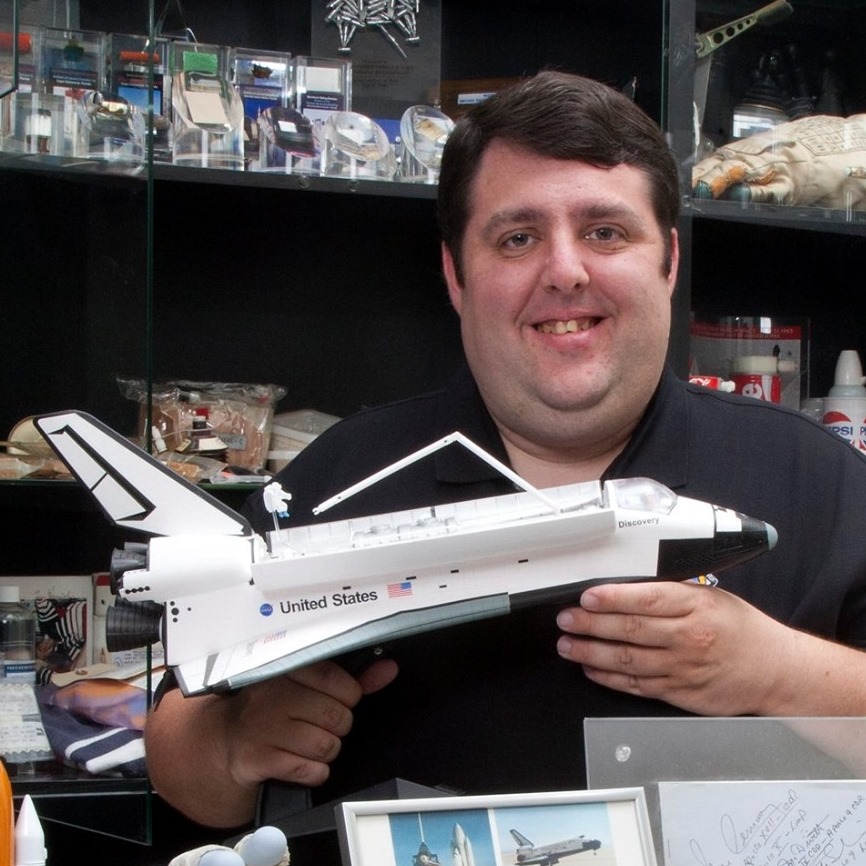 collectSPACE.com Editor, Space.com Contributor
Robert Pearlman is a space historian, journalist and the founder and editor of collectSPACE.com, an online publication and community devoted to space history with a particular focus on how and where space exploration intersects with pop culture. Pearlman is also a contributing writer for Space.com and co-author of "Space Stations: The Art, Science, and Reality of Working in Space" published by Smithsonian Books in 2018. He previously developed online content for the National Space Society and Apollo 11 moonwalker Buzz Aldrin, helped establish the space tourism company Space Adventures and currently serves on the History Committee of the American Astronautical Society, the advisory committee for The Mars Generation and leadership board of For All Moonkind. In 2009, he was inducted into the U.S. Space Camp Hall of Fame in Huntsville, Alabama. In 2021, he was honored by the American Astronautical Society with the Ordway Award for Sustained Excellence in Spaceflight History.