Private Rocket's Cargo Found: Ashes of Star Trek's 'Scotty,' Others Recovered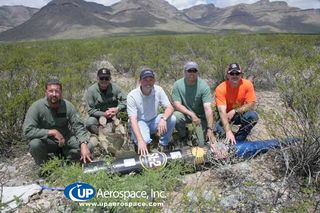 (Image credit: UP Aerospace.)
Thepayload container carrying experiments and the cremated ashes of some 200dearly departed people ? a cargo that includes remains of the beloved ?Scotty?of ?Star Trek? fame ? has been recovered in the New Mexico mountains.
?Ithas been found. It is in good shape,? Eric Knight, co-founder of the rocketfirm UP Aerospace that launched the cargo, told SPACE.com Friday.
Thatpayload section UP Aerospace?s second SpaceLoft XL rocket landed in hard tosearch mountains within the White Sands Missile Range after blastingoff April 28th from New Mexico?s Spaceport America. The suborbital rocketshot the payload section up into space, with the booster stage and the topsection individually parachuting back down to terra firma.
Tuckedaboard the rocket were a series of experiments and the ashes of 200 people,including actor James Doohan ? who portrayed the plucky Starship Enterpriseengineer Scotty on television?s ?Star Trek? ? as well as the remains of GordonCooper, one of NASA?s seven original Mercury astronauts.
Repeatedsearches of a projected landing zone came up empty handedsince the rocket was launched. But today proved successful, with bad weather aswell as rough and tumble terrain making searches by helicopter tough duty.
Inan earlier search, the rocket booster itself was found and recovered.
Onthe scene as part of the recovery team, Jerry Larson, President of UPAerospace, reportedly found the missing in the mountain payload in good shape.More details regarding the finding of the rocket section are expected latertoday, Knight said.
Array of payloads
TheApril flight of the SpaceLoft XL ? labeled SL-2 ? tookinto space an array of educational investigations, as well as commercialand entrepreneurial payloads.
Forinstance, 800 students from teams around the country and the world, includingAlaska, Puerto Rico, and the Netherlands, developed and designed 44 scientificexperiments for the SL-2 mission.
TheSpaceLoft XL mission also marked the first Legacy Flight ? a new serviceprovided by Celestis Incorporated of Houston, Texas. That firm launches thecremated remains of individuals into space.
UPAerospace is gearing up for future launches from Spaceport America, a sitedubbed as the world's first "purpose-built" ? or built from scratch ?commercial spaceport being erected 30 miles (48 kilometers) east of Truth orConsequences and 45 miles (72 kilometers) north of Las Cruces, New Mexico.
Thiswas the second rocket liftoff for UP Aerospace from SpaceportAmerica.
LastSeptember, the firm's SpaceLoft XL ran into trouble during ascent then fellto Earth after 90 seconds of flight. Corrective actions were taken by UPAerospace leading to the successful takeoff and full mission last month.
IMAGES: Twenty Great Rocket Launches
Get the Space.com Newsletter
Breaking space news, the latest updates on rocket launches, skywatching events and more!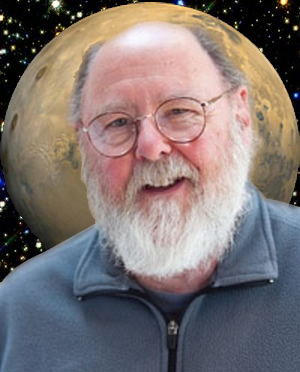 Leonard David is an award-winning space journalist who has been reporting on space activities for more than 50 years. Currently writing as Space.com's Space Insider Columnist among his other projects, Leonard has authored numerous books on space exploration, Mars missions and more, with his latest being "Moon Rush: The New Space Race" published in 2019 by National Geographic. He also wrote "Mars: Our Future on the Red Planet" released in 2016 by National Geographic. Leonard has served as a correspondent for SpaceNews, Scientific American and Aerospace America for the AIAA. He was received many awards, including the first Ordway Award for Sustained Excellence in Spaceflight History in 2015 at the AAS Wernher von Braun Memorial Symposium. You can find out Leonard's latest project at his website and on Twitter.