3D-Print Your Laugh and Launch It Into Space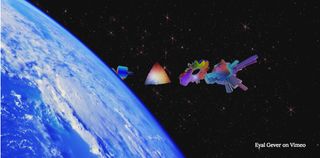 (Image credit: Eyal Gever on Vimeo)
Are you a chortler? What about guffaws, giggles or hyena laughs? If you have the best laugh, whatever the joyful sound, it could end up getting turned into a 3D-printed sculpture sent into space.
Israeli artist and computer programmer Eyal Gever is leading this collaborative project called #Laugh. Six years ago the 3-D manufacturing company Made In Space offered Gever the opportunity to become the first artist to create a piece in outer space. They're the folks behind the zero gravity 3-D printer launched to the International Space Station in 2014, which astronauts used to successfully print new parts.
In coming up with #Laugh, Gever had to come up with art that would have universal appeal, literally. The final piece couldn't be specific to any particular country or culture. His friend, the British spoken word poet Suli Breaks, suggested laughter. Gever is using crowdsourcing to gather laughter submissions and identify the most popular audio, which he'll turn into a file transmitted to Made In Space's 3-D printer aboard the ISS. The resulting sculpture will get released into space.
In describing the project online, Gever referenced early cave paintings of human hands. He called them a way of proclaiming and celebrating humanity's presence. "#Laugh will be the 21st Century version of that — a mathematically accurate encapsulation of human laughter, simply floating through space, waiting to be discovered," he said.
That does sound kind of cheesy, but I'm interested to see the final result. Gever's other projects are wild. He melds tech and art, developing his own engines to create physical works in three dimensions. Imagine a computer simulation that looks like a slice of ocean waves. Now picture that turned into a 3-D printed sculpture. Surreal is definitely the word.
RELATED: Superhuman 'Rainbow Vision' Common, But Untested
In order to participate, you need to download the free #Laugh app from iTunes, which only works on iPhones, iPads and iPod Touch devices that have iOS 7.0 or later. That knocks out a large segment of the world's population, but OK. Laughs submitted through the app have until midnight on December 31 to garner the most "likes" on social media.
The crowd-selected laugh audio submission will be announced next month and then heads to the International Space Station in February to emerge as a very strange star.
When I tried downloading the app, unfortunately it got stuck after the intro on a screen that said "loading." So I guess it's a sign from the universe. Either that or everyone else is getting the last laugh. Heh heh.
Originally published on Seeker.
Get the Space.com Newsletter
Breaking space news, the latest updates on rocket launches, skywatching events and more!