SpaceX, Rocketplane Kistler Win NASA COTS Competition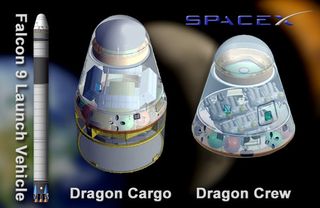 (Image credit: NASA)
WASHINGTON-- NASA announced Friday that it has picked El Segundo, Calif.-based SpaceExploration Technologies (SpaceX) and RocketplaneKistler of Oklahoma City to share $500 million the U.S. space agencyintends to spend through 2010 to stimulate the development of newcommercial delivery services for the International SpaceStation.
NASA madethe awards under the CommercialOrbital Transportation Services (COTS) demonstration program. SpaceX andRocketplane Kistler beat out four other finalists for the awards: Seattle-basedAndrewsSpace; Poway, Calif.-based SpaceDev;Houston-based SpaceHab;and Reston, Va.-based TransformationalSpace Corp.
The largerof the two COTS awards went to SpaceX, which will receive $278 million in NASAseed money to help fund the development and flight demonstration of Dragon,a ballistic capsule launch atop the SpaceX Falcon 9 rocketcurrently in development.
RocketplaneKistler, meanwhile, would receive $207 million to help complete the K-1reusable rocket and develop a cargo module that, like Dragon, could later bemodified to carry astronauts to the space station.
"Getting toand from space is difficult," Scott Horowitz, NASA associate administrator forexploration systems, said Friday in making the announcement. "Doing it safely,reliably, and cost effectively is even more difficult and that's what we areasking our partners to do."
Horowitzsaid both SpaceX and Rocketplane Kistler are expected to conduct three flightdemonstrations before 2010 to prove that they have what it takes to safelydeliver pressurized and unpressurized cargo to the International Space Station.At that point, NASA intends to conduct a second open competition for servicecontracts to supply the space station.
Thatcompetition, Horowitz said, will be open to all comers, not just SpaceX andRocketplane Kistler.
With the space shuttle due to retire bylate 2010, NASA would like to find U.S. alternatives to European, Japanese andRussian systems for delivering supplies to the space station. While the Crew Exploration Vehiclenow in development is being designed to carry cargo and crew to the station,the new system may not be in service until 2014.
NASA officialshave also said the agency would buy space station logistics services from theU.S. private sector if it can get the job done cheaper than thegovernment-owned-and-operated Crew Exploration Vehicle.
"We are acustomer that needs, after we retire the shuttle, to supply the International SpaceStation," Horowitz said. "If the commercial sector can do it safely andreliably and more cost effectively than it is in our best interest to buy thatservice."
Both SpaceXand Kistler are expected to combine the NASA money with private capital tocomplete development of their cargo delivery systems and conduct three flightdemonstrations beginning as soon as 2008.
Horowitzdeclined to say how much money each of the companies intends to bring to thetable. "They each have significant skin in the game," Horowitz said, deferringto SpaceX and Rocketplane Kistler for further details.
SpaceX wasfounded in 2002 by technology entrepreneurElon Musk with the goal of fielding a $6 million-per-launch rocket within twoyears. The Falcon1 finally made its launch debut this past spring, but failedshortly after liftoff. The next Falcon 1 launch, a demonstration flightsponsored by U.S. Defense Advanced Research Projects Agency, is slated for latethis year from the company's Omelek Island launch complex in the PacificOcean's Kwajalein Atoll.
RocketplaneKistler was formed in late 2005 but the company's K-1rocket has been in development well over a decade. The company isheadquartered in Oklahoma City.
RocketplaneKistler executives have said in recent interviews that they would conduct thefirst K-1 flights out of Woomera, Australia, but could eventually relocateoperations to the United States, either in Nevada or Florida's Kennedy SpaceCenter.
Earlierthis summer, the firm also announced that Orbital Sciences Corporation wouldtake over as the K-1's prime contractor in the event of a COTS win. The Dulles,Va.-based company builds satellites and small rockets and is one of NASAAdministrator Mike Griffin's former employers.
Special Report: The New Space Race
Get the Space.com Newsletter
Breaking space news, the latest updates on rocket launches, skywatching events and more!
Editor-in-Chief, SpaceNews
Brian Berger is the Editor-in-Chief of SpaceNews, a bi-weekly space industry news magazine, and SpaceNews.com. He joined SpaceNews covering NASA in 1998 and was named Senior Staff Writer in 2004 before becoming Deputy Editor in 2008. Brian's reporting on NASA's 2003 Columbia space shuttle accident and received the Communications Award from the National Space Club Huntsville Chapter in 2019. Brian received a bachelor's degree in magazine production and editing from Ohio University's E.W. Scripps School of Journalism.