Dream Chaser: Heritage Hardware, a New Way of Doing Business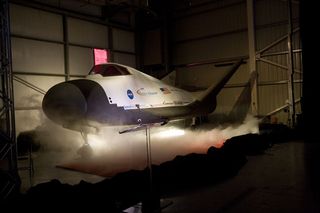 (Image credit: Jenifer Harrington)
ENGLEWOOD, Colorado - A space plane designed for hauling passengers and cargo into Earth orbit was shown here June 21--the SpaceDev Dream Chaser--one of a handful of finalists in NASA's Commercial Orbital Transportation Services Demonstration (COTS) effort.
The vehicle is a candidate for NASA's four year $500 million COTS initiative. The Dream Chaser would be capable of carrying one to six people and/or cargo to the International Space Station, with the winged craft able to return to almost any runway in the world.
Dream Chaser draws from extensive work and evaluation of NASA's HL-20 lifting body--an enhanced horizontal lander advanced by the space agency's Langley Research Center in Hampton, Virginia. The HL-20 itself evolved from work in the 1960s and 1970s on several lifting body shapes.
In the 1990s, with increasing national interest in obtaining routine access to space, a number of Earth-to-orbit transportation systems were being studied by NASA. One concept, dubbed the Personnel Launch System (PLS), could have utilized the HL-20 and an expendable launch system to provide human access to space complementing the space shuttle.
Payback on the investment
"The HL-20...it's the best vehicle out there...but also a vehicle with heritage," said Mark Sirangelo, Chief Executive Officer of SpaceDev, Inc., based in Poway, California. NASA shelved the concept with perhaps as much as a billion dollars being spent, along with years of experience and tests showing the viability of the craft, he said.
"We're now going to turn it into something that is going to pay back to the American people and NASA," Sirangelo explained to a gathered audience here at a Centennial Airport hangar. "The point here is that we're not starting the program from scratch," years and years of development work has already been completed, he said.
Sirangelo said that Dream Chaser can provide an array of products and services. For COTS, the craft can deliver cargo and crew to the International Space Station. Furthermore, the vessel can be configured to launch, repair, and upgrade satellites, as well as operate as a passenger-carrying craft to handle suborbital, as well as orbital public space travel traffic.
"In our vision, we're going to be moving people ... NASA people first. But also commercial people as well as, potentially, tourism people," Sirangelo said.
"We're excited about this whole program and the process that we're involved in," said James Benson, Founder and Chairman of SpaceDev. He saluted the anniversary--that same day two years ago--of the first powered flight of SpaceShipOne by SpaceDev's hybrid rocket motor.
"I think we're all tired of waiting" for commercial human space travel, Benson said. SpaceDev and its partners are "working toward a human spaceflight capability with a new vehicle, Dream Chaser," he said.
Hybrid rocket propulsion
SpaceDev and its wholly-owned division, Starsys in neighboring Boulder, have created primary partnerships with composite airplane designer, Adam Aircraft, as well as the Aerospace Corporation, Emergent Space Technologies, Oceaneering and BAE Systems, National Security Solutions.
In addition, Sirangelo said that the Dream Chaser team has been working with the New Mexico Spaceport and the Middle Atlantic Regional Spaceport located on Wallops Island in Virginia to support launch operations, both for NASA and commercial flights.
To boost Dream Chaser skyward, SpaceDev will utilize hybrid rocket propulsion--part of the strategy "to build the safest vehicle that we could possibly build," Sirangelo explained. Common hybrid propulsion modules would be bundled to boost the vehicle on suborbital and orbital treks.
G-force loads at liftoff for occupants and cargo would not exceed 1.5 gs, Sirangelo said, adding that there are amusement park rides that produce greater g-forces on the body than Dream Chaser.
Quick-turnaround vehicle
Dream Chaser is viewed as a quick-turnaround vehicle, meant to be used often within a course of a year. The lifting body shape--as well as onboard propulsion--means that the space plane exhibits significant cross-range ability to land at a wide range of airstrips.
Making use of the carbon composite expertise and manufacturing techniques in place at Adam Aircraft is added assurance, Sirangelo pointed out, that Dream Chaser can be delivered "on time, on schedule, and on budget."
A trio of Dream Chaser craft would be built. Given the NASA COTS go-ahead, a flight test program would involve suborbital and orbital tests, as well as the docking of two Dream Chaser space planes in low Earth orbit.
This step-by-step evaluation of the vehicle and its handling properties would be undertaken over a four-year period, Sirangelo related. "It's an aggressive schedule. But with the many years of work already put into the program ... we think that this schedule is obtainable, and we think that it's reasonable," he said.
COTS officials have been moving about the country to discuss with six finalists--short-listed from a field of more than 20 hopefuls--their respective bids. A COTS team was meeting Thursday and today with the SpaceDev Dream Chaser team.
Along with SpaceDev, also competing for COTS dollars are: Andrews Space, Rocketplane Kistler, Space Exploration Technologies (SpaceX), Spacehab, and Transformational Space Corporation (t/Space).
Get the Space.com Newsletter
Breaking space news, the latest updates on rocket launches, skywatching events and more!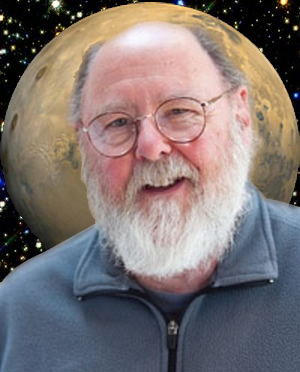 Leonard David is an award-winning space journalist who has been reporting on space activities for more than 50 years. Currently writing as Space.com's Space Insider Columnist among his other projects, Leonard has authored numerous books on space exploration, Mars missions and more, with his latest being "Moon Rush: The New Space Race" published in 2019 by National Geographic. He also wrote "Mars: Our Future on the Red Planet" released in 2016 by National Geographic. Leonard has served as a correspondent for SpaceNews, Scientific American and Aerospace America for the AIAA. He was received many awards, including the first Ordway Award for Sustained Excellence in Spaceflight History in 2015 at the AAS Wernher von Braun Memorial Symposium. You can find out Leonard's latest project at his website and on Twitter.