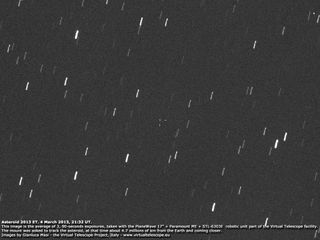 (Image credit: Gianluca Masi/Virtual Telescope Project (www.virtualtelescope.eu))
A newly discovered asteroid the size of a football field will cruise through Earth's neighborhood this weekend, just days after another space rock made an even closer approach to our planet.
The 330-foot-wide (100 meters) asteroid 2013 ET will miss Earth by 600,000 miles (960,000 kilometers) when it zips by on Saturday (March 9). The space rock flyby will come just days after the 33-foot (10 m) asteroid 2013 EC approached within 230,000 miles (370,000 km) of us early Monday (March 4).
When asteroid 2013 ET passes Earth, it will be at a range equivalent to 2.5 times the distance between the planet and the moon, making it too faint and far away for most stargazers to spot in the night sky. But the Virtual Telescope Project in Italy, run by astrophysicist Gianluca Masi, will webcast a live telescope view of the space rock's flyby on Friday (March 8), beginning at 2 p.m. EST (1900 GMT). You can access the free broadcast here: http://www.astrowebtv.org.
There is no danger that 2013 ET will hit Earth, researchers say, just as 2013 EC posed no threat. But their flybys are slightly unsettling nonetheless, since both asteroids were discovered a mere few days ago.
Indeed, many space rocks are hurtling undetected through Earth's neck of the cosmic woods. Astronomers estimate that the number of near-Earth asteroids tops 1 million, but just 9,700 have been discovered to date.
Undetected objects can strike Earth without warning, as the surprise meteor explosion over Russia last month illustrated. The 55-foot (17 m) asteroid that caused the Feb. 15 Russian fireball detonated in the atmosphere before astronomers even knew it existed.
While many scientists stress the urgent need for expanded and improved asteroid-detection efforts, there is some good news: Humanity is unlikely to go the way of the dinosaurs anytime soon.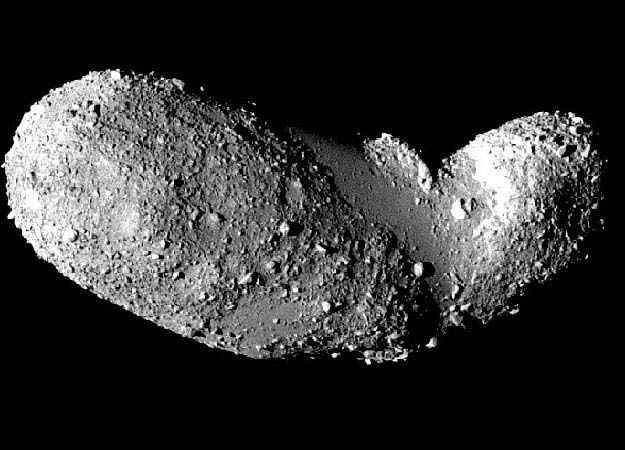 NASA researchers have identified and mapped the orbits of 95 percent of the 980 or so near-Earth asteroids at least 0.6 miles (1 km) wide, which could threaten human civilization if they hit us. None of these behemoths are on a collision course with Earth in the foreseeable future.
For comparison, the asteroid believed to have wiped out the dinosaurs 65 million years ago likely measured about 6 miles (10 km) across, scientists say.
Follow Mike Wall on Twitter @michaeldwall. Follow us @Spacedotcom, Facebook or Google+. This article was first published on SPACE.com.
Get the Space.com Newsletter
Breaking space news, the latest updates on rocket launches, skywatching events and more!

Michael Wall is a Senior Space Writer with Space.com and joined the team in 2010. He primarily covers exoplanets, spaceflight and military space, but has been known to dabble in the space art beat. His book about the search for alien life, "Out There," was published on Nov. 13, 2018. Before becoming a science writer, Michael worked as a herpetologist and wildlife biologist. He has a Ph.D. in evolutionary biology from the University of Sydney, Australia, a bachelor's degree from the University of Arizona, and a graduate certificate in science writing from the University of California, Santa Cruz. To find out what his latest project is, you can follow Michael on Twitter.