Shuttle Astronauts Repair ISS Gyroscope in Second Spacewalk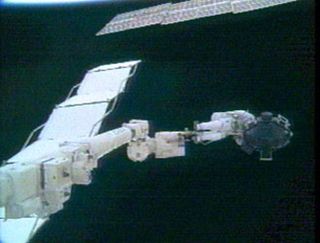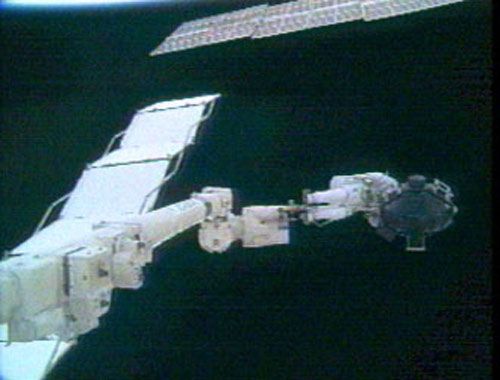 (Image credit: NASA.)
HOUSTON - For the first time inthree years, the U.S.-built attitude control system aboard the InternationalSpace Station (ISS) is complete after a successful repair job by twospacewalking astronauts Monday.
Discovery's STS-114 astronautsSoichi Noguchi and Stephen Robinson swapped out one of four control moment gyroscopes(CMG) used to orientate the space station, paving the way for futureconstruction of the orbital laboratory. While the space station can run fine onjust two gyroscopes, all four will be needed as new modules and trusses areadded on, NASA officials said.
"Hello CMGs, we're here for ya,"Noguchi said as he and Robinson approached their space station work site at theZ1 truss.
The brokengyroscope failed in 2002, leaving the space station with two primary gyroscopesand one spare. That spare shut downin 2004 when a circuit breaker failed. Though subsequently repaired, it failedagain in March 2005. Robinson rerouted power for the energy-starved gyroscopeduring a Saturday spacewalk,restoring it to operation.
Monday'sspacewalk began at 4:42 a.m. EDT (0842 GMT) as the Discovery-ISS complex flew220 miles over Asia. After seven hours and 14 minutes in space, they weresafely back inside Discovery at 11:59 a.m. EDT (1559 GMT). They were about 30minutes late at the start, but made up some time with their deft handling ofthe gyroscope repair.
"Great worktoday," said astronaut Michael Massimino, serving as capcom for ISS missioncontrol. "It's been great working with you guys."
During the gyroscope replacement,the spacewalkers played what Noguchi has called an "orbital shell game,"placing the broken gyroscope in a holding area, plucking out its replacementfrom a berth in Discovery's payload bay and sliding the faulty unit into thatsame berth.
"Outstanding, great work Soichi,"Robinson said as Noguchi hauled off the faulty, washing machine-sized gyroscopeout of its ISS berth from the end of the station's robotic arm. "Alright my friend, let's take this CMG home."
Noguchi and Robinson did encounter aslight glitch during the gyroscope installation. After connecting all the powercables necessary to both heat and power the new gyroscope, flight controllersreported it was not working properly.
But a few cable checks by Noguchifound one connector out of place and power was restored. The news was so goodto flight controllers it prompted lead spacewalk officer Cindy Begley to jumpout of her chair in applause.
"Congratulations, mission control,"Robinson said.
It will take up to eight hours tospin the new gyroscope's flywheel up to its full speed of about 6,600revolutions per minute.
The two spacewalkers were able to fitseveral extra tasks into their extravehicular activity (EVA). In addition togathering tools to retrieve an ISS rotary motor, they also relocated a footrestraint to be used in a future shuttle mission and grabbed a set of toolsthat could be used to repair a pair of gap-fillersif mission managers decide it is necessary.
The gap-fillers, small strips ofceramic fiber cloth, are jutting out from between the black heat tiles alongDiscovery's belly a bit farther than shuttle managers have seen in the past.They could be snipped free or pulled out completely during the third STS-114 spacewalk,though whether any action is necessary is still under discussion.
The results of those discussions, aswell as a final evaluation of the integrity of Discovery's wing leading edge,are expected later today.
A tale of two gyroscopes
Control moment gyroscopes are vitalcomponents for the International Space Station (ISS), allowing the orbitallaboratory the ability to change its orientation while conserving propellant bynot firing its Russian-built thrusters. At least two working gyroscopes areneeded to maintain the station's attitude without the thrusters.
Only two of the four gyroscopes haverunning to date, though the two spacewalkers successfully restored power to athird one - CMG-2 - during Saturday's extravehicularactivity (EVA). Flight controllers powered down one of the station'sworking gyroscopes, CMG-3, while Discovery is docked at the ISS after some abnormalvibrations led them to suspect the massive load was putting too much of astrain on it. When docked, Discovery and the ISS together mass about 300 tons.
CMG-1 failedon June 8, 2002, seizing up with enough force to cause a vibration that soundedlike a loud growl to astronauts inside the space station's Unity node.
"We're hearing a pretty loud,audible noise. A kind of a growling noise in the node," astronaut CarlWalz toldflight controllers after hearing the sound.
Engineers later suspectedthat a lack of lubrication led to the gyroscope's failure, but engineers hopeto pore through the broken unit to be sure.
"We're going to bring CMG-1 back tothe ground and see what it can show us," said Paul Hill, lead flight directorfor Discovery's STS-114 spaceflight, in a Sunday mission update.
"Once the shuttle is gone, we intendto bring CMG-3 back online," Hill said.
Discovery mission specialist AndrewThomas choreographed today's spacewalk from inside the orbiter while shuttlepilot James Kelly and mission specialist Wendy Lawrence operated the spacestation's robotic arm for Noguchi.
Today's spacewalk was the 60thextravehicular activity in support of the ISS, and the 27th stationspacewalk staged from a U.S. space shuttle. It was also the second spacewalkfor both Noguchi and Robinson, who have amassed a total of 14 hours and fourminutes working outside a spacecraft.
Fixing NASA: Complete Coverage ofSpace Shuttle Return to Flight
Get the Space.com Newsletter
Breaking space news, the latest updates on rocket launches, skywatching events and more!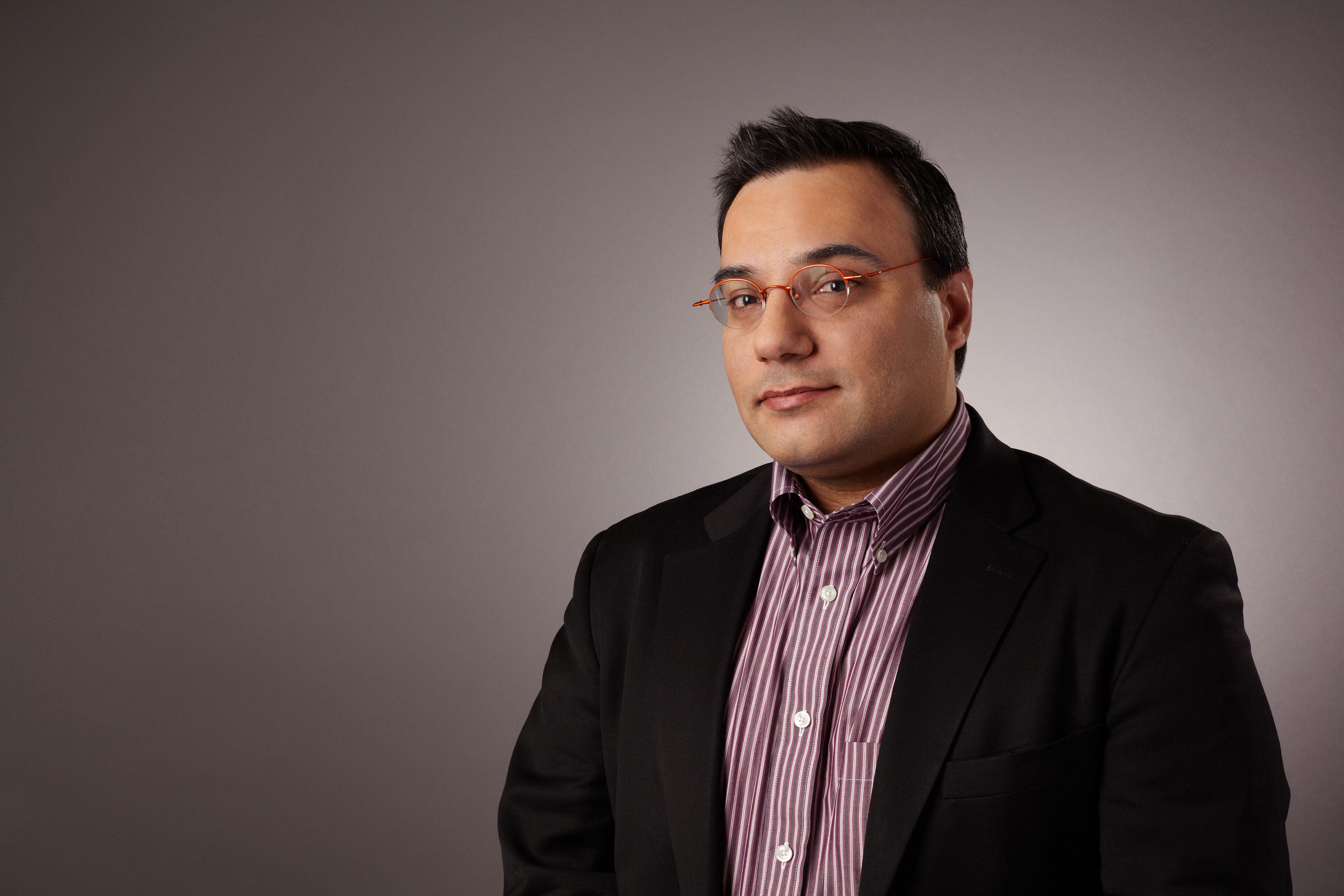 Tariq is the Editor-in-Chief of Space.com and joined the team in 2001, first as an intern and staff writer, and later as an editor. He covers human spaceflight, exploration and space science, as well as skywatching and entertainment. He became Space.com's Managing Editor in 2009 and Editor-in-Chief in 2019. Before joining Space.com, Tariq was a staff reporter for The Los Angeles Times covering education and city beats in La Habra, Fullerton and Huntington Beach. In October 2022, Tariq received the Harry Kolcum Award for excellence in space reporting from the National Space Club Florida Committee. He is also an Eagle Scout (yes, he has the Space Exploration merit badge) and went to Space Camp four times as a kid and a fifth time as an adult. He has journalism degrees from the University of Southern California and New York University. You can find Tariq at Space.com and as the co-host to the This Week In Space podcast with space historian Rod Pyle on the TWiT network. To see his latest project, you can follow Tariq on Twitter @tariqjmalik.