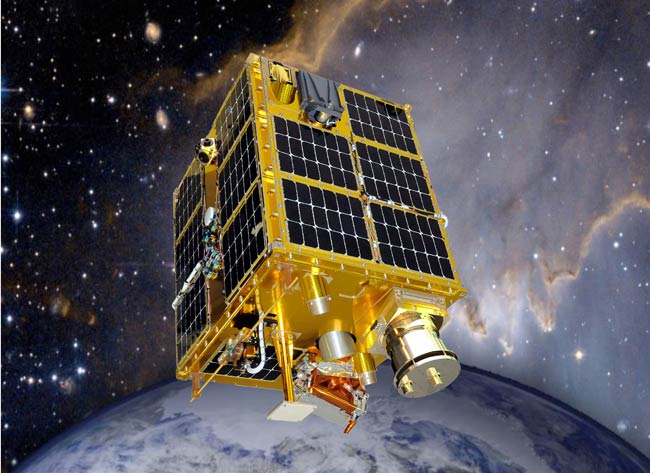 NASA is preparing for the launch of two small satellites packed with experiments, including a solar sail prototype, from Alaska this week.
The two main satellites, known as FASTSAT and O/OREOS, will each carry multiple piggyback payloads of their own, mission scientists said. The small solar sail is one of these parasite payloads.
The satellites will ride to space aboard a Minotaur 4 rocket, which is slated to blast off from the Alaska Aerospace Corporation's Kodiak Launch Complex on Friday (Nov. 19) at 8:24 p.m. EST (0124 Nov. 20 GMT).
Both satellites' missions involve technology demonstrations as well as research objectives. They're part of a broader NASA effort to find ways to perform research in space cheaply and reliably, agency officials said.
"We wanted to enable a low-cost platform into orbit," said Mark Boudreaux, FASTSAT project manager at NASA's Marshall Space Flight Center in Huntsville, Ala. "We're very excited about that."
FASTSAT: Packed to the gills
FASTSAT — short for Fast, Affordable Science and Technology Satellite — is a microsatellite, a 325-pound (148-kilogram) craft the size of a washing machine. It's carrying six different scientific payloads.
One of these is the NanoSail-D, an 8.5-pound (3.9-kg) probe designed to eject from FASTSAT and deploy a solar sail in orbit. Solar sails catch photons from the sun much as ships' sails catch the wind, theoretically providing spacecraft with a lightweight and extremely efficient propulsion mechanism.
If all goes according to plan, NanoSail-D will be NASA's first solar sail to successfully deploy in low-Earth orbit.
Also onboard FASTSAT are three NASA instruments designed to monitor space weather and gauge how it affects the Earth's upper atmosphere and magnetosphere, scientists said.
FASTSAT is also carrying two payloads managed by the U.S. Air Force — a low-cost star-tracking instrument and a device that will evaluate techniques used to measure how beams of light move through Earth's atmosphere.
Microbes in space
NASA's O/OREOS satellite (Organism/Organic Exposure to Orbital Stresses) is about the size of a loaf of bread and weighs 12 pounds (5.5 kg). It contains two experiments that will activate once the nanosatellite reaches low-Earth orbit.
One of these will characterize how microbes grow and reproduce in space, as well as how they adapt to the stresses of the space environment. The other will look at how space conditions affect four different classes of organic molecules, which are the building blocks of life.
While scientists are interested in the results from these two experiments, the O/OREOS mission is also a technology demonstration that should help scientists plan similar projects in the future, researchers said.
Research on the cheap
Both FASTSAT and O/OREOS are extremely cost-effective, NASA officials said. NASA wanted to spend less than $12 million developing the FASTSAT spacecraft, according to Boudreaux.
"We hit that target," he said.
For its part, O/OREOS cost just $1.75 million, researchers said.
Also keeping costs down: The relatively affordable Minotaur, as well as an adapter that accommodates up to six secondary satellites, allowing them all to hitch a ride on the rocket.
"The launch vehicle and adapter system are providing a low-cost rideshare capability," Boudreaux said.
FASTSAT and O/OREOS are launching as part of the U.S. Department of Defense's Space Test Program, which is managed by the Air Force. Because this will be the STP's 26th small launch vehicle mission, it is being called STP-S26.
Both satellites' science operations will last about six months, researchers said.
NASA's Most Memorable Missions
Video: How Space Storms Wreak Havoc on Earth