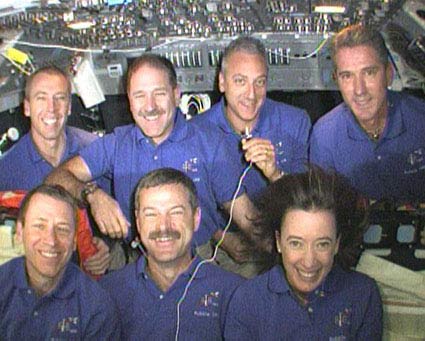 HOUSTON - The vital heat shield on the space shuttle Atlantis received a clean bill of health Wednesday as its astronaut crew prepares to return home after successfully overhauling the Hubble Space Telescope.
Mission managers said Atlantis in fine shape for its planned Friday, though rainy weather could delay the spacecraft?s return. Mission Control asked the shuttle?s seven-astronaut crew to power down some non-essential systems in order to extend their stay in orbit, if required.
?It?s a fairly benign power down and it?s fairly non-intrusive,? said LeRoy Cain, NASA?s deputy shuttle program manager, in a news briefing here at the Johnson Space Center.
On Wednesday, the astronauts took a well-deserved day off and discussed their mission with reporters and the crew of the International Space Station. They also took a personal phone call from U.S. President Barack Obama.
Cain told reporters that the power conservation measures require shutting down backup computers and other non-vital systems, but shouldn?t impact life aboard Atlantis. It will extend the shuttle?s supplies enough to allow it to stay aloft through Monday, though NASA hopes to land Atlantis Friday at 10:01 a.m. EDT (1401 GMT) at the Kennedy Space Center in Cape Canaveral, Fla.
Led by veteran commander Scott Altman, the Atlantis astronauts are wrapping up an 11-day mission to the Hubble Space Telescope to give the beloved 19-year-old observatory one last service call. The astronauts added two new instruments, performed vital maintenance and fixed a pair of broken instruments that were never designed to be repaired in space.
The exhausting work, all packed within an intense five-spacewalk marathon, left Hubble more powerful than ever before and should extend the long-lived observatory?s life for at least five or 10 years.
The astronauts also primed the telescope for its eventual death. They added a docking ring that will allow a robotic vehicle to latch onto Hubble sometime after 2020 and send the space telescope plunging into the Pacific Ocean when its mission ends.
To reach Hubble?s 350-mile (563-km) orbit, Atlantis had to fly in a region known to have more space junk than NASA?s typical flight to the 220-mile (354-km) high International Space Station. NASA had a backup shuttle ? Endeavour ? on standby to fly a rescue mission just in case Atlantis suffered irreparable damage. But the shuttle weathered the flight superbly, Cain said.
?The mission has been a great success so far,? Cain said. ?It was everything we anticipated and even more.?
SPACE.com is providing continuous coverage of NASA's last mission to the Hubble Space Telescope with senior editor Tariq Malik in Houston and reporter Clara Moskowitz in New York. Click here for mission updates and SPACE.com's live NASA TV video feed.
New Video - In Their Own Words: The Last Hubble Huggers

New Video Show - Hubble's Final Shuttle Service Call

Image Gallery - Hubble?s Latest Views of the Universe: Part 1, Part 2