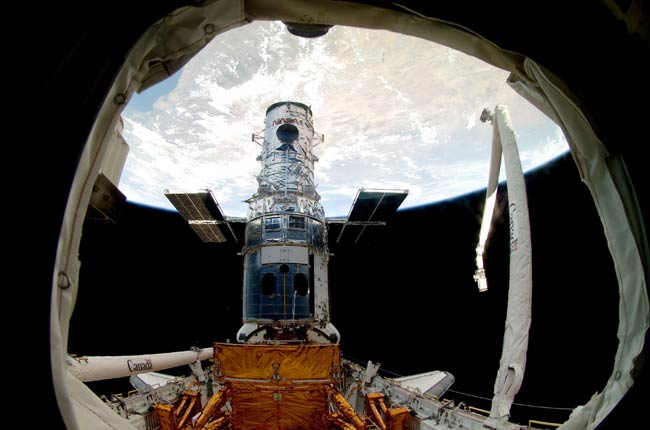 Hubble's final makeover is finished and the astronauts have said their goodbyes; now its time for Hubble to test out its new gadgets and see just what they can do.
"Today begins the second Hubble revolution," said Dave Leckrone, Hubble?s senior project scientist at NASA?s Goddard Space Flight Center in Greenbelt, Md., which oversees the space telescope.
The shuttle Atlantis released Hubble yesterday from the ship's cargo bay, returning the 19-year-old telescope to its rightful orbit 350 mile (563-km) above Earth.
Over the course of five spacewalks in as many days, astronauts installed a brand new wide-field camera for deep-space observations, a super-sensitive spectrograph to detect faint light from distant developing galaxies, new gyroscopes and batteries, insulation, and a fine guidance sensor for pointing accuracy.
The shuttle's crew also resurrected Hubble's advanced camera and a versatile spectrograph that can double as an imager.
"Now we have increased Hubble?s capability literally by orders of magnitude," Leckrone said.
So far, all of Hubble's gizmos are looking good.
"Everything has passed its aliveness test and its functional test," Leckrone said.
Scientists are already lined up to use the new and improved telescope, though NASA engineers have to go through a few more tests and calibrate each instrument before Hubble will be ready to resume its science mission.
The calibrations and checks are expected to run through the end of summer.
Mission controllers plan to point Hubble's eye away from Earth to avoid CCD damage from UV light for the first week or so and start calibrating with known targets soon after.
These targets will help make sure the camera is focused correctly and otherwise operating normally. NASA will release the list of the calibration targets, which includes a group of "very prosaic stars," Leckrone said.
"It's extremely boring," he added.
But the "boring" part won't last that long. Groups have already sent in research proposals for Hubble's various instruments and will be able to start their observations once the telescope checks out.
One definite project will be a new deep-field image that will hopefully capture galaxies even further back in the history of the universe than previous deep-field surveys. Hubble aims to look at things as they were some 500 million years after the birth of the universe.
Before the mission, Leckrone said that they hoped to release the first images from the new and improved Hubble sometime in September, though NASA isn't saying what the first target will be because it could change.
This latest phase of the Hubble mission is slated to last for at least five years, and mission scientists are optimistic that its new findings will be every bit as groundbreaking as the ones it has made over the past nearly two decades.
?It?s show time for us now,? said Eric Smith, NASA?s Hubble program scientist. ?We got everything we asked for, we?re going to have a great mission for years to come.?
Video ? Restoring Hubble's Vision

Special Report ? Hubble Space Telescope

Images: Hubble's First 15 Years