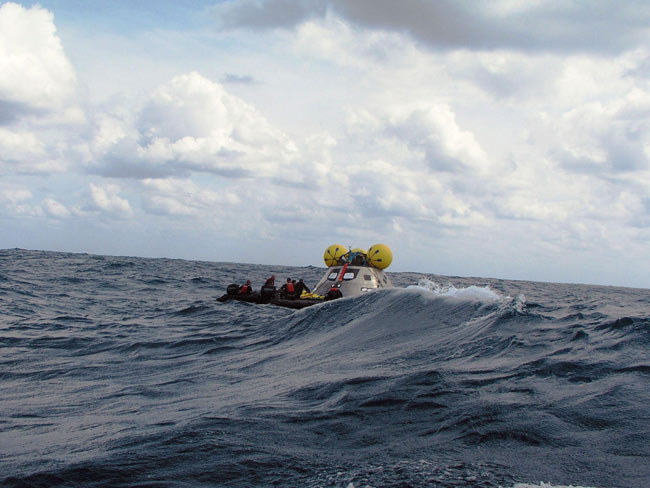 For the first time since the Apollo era, NASA is testing a new moonship in the turbulent waves of the open ocean.
The life-size mockup of the Orion Crew Exploration Vehicle, NASA?s replacement for its retiring space shuttle fleet, is undergoing a series of water landing trials this month in the Atlantic Ocean off the eastern coast of central Florida. They are the first ocean tests of a full-size NASA spacecraft since the Apollo capsule's development in the 1960s.
During the tests, teams of divers and engineers are practicing recovery techniques to retrieve an Orion capsule after splashdown, as well as testing how the spacecraft performs in open water. The sea trials are the first in which recovery teams attempted to attach a flotation collar around the Orion craft while it bobbed up in down with the ocean waves.
?They?re looking for different types of sea conditions so they can report back how the capsule behaves,? NASA spokesperson Amber Philman told SPACE.com from the agency?s Kennedy Space Center (KSC) in Cape Canaveral, Fla. Philman said the tests, which are based out of nearby Port Canaveral, are being performed about 20 miles (32 km) off the Florida coast, with three more days? worth of trials still on tap.
The Orion crew capsule is NASA?s planned replacement for its three aging space shuttles, which are due to retire at the end of next year. Orion capsules are designed to launch atop a new rocket, the Ares I, and ferry six astronauts to the International Space Station or carry a four-person crew to the moon and back. The 18,000-pound (8,164-kg) capsule is about 15 feet (4.5 meters) wide and larger than the older Apollo capsules.
Like Apollo capsules, Orion vehicles are designed to re-enter the Earth?s atmosphere behind a protective heat shield and parachute to a water splashdown. Earlier this month, NASA announced it will use an Avcoat ablator material similar to that used during on Apollo for the Orion spacecraft. NASA currently plans to launch the first operational Orion flight in 2015 and is targeting the first manned moon shot by 2020.
Video - Mock Orion Capsule Crashes to Earth