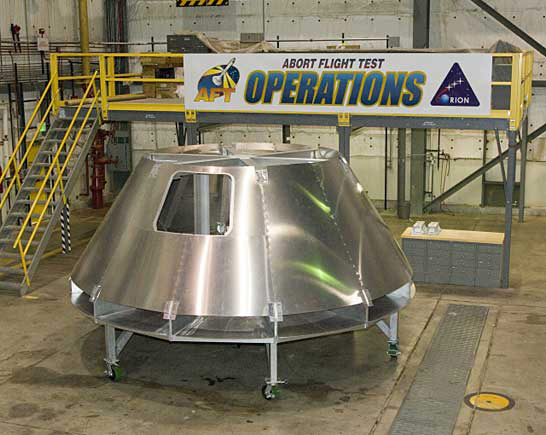 NASA broke ground Wednesday on a new launch pad that will host the first escape system tests for the agency's Orion capsule, the successor to the U.S. space shuttle.
Based at the U.S. Army's White Sands Missile Range in New Mexico, the new pad will host a series of tests for Orion's launch abort system - a rocket-powered escape tower designed to wrench a crewed capsule free from its Ares I booster in an emergency. The first test, Pad Abort-1, is set for Sept. 23, 2008.
"The launch abort system actually has to operate in a wide variety of different environmental conditions," said Mark Kirasich, NASA's deputy manager for the Orion project, in a recent briefing. "It has to be able to pull the crew away for us while we're sitting on the pad, essentially from a zero start, and through powered, first-stage flight, and up to very high altitude."
The Orion spacecraft and their Ares I rockets are slated to begin the first crewed test flights as early as September 2013, about three years after the final planned flight of NASA's space shuttles.
"The flight tests are when we actually start putting the pieces together that get people into space," said Mark Geyer, NASA's deputy manager of the Constellation program overseeing Orion and Ares.
NASA plans to retire its three-shuttle fleet, which has been in operation since 1981, in September 2010 after completing construction of the International Space Station (ISS). The agency will then rely on its Orion capsules, their Ares I boosters and a new heavy-lift Ares V launcher to send astronauts and cargo to the ISS and, ultimately, the moon.
But first, the agency plans to launch an ambitious series of at least 10 test flights, five of them from the new White Sands site, to qualify the Orion-Ares I system for the first planned operational mission to the ISS in September 2014.
"As long as things go relatively well, we can make it," Geyer said of the tightly packed test schedule. "If we do find something that we need to step back and look carefully on, we will move the launch date, and the launch dates of the subsequent [tests], to make sure that these vehicles are safe to fly."
Abort tests on tap
The Orion launch abort system consists of a mast-like tower that carries a set of three rocket motors, the largest of which is reserved for emergencies to separate an Orion capsule from its rocket and pull its astronaut to safety. The two smaller motors are designed to jettison the escape tower after a successful liftoff and aid in attitude control, Kirasich said.
In addition to a pair of pad abort tests, which test Orion's ability to pull its crew capsule to safety from the launch pad, a trio of in-flight trials is scheduled between 2009 and 2011 to measure the escape system's effectiveness at subsonic and supersonic speeds, as well as during a tumbling motion. A high-altitude test during the second Ares I launch, slated to fly in 2012 from NASA's Kennedy Space Center in Cape Canaveral, Fla., will check the escape system at the upper limit of its design, the space agency said.
Kirasich said one of the major challenges his team has tackled has been culling about 5,000 pounds (2,267 kilograms) from the Orion spacecraft to lighten its load. Meanwhile, a series of other technology checks are underway to test Orion parachutes and the shuttle-derived solid rocket booster of Ares I's first stage.
At the Kennedy Space Center, work crews are driving in the piles to build lighting protection system towers around Launch Pad 39B, the staging ground for future Ares rocket launches, NASA officials said.
Some preliminary construction was also necessary at White Sands to prepare for today's ground breaking, Kirasich said.
"We actually had some power lines and telephone lines running right across the area where we're going to put the launch pad," he said. "So we had to take all that down."
IMAGES: NASA's Next Spaceship