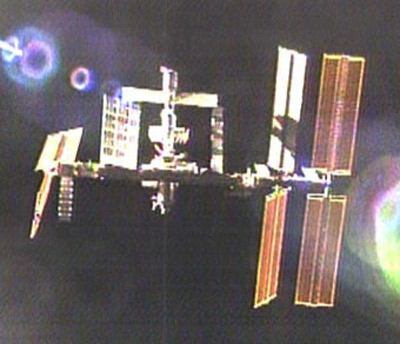 CAPE CANVERAL - After spending more than two weeks in space, seven astronauts on board the space shuttle Discovery are making final preparations to return home tomorrow.
Before their Wednesday arrival here at Kennedy Space Center (KSC), however, the crew will check flight control systems, test engines and stow gear floating around the cabin.
"It's mainly a day dedicated to preparations for deorbit and entry," said Rick LaBrode, lead shuttle flight director, of today's activities.
The STS-120 mission launched Oct. 23 and hauled a bus-sized module to the International Space Station (ISS), which the crew said goodbye to Sunday and undocked from on Monday morning. LaBrode said computer problems on Discovery made for some tricky navigation for its pilot George Zamka, but noted that he and the rest of the crew persevered.
"He did an exceptionally good job," LaBrode said of Zamka's 360-degree fly-around of the space station yesterday. "It was pretty phenomenal."
NASA's space station construction mission also left behind astronaut Dan Tani, swapping his place with ISS crewmember Clay Anderson.
"About five months ago I was lying on back mid deck of the orbiter Atlantis and wondering what the heck I had gotten myself into," Anderson said during Sunday's tearful goodbye ceremony at the orbital laboratory. "Now I'm poised to return to Earth."
Final preparations
Today's pre-landing activities include interviews with SPACE.com and other members of the press that will air live at 9:43 a.m. EST (1443 GMT), as well the set up a special recumbent seat for Anderson. The seat will ease Anderson--who has spent 152 days in space--back into Earth's gravitational pull by laying him on his back.
Discovery's crew will also test the spacecraft's on-orbit engines that blast course-correcting and deorbiting propellant.
In addition to the engine tests, LaBrode noted astronauts will test the spacecraft's sensitive flight control systems before the crews fire an orbit-adjusting burn around 2:54 p.m. EST (1954 GMT) and get a good night's rest at 6:38 p.m. EST (2338 GMT).
NASA engineers are also slated to deliver inspection results today of Discovery's heat-resistant wing leading edges today, which mission managers said yesterday should pose any problems.
"There [are] no concerns expected at all," LaBrode said of the reinforced carbon shielding analysis.
These zones of heat-resistant tiles bear the brunt of reentry to Earth, converting most of Discovery's 17,500 mph (21,160 kph) of speed into hot plasma--and heating the thermal shielding to as much as 2,300 degrees F (1,260 C).
Eventful mission
The STS-120 mission brought a 15.75-ton, bus-sized room to the space station and relocated a massive solar array truss segment. Deployment snagged and tore of one of the solar power tower's blankets on Oct. 30, however, pulling the crew together to effect an unprecedented repair of the solar wing.
"It's been an incredible mission and one that I will reflect ? on favorably for the rest of my career," LaBrode said of his directing role.
Discovery will make a daylight descent from the northwestern U.S. to Florida on Nov. 7, crossing over the "heartland of America," mission managers have said. This descent path has not been attempted since the loss of the crew of Columbia in 2003.
The spacecraft is scheduled to fire a speed-dropping deorbit burn at 12:03 p.m. EST (1703 GMT) for a 1:02 p.m. EST (1802 GMT) landing, weather permitting. Successful touch down of will be followed by news and astronaut crew conferences about two hours and 6.5 hours aftwerward, respectively.
SPACE.com Video

Interplayer

: Delivering 'Harmony' with NASA's STS-120 Mission

Complete Space Shuttle Mission Coverage