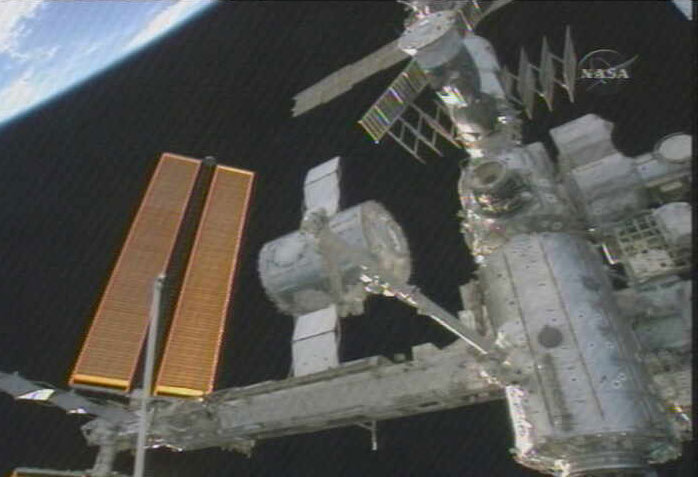 This story was updated at 4:55 p.m. EDT.
HOUSTON - Two spacewalking astronauts helped deliver a new orbital room to the International Space Station (ISS) Friday and primed a massive solar power tower for its own move early next week.
Discovery astronauts Scott Parazynski and Douglas Wheelock spent more than six hours working in bulky spacesuits to ready the Italian-built Harmony node for installation at the ISS among their other tasks.
?Now the crews that are hot on our heels have a place to come,? Parazynski said after his crewmates Daniel Tani and Stephanie Wilson moved the nearly 16-ton cylinder to a temporary spot on the station?s Unity module using the station?s robotic arm.
About the size of a small bus, Harmony increases the pressurized volume of the ISS by 2,666 cubic feet (75.4 cubic meters) and will serve as hub for new European and Japanese laboratories that will launch toward the station on upcoming NASA shuttle flights. The node was named by students in a NASA contest and will be moved to its permanent home at the front of the station?s U.S. Destiny lab early next month by the outpost?s Expedition 16 crew.
?It?s just a wonderful thing to see,? John Shannon, head of Discovery?s mission management team, said Thursday of Harmony?s ISS arrival. ?This is the kind of mission that we all came to NASA for. This is why we?re here.?
In addition to aiding the Harmony module?s installation, Parazynski and Wheelock stowed a broken ISS antenna in Discovery?s payload bay for return to Earth.
They also prepared the station?s Port 6 (P6) solar power truss segment for its planned move, which is slated to begin Sunday. While disconnecting four coolant lines between P6 and its Z1 truss base, Parazynski spotted several ice crystals of toxic ammonia drift free. He underwent decontamination procedures to ensure his spacesuit was clean after reentering the ISS airlock.
The spacewalkers floated out of the ISS at 6:02 a.m. EDT (1002 GMT) as the station passed over the west coast of South America. They spent six hours and 14 minutes working outside the ISS.
Discovery mission specialist Paolo Nespoli, an Italian astronaut from the European Space Agency, choreographed the spacewalk from inside the shuttle and reminded his crewmates to wave as the space station passed high over NASA?s Mission Control here in Houston, Texas.
?Great day in outer space,? Parazynski said.
Derek Hassmann, NASA?s lead ISS flight director, lauded Friday?s successful spacewalk and confirmed that Discovery?s STS-120 crew will not have to conduct a follow-up inspection of their spacecraft?s heat shield on Saturday.
Instead, the astronauts will spend time releasing some of the more than 700 launch restraint bolts inside the Harmony node and outfitting it for orbital flight, he added.
More challenges ahead
Friday?s spacewalk marked the first of a record-tying five excursions planned for Discovery?s STS-120 mission, which NASA has called its most challenging shuttle mission to date. Parazynski will perform four of the spacewalks, while Wheelock will participate in three of them. Veteran shuttle flyer Pamela Melroy is commanding Discovery?s flight.
But despite the complexity of today?s Harmony node delivery, ISS mission managers said that the upcoming move of the $276 million P6 solar array segment will be even more difficult.
Over the course of two spacewalks, astronauts will unbolt the 34,994-pound (15,873-kilogram) truss, and then push the robotic arms aboard both the ISS and Discovery to their performance edge to haul P6 from its mast-like perch above the Unity node to a permanent spot on the left side of the station?s backbone-like main truss. Once P6 is reinstalled, its wing-like solar arrays will have to be unfurled. NASA has encountered difficulties unfurling and stowing them in the past.
?That?s quite a daunting task,? said Kirk Shireman, NASA's deputy ISS program manager. ?We?ll all breathe a little easier once we have it installed and the solar arrays deployed.?
After Friday?s spacewalk, Shireman said mission managers will include an extra task to the chore list for Parazynski and Tani - the astronaut team for Sunday?s spacewalk. One of the spacewalkers will inspect a rotary joint that turns the station?s starboard solar arrays to track the Sun.
The 10-foot (three-meter) joint and its solar wings were installed at the ISS in June, but it has recently shown signs of increased current and intermittent vibrations. A loose thermal blanket or bolt could be causing slight friction, leading to the vibration, Shireman told reporters.
Mission Control roused Discovery?s crew this morning with the song ?Rocketman? by Elton John, a tune specially chosen for Wheelock to celebrate his first spacewalk.
Wheelock now has one spacewalk of six hours and 14 minutes under his belt. Parazynski has spent 26 hours and five minutes working outside a spacecraft during his four spacewalks. Their excursion marked the 93rd spacewalk devoted to space station assembly or maintenance since construction began in 1998, as well as the 65th staged from the orbital laboratory itself.
?There isn?t a better job, is there?? Expedition 16 commander Peggy Whitson, the station?s first female commander, asked the spacewalkers as they headed out.
?Best job in the universe,? Parazynski replied.
NASA is broadcasting Discovery's STS-120 launch and mission operations live on NASA TV. Click here for mission updates and NASA TV from SPACE.com.
SPACE.com Video Interplayer: Delivering 'Harmony' with NASA's STS-120 Mission

Complete Space Shuttle Mission Coverage