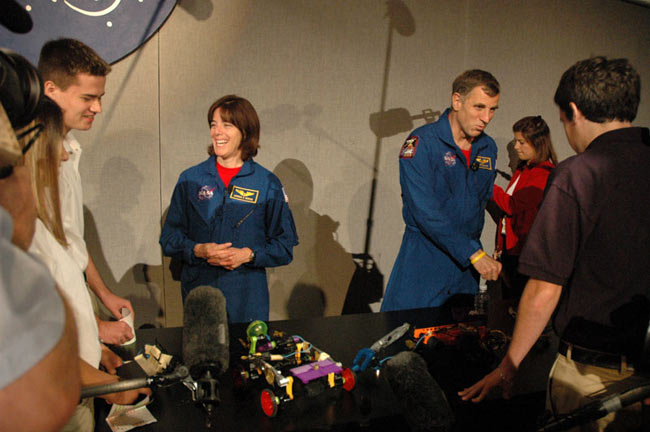 HOUSTON ? Earthbound students made a long-distance call to the International Space Station (ISS) Wednesday, courtesy of NASA, as educator astronaut Barbara Morgan and her crewmates prepare to launch towards the orbital laboratory early next month.
Students spoke first with the space station?s three-man Expedition 15 crew, and then questioned Morgan, STS-118 astronaut Dave Williams and commander Scott Kelly on their upcoming spaceflight during an event here at NASA?s Johnson Space Center.
?We would love for you guys to actively participate with us now, and start helping us figure out the answers to all the big questions we have,? Morgan told the crowd of more than 200 teachers, high school and college students.
Students picked the astronauts? brains about everything from how they?ll cope with separation from their families to what they hope to see from their unique vantage point 220 miles (354 km) above Earth.
?I taught for 20 years in a little town out in the mountains of Idaho,? Morgan said of her former teaching grounds in McCall, Idaho. ?It?s a beautiful spot on a glacial lake up at 5,000 feet and I?m hoping that one of our passes will take us over that area.?
Angela O?Brien, a teacher at Mackenzie Middle School in Lubbock, Texas, said Morgan has played an inspiring educational role during the past 20 years. Morgan originally served as backup to schoolteacher Christa McAuliffe during NASA?s Teacher in Space program and assumed her educational duties following the 1986 loss of Challenger and its seven-person crew.
?When I saw her up there today, I didn?t see a ?former? teacher?once a teacher, always a teacher,? O?Brien said of Morgan. The reading and English educator noted that she will take advantage of the little time Morgan will have to interact aboard the ISS to inspire the next generation of astronauts.
?If you think about it, middle schoolers are the ones who will probably be going to the moon and Mars,? she said.
Williams, an STS-118 crewmember representing the Canadian Space Agency, encouraged the young crowd to envision themselves as future space explorers.
?When we were kids growing up, we had dreams of becoming astronauts, and we never thought that would be possible,? he said. ?Someone in this audience today could be an astronaut in the future going on those missions back to the moon and on to Mars. If you think that?s impossible, remember we thought the same thing growing up.?
Justin Gorski, a 21-year-old student at the University of Rochester, New York, said he felt moved by the astronauts? words.
?We had the opportunity to interact with them, and I now realize it?s entirely possible to become an astronaut,? Gorski said. ?If I personally had a chance, I?d rather go to the moon. Mars is a little too far for me.?
Endeavour STS-118 crew expect to spend up to 14 days in space following their scheduled Aug. 7 launch from Kennedy Space Center in Cape Canaveral, Florida. Among their other tasks, the astronauts plan to perform up to four spacewalks, deliver a fresh load of cargo and install a new starboard-side truss segment to the ISS during the construction mission.
NASA?s STS-118: Teaching the Future Through ISS Assembly

SPACE.com Video

Interplayer

: Space Station Power Up with NASA's STS-117

Complete Shuttle Mission Coverage