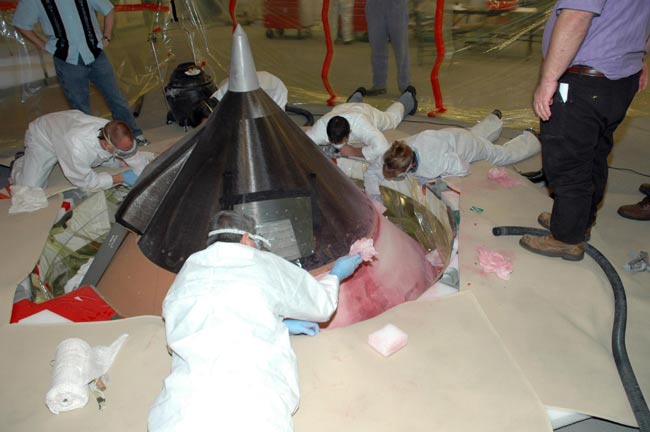 NASA engineers and mission managers are weighing their options on how best to fix thousands of dings in the foam-covered fuel tank of the space shuttle Atlantis.
William Gerstenmaier, NASA's associate administrator for space operations, said engineers remain hopeful that they can repair Atlantis' fuel tank in time for a late April or early May launch [image]. But switching the damaged tank with a pristine one - which NASA has said would push the planned space shot to June - is not off the table, Gerstenmaier added.
"We've gotten a good look at all the damage on the tank," Gerstenmaier told a congressional subcommittee this week. "There're probably about 2,000 areas of hail damage on the tank that are going to need some evaluation."
Hail battered Atlantis' Pad 39A launch site at NASA's Kennedy Space Center in Cape Canaveral, Florida during a freak storm on Feb. 26, leaving pockmarks in the vital foam insulation coating the orbiter's 15-story external tank [image]. The damage spurred NASA managers to delay Atlantis' planned March 15 launch to late April at the earliest, and roll the shuttle back into the space agency's cavernous Vehicle Assembly Building for repairs [image].
Atlantis is currently slated to launch between late April and May 21, with the next flight window opening around June 8, NASA spokesperson Kyle Herring, at Johnson Space Center in Houston, told SPACE.com.
NASA shuttle officials are expected to meet next week to discuss the ongoing tank inspection and repair work, as well as layout a forward plan for Atlantis' upcoming spaceflight.
"The program is optimistic that we can still use this tank," Herring said.
Not all of the fuel tank's 2,000 hail dings require an extensive repair, Gerstenmaier said. Some are acceptable for launch while others may require simple sanding to smooth out the tiny divots gouged by hail, though tank engineers may have to pour new foam to fill in larger damage areas, he added [image].
"If it turns out the work is significant and it takes a lot of time, we may choose to use the next tank," Gerstenmaier said. "If the work looks bounded and it's understood, and we can make those repairs on the tank, then we'll fly that tank."
Shuttle workers have also repaired minor, hail-related coating damage to more than 20 of Atlantis' black heat-resistant belly tiles, NASA has said.
Atlantis is expected to ferry NASA's six STS-117 astronauts, commanded by veteran spaceflyer Rick Sturckow, to the International Space Station (ISS) on an 11-day flight to deliver a new pair of starboard solar arrays. The mission is expected to be the first of up to five planned shuttle flights dedicated to ISS construction in 2007.
STS-117 Power Play: Atlantis Shuttle Crew to Deliver ISS Solar Wings
VIDEO: Space Station Building Blocks
IMAGES: An Insider's View of the International Space Station
IMAGES: The Spacewalks of NASA's STS-116 Mission
The Great Space Quiz: Space Shuttle Countdown
Complete Shuttle Mission Coverage
All About the Space Shuttle