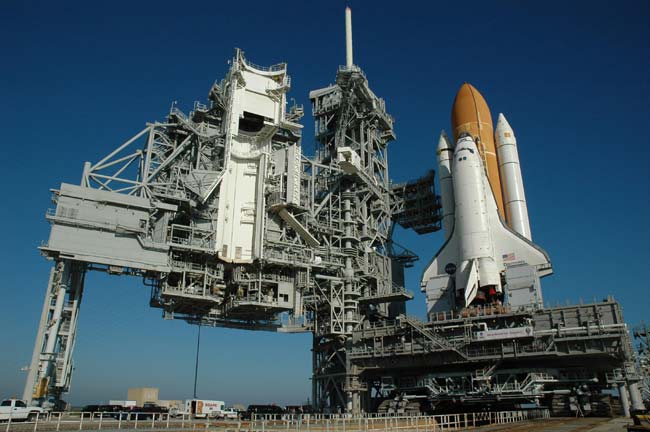 This story was updated at 4:00 p.m. EST.
NASA's shuttle Discovery made the slow journey to its Florida launch pad early Thursday as engineers prepare the spacecraft for a December flight to the International Space Station (ISS).
The shuttle settled onto Launch Pad 39B [image] at NASA's Kennedy Space Center (KSC) in Cape Canaveral, Florida at about 9:03 a.m. EST (1402 GMT), more than eight hours after rolling out [image] of the Vehicle Assembly Building at 12:29 a.m. EST (0529 GMT), KSC officials said.
Discovery is poised to launch towards the ISS with its STS-116 astronaut crew on Dec. 7 at 9:35:42 p.m. EST (0235:42 Dec. 8 GMT), the agency's first night flight in four years. Discovery's STS-116 mission managers decided today not to push Discovery's planned launch ahead one day to Dec. 6, NASA spokesperson Kyle Herring, at the Johnson Space Center in Houston, told SPACE.com.
Herring said the decision will preserve an extra day for crew training, late stowage or other preflight tasks.
NASA shuttle program manager Wayne Hale said Monday that a Dec. 6 launch was a possibility because Discovery's flight preparations were ahead of schedule. An earlier launch opportunity would also provide additional padding to fly the STS-116 mission before the end of 2006, since NASA's 1970s-era space shuttle computers were not designed to fly through a year-end rollover, Hale added.
In order to fly the STS-116 mission before the end of the year, NASA must launch Discovery and its crew by Dec. 18 or so or wait for another launch opportunity in January. Hale said a potential software fix is in the works--and in fact has been certified for use in emergencies--but a final decision on Discovery's launch window deadline is still pending.
"There was no discussion about the back end of the window," Herring said. "That will be discussed at the Flight Readiness Review."
NASA's STS-116 Flight Readiness Review is currently scheduled for Nov. 28-29.
Commanded by veteran shuttle flyer Mark Polansky, Discovery's STS-116 mission is expected to add a new piece of structure to the ISS framework and rewire the station's electrical grid during a series of three spacewalks. The 12-day spaceflight will also ferry NASA astronaut Sunita Williams to the ISS, where she expects to join the outpost's Expedition 14 crew as a mid-mission replacement for European Space Agency spaceflyer Thomas Reiter.
"At this stage, every mission is critical, every mission depends on the success of its predecessor," Polansky told reporters this week, adding that his crew has spent years training for the upcoming mission. "We've certainly known each other in this [Astronaut] Office for a long time and feel like we are ready to go."
Today's shuttle move began about 28 minutes late to allow final adjustments to the Discovery's massive carrier vehicle.
"Sometimes it just takes a little longer than expected with all the jacking and leveling of the crawler," Jessica Rye, a NASA spokesperson at KSC, told SPACE.com.
NASA uses an immense, 5.5 million-pound (2.5 million-kilogram) crawler vehicle [image] to haul an assembled space shuttle stack--which includes attached external fuel tank and solid rocket boosters [image] --to the launch pad atop their Mobile Launch Platform.
Altogether, a shuttle, its boosters, tank and launch platform weigh about 17.5 million pounds (7.9 million kilograms). The crawler is also equipped with a series of jacks and levels to NASA shuttles stable during the 4.2-mile (6.7-kilometer) drive to the launch pad and moves at top speed of a cool one mile per hour (1.6 kilometers per hour), NASA has said.
With Discovery at its Pad 39B launch site, all the pieces are now in place for the STS-116 mission. The shuttle's cargo--the Port 5 (P5) spacer-like truss segment [image], ISS tools and spare parts, as well as a pressurized SPACEHAB cargo pod that connects via a tunnel to Discovery's airlock via a tunnel--arrived at the launch pad on Tuesday.
The cargo will soon be loaded into Discovery's payload bay. Polansky and his STS-116 crewmates are expected to head to KSC on Nov. 13 for a standard multi-day launch training session that ends with the traditional a mock countdown on Nov. 16.
Mission Discovery: The ISS Rewiring Job of NASA's STS-116
Complete Space Shuttle Mission Coverage
Complete Coverage: ISS Expedition 14
The Great Space Quiz: Space Shuttle Countdown