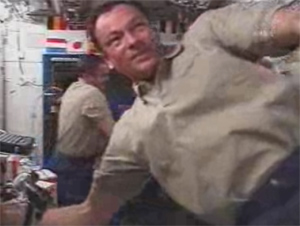 The International Space Station's (ISS) newest residents began their first full work week in charge of the orbital laboratory Monday and are settling in for their six-month mission.
ISS Expedition 14 commander Michael Lopez-Alegria and flight engineer Mikhail Tyurin conducted standard maintenance, exercised and explored their orbital home.
"It's our home, our office and our workshop," Lopez-Alegria said of life aboard the ISS last week on NASA TV. "I think it's in great shape."
The new ISS commander spent most of Monday performing maintenance tasks and exercising, while Tyurin familiarized himself with the station and its systems. They also spent two hours Tuesday conducting an emergency readiness, NASA officials said.
Lopez-Alegria and Tyurin joined ISS flight engineer Thomas Reiter, a German astronaut with the European Space Agency, who arrived at the station in July aboard NASA's shuttle Discovery as the third member the Expedition 13 crew.
The new Expedition 14 astronauts docked at the ISS on Sept. 20 with U.S. space tourist Anousheh Ansari, who returned to Earth on Sept. 28 with Expedition 13 commander Pavel Vinogradov and flight engineer Jeffrey Williams. Reiter will serve as an Expedition 14 flight engineer until his relief – NASA astronaut Sunita Williams – arrives in December.
"We could also see the landing of the [Soyuz] from our windows, and the reentry through the atmosphere was like a comet, like a star with a long tail, it looked gorgeous from up here," Lopez-Alegria said of the Expedition 13 landing.
New commander takes charge
Born in Madrid, Spain but raised in Mission Viejo, California, Lopez-Alegria is a veteran of three NASA shuttle flights, but making his first long-duration spaceflight aboard the ISS.
"I don't know what that's going to be like, so I don't know how to prepare," Lopez-Alegria, 48, said of spending six months in space before flight. "I think when push comes to shove, a lot of that stuff becomes instinctive."
A captain in the U.S. Navy and an experienced naval aviator, Lopez-Alegria joined NASA's astronaut ranks in 1992, making his first spaceflight – aboard the shuttle Columbia during its STS-73 microgravity science mission – in October 1995. He then served as NASA's director of operations at Russia's Yuri Gagarin Cosmonaut Training Center in Star City.
The veteran shuttle flyer also flew aboard NASA's STS-92 shuttle flight in 2000, and the STS-113 mission of 2002 – both ISS construction flights – racking up 42 days in Earth orbit and about 34 hours of spacewalking time during five extravehicular activities (EVAs).
Two NASA shuttle missions and four ISS spacewalks are scheduled during the Expedition 14 to support construction of the orbital laboratory.
"I consider it a privilege to be up there when it all happens," Lopez-Alegria said.
Lopez-Alegria and his wife Daria have one son, Nicolas. According to his NASA biography, the veteran astronaut is fond of sports, traveling and cooking, though it will be awhile before he gets another opportunity to employ his culinary skills.
"The food up here is edible," Lopez-Alegria said from the station's U.S.-built Destiny laboratory last week. "I do not have the pleasure to cook, what we do here in space is pretty much just hydrate envelopes with water and a syringe."
Lopez-Alegria said he plans to learn piano on the station's electric keyboard, practice video editing and participate in a journals experiment during his free time aboard the ISS.
Image Gallery: Anousheh Ansari, Expedition 14 Crew Launch Toward ISS

Career cosmonaut
For Tyurin, Expedition 14 is a return to the ISS after a previous 125-day stint as a flight engineer during the Expedition Three mission of 2001.
"I would say that the previous flight taught me to be patient," Tyurin said in a preflight NASA interview.
Born in Kolumna, Russia about 60 miles (96 kilometers) from Moscow, Tyurin now lives in Korolev – also near Moscow – with his wife Tatiana and daughter Alexandra.
"I took one item with me for the previous flight and I'm going to take it on this one," Tyurin said before Expedition 14. "It is a very simple thing. It is the key from my home."
Tyurin initially dreamed of becoming a professional hockey player, but his parents turned his attention to engineering and cosmonautics instead. Before joining the cosmonaut corps of Russia's Federal Space Agency in 1993, he obtained an engineering degree from the Moscow Aviation Institute with a focus on the mathematical models associated with flight.
"The spaceflight itself is a part of my job," said Tyurin, adding that he also studies the social and psychological effects of spaceflight. "I've worked for this program for a long time."
It is Tyurin who on Nov. 22 is expected to whack a golf ball into space during a Russian spacewalk as part of a commercial agreement between the Federal Space Agency and the Canadian firm Element 21. The cosmonaut took two golf classes to prepare for the upcoming orbital swing.
"To play golf in space, I do not need a high level of skill as a golf player," Tyurin said, adding that the sport is not widely popular in Russia. "But I certainly need to have some experience in the cultural aspect because, you know, usually people have some special language, or even special behavior. This is what I would like to learn."
The cultural aspect of human spaceflight is of keen interest to Tyurin, who said his mission includes several experiments around that subject.
"Well, there is a task, for example, that is basically learning of interaction between people," Tyurin said in a NASA interview. "Also, there are some areas of research that would be used to photograph some areas of technogenic, catastrophes and where people basically begin to damage nature, such as make fire, create smoke, throw bombs on each other."
Expedition 14's American-Russian-German crew combination is also an asset, he added.
"Personally, I think it's good to have an international crew," Tyurin said. "Because this is a way to learn cultural, social and international specifics. [It's] not just about technology, but some kind of human specifics."
GALLERY: Launch Day for Expedition 14 Crew, Anousheh Ansari
GALLERY: Anousheh Ansari Prepares for Launch
Anousheh Ansari: First Female Private Space 'Explorer' Visits ISS
Complete Coverage: ISS Expedition 14