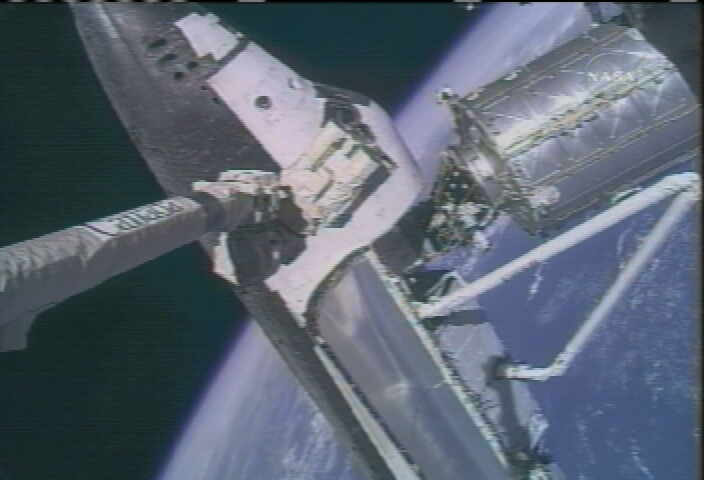 HOUSTON - The six-astronaut crew of NASA's shuttle Atlantis will not have to wedge extra inspections into an already packed flight to the International Space Station (ISS), NASA officials said late Monday.
"There will be no need for focused inspections for this mission," NASA commentator Nicole Cloutier-Lemasters said of the heat shield look as Atlantis' STS-115 astronauts slept in preparation for their mission's first spacewalk on Tuesday.
NASA engineers found 495 areas of interest on Atlantis' heat shield from a detailed Sunday inspection and high-resolution photographs taken by ISS crewmembers just before the shuttle docked at the orbital laboratory today. But nearly all of those areas were cleared by Monday afternoon.
"The baseline plan, because it was a little more difficult to execute, was not to do a focused inspection," NASA's deputy shuttle program manager John Shannon said in a Monday briefing, adding that he was ready to add an extra day to Atlantis' flight if needed.
The extra day would have been tacked on between the STS-115 crew's first two spacewalks, Shannon said.
Of their initial interest areas on Atlantis wing leading edges and tile-covered belly, engineers dismissed 116 outright since they were already on the spacecraft before its Saturday launch towards the ISS, Shannon said. An additional 318 regions were also found to be no concern, leaving only 61 items under review this afternoon, he added.
"The initial report was that all of the tile on underside of the orbiter looks great," Shannon said.
The imagery did reveal three bits of ceramic cloth, known as gap-fillers, jutting out from between the black tiles on Atlantis' underbelly. Each of the shuttle's external tank doors, which open to allow connections between Atlantis and its fuel tank near the orbiter's aft, has a protruding gap-filler, one of which appears to just barely hang on.
"It is almost gone, it is just barely hanging in there by one little corner," Shannon said of the 1.5-inch (3.8 centimeters) gap-filler on Atlantis' port external tank door.
A second gap-filler appears nearly ripped completely from Atlantis' starboard external tank door while a third gap-filler juts about 0.15 inches (0.38 centimeters) from an area under the port wing, Shannon said.
"None of these really concern the team a great deal at this time," Shannon added.
Engineers will continue to study the gap-fillers to determine how much, if any, extra heating they could generate aft of their locations during landing. But shuttle officials saw a similar gap-filler protrusion near one of the external tank doors on the shuttle Discovery's STS-121 spaceflight in July and do not anticipate concern over those aboard Atlantis.
"This process we honed during STS-121," Shannon said of the heat shield analysis.
During NASA's first return to flight mission, following the 2003 Columbia accident, a spacewalking astronaut did pluck two gap-fillers jutting from sensitive areas on Discovery's belly as a precaution.
Milestone spacewalk
While engineers pored over heat shield images on Earth Monday, Atlantis' crew delivered the $372 million Port 3/Port 4 (P3/P4) truss segments to the ISS with its twin solar arrays folded away in swing-out boxes.
Commanded by veteran shuttle flyer Brent Jett, the STS-115 crew will begin its first spacewalk at 5:15 a.m. EDT (0915 GMT) Tuesday to wire up those trusses to the end of the station's Port 1 (P1) segment.
STS-115 spacewalkers Joseph Tanner and Heidemarie Stefanyshyn-Piper will also ready the two tightly-packed solar arrays for deployment during the 6.5-hour spacewalk. The two astronauts are sleeping inside the space station's Quest airlock - known as a spacewalk "campout" - to save time preparing for Tuesday's spacewalk.
"The campout is going exceedingly well," Kirk Shireman, NASA's deputy ISS program manager, said Monday, adding that STS-115 is the first mission to use the protocol.
The P3/P4 truss is the first new segment to be added to the ISS since late 2002 and currently sits at the end of the space station's robotic arm. The element is expected to be hoisted into position by 4:10 a.m. EDT (0810 GMT), with spacewalkers later attaching vital power lines to ensure its operation.
"We have 34 hours from the time we start our motion until we have the umbilicals to the utilities hooked up tomorrow," Kirk Shireman, NASA's deputy ISS program manager, said Monday. "So we've got plenty of margin."
Gallery: Prepping Atlantis
Complete Space Shuttle Mission Coverage
NASA's STS-115: Shuttle Atlantis to Jump Start ISS Construction
The Great Space Quiz: Space Shuttle Countdown
Complete Coverage: ISS Expedition 13