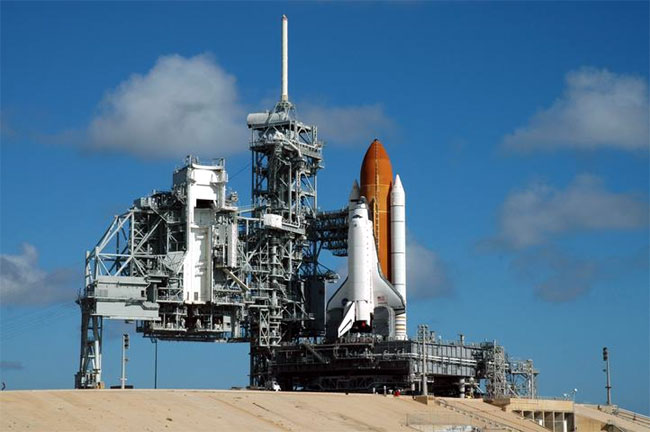 CAPE CANAVERAL, Fla. - A cloudy threat has grown for the planned Wednesday launch of NASA's shuttle Atlantis, though the weather outlook remains favorable for the spacecraft's orbital construction mission.
NASA shuttle weather officer Kathy Winters said Tuesday that the potential of cumulus clouds within 10 nautical miles of Atlantis' Pad 39B launch site here at the Kennedy Space Center (KSC) now give the orbiter a 70 percent chance of rocketing toward the International Space Station (ISS) at 12:28:46 p.m. EDT (1628:46 GMT) tomorrow.
Those odds also include the possibility of isolated showers within 20 nautical miles of a shuttle runway to be used by Atlantis' STS-115 crew in the case of an emergency just after launch, Winters added.
Atlantis STS-115 Mission managers discussed one last issue Tuesday - a minute hazardous gas reading in Atlantis' aft - which prompted questions among engineers at NASA's Johnson Space Center in Houston Texas. After a brief discussion, the matter was settled, NASA said.
"The discussion lasted five minutes, it was very short," said NASA launch integration manager LeRoy Cain, who is chairing the preflight Mission Management Team for Atlantis' STS-115 spaceflight, during a preflight briefing here.
NASA launch director Michael Leinbach said sensors in Atlantis' aft picked up minute amounts of gaseous liquid oxygen, which is used alongside liquid hydrogen to power the shuttle's fuel cells in orbit. The sensor reading is likely due to a slight misalignment between a ground system and the orbiter, though the two systems are now detached, he added.
"This is not a problem for us," Leinbach said, adding that he does not expect to see the reading again before launch. "This is not a constraint."
Atlantis is hauling a 17.5-ton, $371.8 million pair of new trusses and solar arrays to the ISS, where they will be installed on the station's port side during three planned spacewalks. The mission is slated to last about 11 days.
Meanwhile, launch pad workers are hoping to roll back a shroud-like Rotating Service Structure - which protects NASA shuttles from poor weather - by 3:00 p.m. EDT (1900 GMT) before afternoon thunderstorms arrive in the area. The activity could be pushed up an hour at the most, NASA officials said.
Wayne Hale, NASA's space shuttle program manager, said that Atlantis' STS-115 astronauts could gain two extra mission days if they launch Wednesday or Thursday, which could ease a busy schedule that includes two back-to-back spacewalks this weekend.
If needed, an extra day could be inserted on Flight Day 5 - which would be Sunday given a Sept. 6 launch - to allow a focused inspection of Atlantis' heat shield, Hale said.
While NASA is now routinely conducting a Flight Day 2 check of a shuttle's heat shield using a sensor-laden inspection boom that adds an extra 50-foot (15-meter) reach to the orbiter's robotic arm. But a focused inspection to take an up-close look at certain areas will only be added to the STS-115 crew's schedule if absolutely necessary, NASA officials said
"We don't have that scheduled on the STS-115 timeline but we know that it is a possibility," Hale said of the focused inspections, adding that a second heat shield check is also scheduled near the end Atlantis' flight to scan for orbital debris damage. "There is a hope that, perhaps, we won't need to do that."
Gallery: Prepping Atlantis
Complete Space Shuttle Mission Coverage
NASA's STS-115: Shuttle Atlantis to Jump Start ISS Construction
The Great Space Quiz: Space Shuttle Countdown