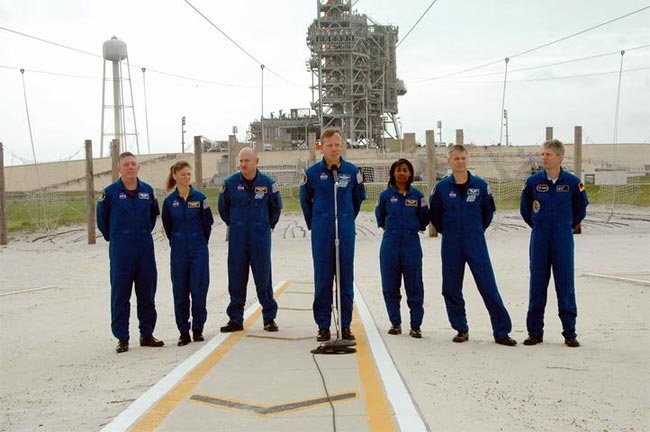 CAPE CANAVERAL, Fla. - The clock is ticking down towards a mock Thursday launch for NASA's STS-121 astronauts, who are preparing to ride the space shuttle Discovery into orbit on July 1.
The launch dress rehearsal, a two-day training session known as a Terminal Countdown Demonstration Test (TCDT) here at NASA's Kennedy Space Center (KSC), is one of the final milestones before the STS-121 crew launches aboard Discovery next month.
"I've been telling the crew that I'm guaranteeing July 1 but, as I get told at home, I'm quite often wrong," STS-121 commander Steven Lindsey said Tuesday in a press briefing at Discovery's launch pad. "I don't really know of anything out there that would preclude a July 1 launch."
The STS-121 astronaut crew will fly NASA's second orbiter test flight since the 2003 Columbia accident. After long delays and major revisions of shuttle external tank, the Discovery astronauts are now less than three weeks from the opening of their 19-day launch window. A specific launch date is expected to be announced on Saturday.
"We're excited to be here in sight of the launch pad at last," STS-121 mission specialist Michael Fossum said. "I won't say we're perfect, but we're as good as we're going to get."
Lindsey and his fellow crewmates were scheduled to spend today conducting emergency launch pad escape drills on the Pad 39B gantry 195 feet (59 meters) above the surrounding area, as well as attend a series of meetings to discuss the Discovery orbiter, STS-121 payload and operations issues, NASA KSC spokesperson Tracy Young told SPACE.com.
"The vast amount of our training is at [Johnson Space Center in Houston] in a simulator, but if you look behind me, this is no simulator," said Lindsey, referring to the Discovery orbiter perched in launch position atop Pad 39B behind him and his crewmates. "This event, more than any other, makes us feel like it's real and we're almost ready to go."
In addition to Lindsey and Fossum, STS-121 pilot Mark Kelly, mission specialists, Lisa Nowak, Stephanie Wilson, Piers Sellers and European Space Agency astronaut Thomas Reiter are participating in the TCDT training.
"This orbiter's been well taken care of for the last year since it landed for STS-114," Kelly said of Discovery. "We are very comfortable that it's in perfect condition for flight."
NASA's STS-114 mission launched in July 2005 on the first post-Columbia shuttle flight, a 14-day mission that ended with a successful landing at Edwards Air Force Base in California.
On Thursday, the crew will don their orange flight suits and walk out to the launch pad for a mock launch countdown inside the Discovery vehicle.
At least two STS-121 astronauts are keeping an eye on the ongoing World Cup 2006 soccer tournament playing out in Germany. Germany-born Reiter and Sellers, of England, are both admitted soccer fans and are following their national teams even as they prepare for Discovery's upcoming launch.
"He's a Germany fan, I'm an England fan, and we're both backup Brazil fans," Sellers said of himself and Reiter.