The online Slooh Community Observatory will host a live webcast tonight (April 22) at 8 p.m. EDT (0000 GMT) to highlight and discuss the peak of the annual Lyrid meteor shower. Watch live here, courtesy of Slooh. You can go to Slooh.com to join and watch this live broadcast, snap and share your own photos during the event, chat with audience members and interact with the hosts, and personally control Slooh's telescopes. The webcast will also appear below, courtesy of Slooh. Learn more: Lyrids: Leftovers of Comet Thatcher
From Slooh:
"On Friday, April 22, 2016, at 05:00 PM PDT/08:00 PM EDT/00:00UTC, Slooh will bring together our global network of observatory partners for a night of celestial fireworks, anchored by live feeds from our flagship observatory at the Institute of Astrophysics of the Canary Islands, which were officially inaugurated by the King of Spain last year. The webcast will also bring together live feeds from four other countries, including Slooh's headquarters in Washington Depot, CT, the Daniel Thompson Astronomical Observatory in Thunder Bay, Canada, the UK Meteor Observation Network and Slooh's own observatory in Chile.
"Over the show's five hours, viewers will be treated to fascinating facts about meteor showers, learn how they can hear meteors, as well as see them, hear the captivating story of Lyra, the constellation where this shower gets its name, and get a quick lesson in taking their own meteor photographs. Slooh's expert commentary, and relaxing musical selections make it a perfect soundtrack to your own stargazing plans with family and friends.

"The Lyrids can appear anywhere in the sky, so you don't need to look towards the radiant. Your best bet is to look for meteors near the peak of the shower after midnight on April 22 and into the early morning of April 23. You don't need a telescope or binoculars. Just turn on Slooh's expert commentary, grab a good chair or blanket, lie back and look up. Although the timing this year may favor observers in Europe, the Lyrids are visible for observers in most parts of the world.

"Viewers can ask questions during the show by sending them to @Slooh on Twitter, or by joining us in our live chat on Slooh.com."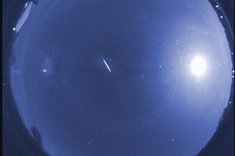 0 of 10 questions complete
Follow us
@Spacedotcom
,
Facebook
and
Google+
.