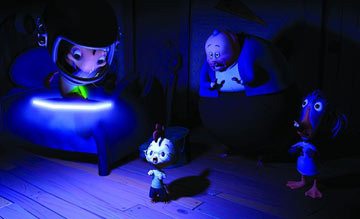 Disney's first homegrown computer-animated film is one of the more painful moviegoing experiences in years, a contrived bit of barnyard pat dubbed Chicken Little.
Despite its sleek spaceships and cute animal antics - all lovingly rendered digitally for sure - Chicken Little slips smoothly and swiftly into the role of an attention-hungry and awkward younger sibling who's desperate to emulate a popular older brother.
Unlike Pixar's The Incredibles or Finding Nemo, which are visually breathtaking masterpieces, Chicken Little is an uneven picture with cliches-a-plenty and family story executed more successfully in other, proven titles.
The film pits its inventive, bespectacled title character Chicken Little (Zach Braff) against the alien forces apparently threatening his lovely farmish community. One simple misunderstanding about the sky falling - in which he spreads mass paranoia while swinging comically from a school bell like a miniature Quasimodo - seems enough to label our plucky hero a pariah. He apparently even warrants a "Crazy Little Chicken" movie.
Unable to live down the embarrassment, and faced with a mortified - and widowed - father (Gary Marshall), Chicken Little decides to prove himself in something that, at first glance, may not seem like a natural fit: baseball. Just when the chick thinks he might be able to put the whole incident behind him, another piece of sky knocks him out cold.
Directed by Mark Dindal from a script credited to Robert L. Baird, Steve Bencich, Ron J. Friedman, and Dan Gerson, Chicken Little fails to do more than present a pretty picture show with out much substance. The feathers were a little too feathery, the angles a little too angled, especially when juxtaposed against other surfaces which obviously hadn't received as much attention.
Even Chicken Little's faithful entourage - a chunky pig named Runt of the Litter (Steve Zahn) and the ducky Abby Mallard (Joan Cusack) - fall flat after an unrelenting succession of single-punchline jokes and non-sequiturs, with sophomoric belching jokes thrown in for good measure. The story's most expressive character happens to be mute, a helmet-crowned goldfish called Fish Out of Water with a penchant for theatrics.
It's possibly that we've been spoiled by the sophistication of solid storytelling of other contemporary animation tales, but the less-than-subtle transparency of Chicken Little's father-son conflict hits hernia-inducing heights.
Disneymay have made a mistake shutting down its traditional 2D animation studio, but severing its ties with Pixar has only landed it with egg on its face.
(Chicken Little opens November 4. Running time: 81 minutes, Rated G).