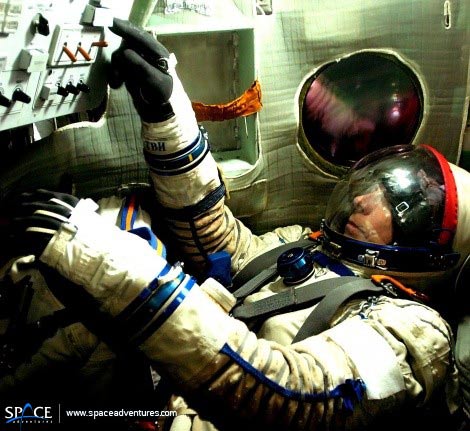 Despite paying millions for a flight to the International Space Station (ISS), the next tourist to the orbital platform does not plan to spend all of his time at play.
Gregory Olsen, an American scientist and entrepreneur set to become the third space tourist to visit the ISS, will participate in a trio of experiments for the European Space Agency (ESA) during his eight days aboard the station.
"I think it's very important to him," said Stacey Tearne, a spokesperson with the Arlington, Va.-firm Space Adventures, which brokered Olsen's flight. "He wants to experience space and weightlessness. But being able to come back to research, and have some data...that will be very fulfilling for him."
Olsen will launch to the space station with ISS Expedition 12 commander Bill McArthur and flight engineer Valery Tokarev, who will take over control of the orbital laboratory from its current caretakers - cosmonaut Sergei Krikalev and NASA astronaut John Phillips of Expedition 11. A Soyuz TMA-7 spacecraft is scheduled to carry Expedition 12 and Olsen toward the ISS on Sept. 30 at 11:54 p.m. EDT (0354 Oct. 1 GMT), NASA officials said.
Olsen's $20-million spaceflight will follow the successful ISS flights of space tourists Dennis Tito in 2001 and Mark Shuttleworth in 2002. Those flights, like Olsen's, were also brokered by Space Adventures.
As part of the agreement with the ESA, Olsen will serve as the test subject for two human physiology studies in microgravity. Included among them is the Motion Perception (MOP) study to better understand motion sickness, as well as a study of lower back pain which ISS astronauts experience during long-duration spaceflights. Olsen will also help collect data on the different types of microbes living aboard the station and its crew, Space Adventures officials said.
"Learning how to live and work in space and my upcoming mission are truly a dream come true for me," Olsen said in a statement released Monday. "But I am first and foremost a scientist, and I am going to carry out real science aboard the ISS...I do not consider myself a space tourist."
Hailing from Princeton, New Jersey, Olsen founded the firms Epitaxx, Inc. and Sensors Unlimited, Inc. His upcoming flight will mark the end of a sometimes rocky road to space, during which an undisclosed medical condition prematurely ended his cosmonaut training. That condition has since been resolved, Olsen said.
In an earlier interview, Olsen told SPACE.com that he also hoped to communicate with local Princeton schoolchildren via ham radio sessions.
"He just can't wait," said Tearne, who has been communicating with Olsen via e-mail, of his upcoming mission. "He's like a kid in a candy store."
Soyuz Launch to ISS is No Risk, Third Space Tourist Says
Complete Coverage: ISS Expedition 12