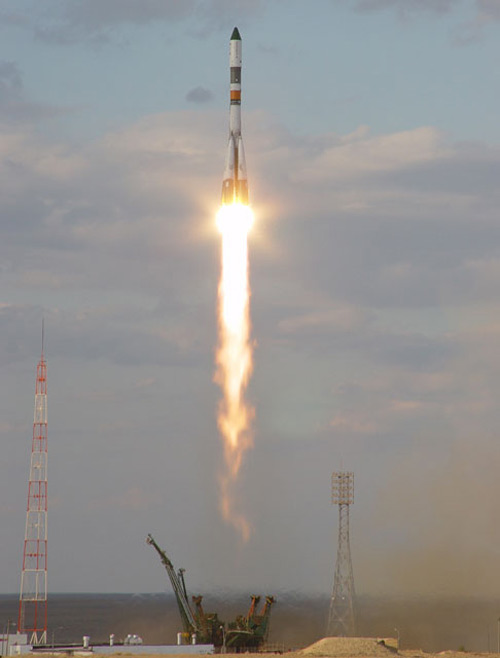 An unmanned spacecraft docked at the International Space Station (ISS) with ease Saturday, delivering a fresh batch of food, oxygen and other vital supplies to the two astronauts working onboard the orbital laboratory.
The automated Russian-built cargo ship Progress 19 appeared to perform flawlessly as it docked at the aft end of the space station's Zvezda service module at 10:42 a.m. EDT (1442 GMT), a full eight minutes earlier than expected.
ISS Expedition 11 commander Sergei Krikalev and flight engineer John Phillips - the station's current crew - watched over the supply ship's arrival and were prepared to take over control of the spacecraft remotely if necessary. A failure in the automated guidance system of the last cargo ship to visit the ISS - Progress 18 - forced Krikalev to take command.
But that was not the case today and Progress 19 reached its berth with no need for intervention by the ISS crew.
"Congratulations on the docking and also a belated happy birthday to you," Nikolai Sevastianov, chief of the Russian aerospace contractor RSC Energia, told Krikalev after docking.
Krikalev celebrated his 47th birthday on Aug. 27, and has spent more days in space during his lifetime than any other astronaut.
Progress 19's docking ended a two-day flight for the supply craft, which began with a Sept. 8 launch from Baikonur Cosmodrome in Kazakstan.
Stowed aboard the cargo ship is more than 5,175 pounds (2,347 kilograms) of material, among which are 1,760 pounds (798 kilograms) of propellant, 242 pounds (109 kilograms), more than 459 pounds (208 kilograms) of water and about 2,700 pounds (1,224 kilograms) of dry cargo.
Russian flight controllers went over plans for opening Progress 19, which called for hatch opening at about 1:45 p.m. EDT (1745 GMT) today and the first unloading operations to begin Sunday.
"That sounds good to me," Krikalev responded.
One of the key items aboard Progress 19 is a replacement liquids unit for the space station's Russian-built Elektron oxygen generator.
The generator, the primary source of oxygen aboard the ISS, failed earlier this year. Krikalev and Phillips have relied on oxygen stored in tanks aboard past Progress ships and solid fuel oxygen generators (SFOGs), known as "candles."
NASA officials said the new liquids unit should help Krikalev and Phillips repair the Elektron unit, an activity scheduled to begin Sept. 15.
Russian Progress cargo ships make regular resupply flights to the ISS and were a vital asset to maintaining the space station when NASA grounded its space shuttle fleet following the loss of the Columbia orbiter and its crew in 2003. While the space shuttle Discovery recently visited the ISS this year during its July-August flight, the need to reduce external tank foam shedding - which also doomed Columbia - and damage to key NASA facilities by Hurricane Katrina have left the next shuttle launch date in limbo.
NASA officials said that Progress 19 was fitted with 14 extra tanks for its supply run, which allowed it to deliver an additional 132 pounds (59 kilograms) of oxygen to the ISS.
The spacecraft also delivered supplies for the ISS Expedition 12 crew, commanded by Bill McArthur of NASA with cosmonaut Valery Tokarev serving as flight engineer. The two astronauts are set to launch spaceward late Sept. 30 (though it will be Oct. 1 at their Baikonur Cosmodrome launch site) with space tourist Greg Olsen.
Krikalev and Phillips will return to Earth with Olsen on Oct. 11, NASA officials said.
Complete Coverage: ISS Expedition 11
Complete Coverage: ISS Expedition 12