Strange Brew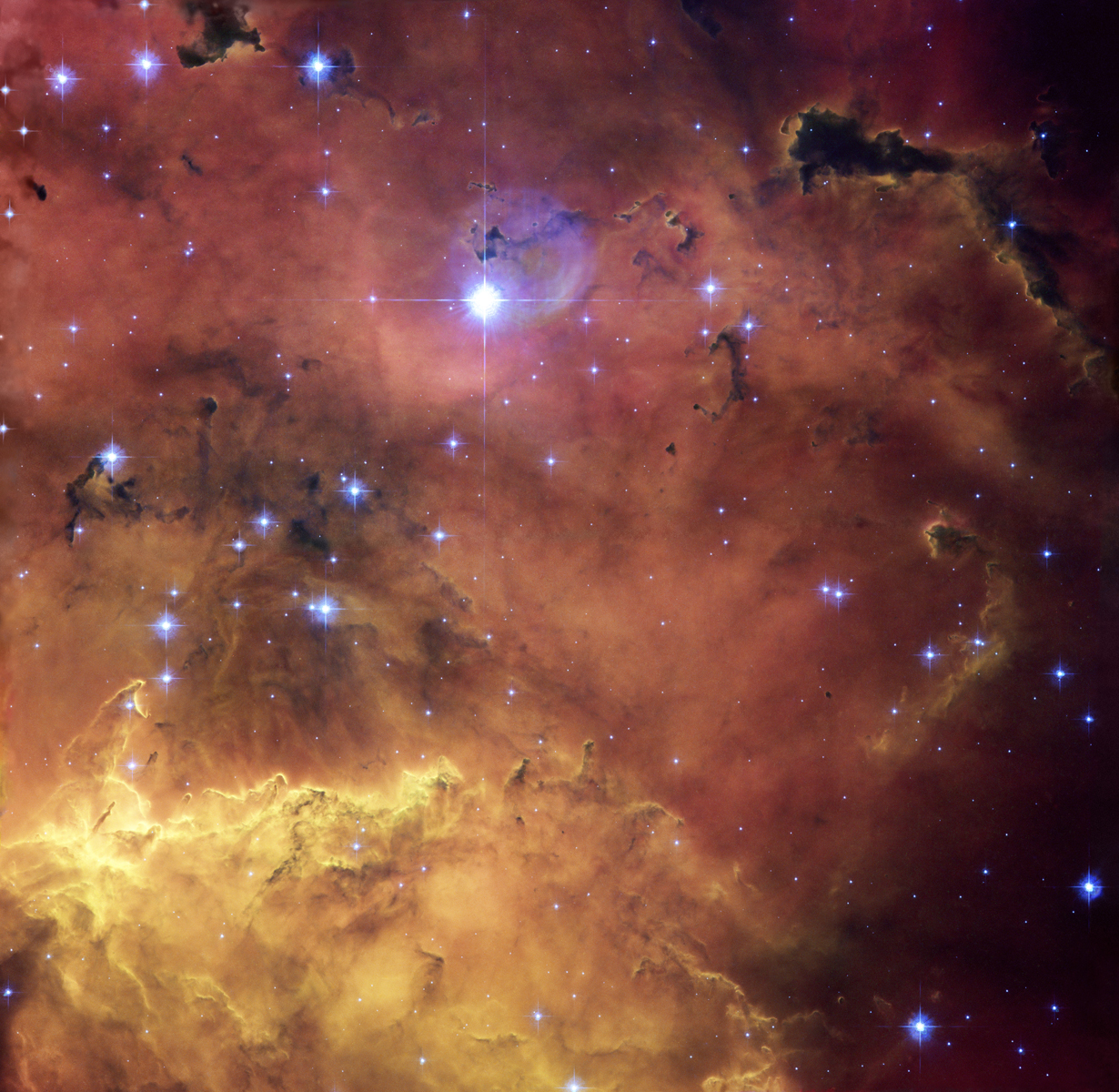 Monday, November 1, 2010: A colourful star-forming region is featured in this stunning new NASA/ESA Hubble Space Telescope image of NGC 2467. Huge clouds of gas and dust are sprinkled with bright blue, hot young stars. Strangely shaped dust clouds, resembling spilled liquids, are silhouetted against a colourful background of glowing gas.
Remnants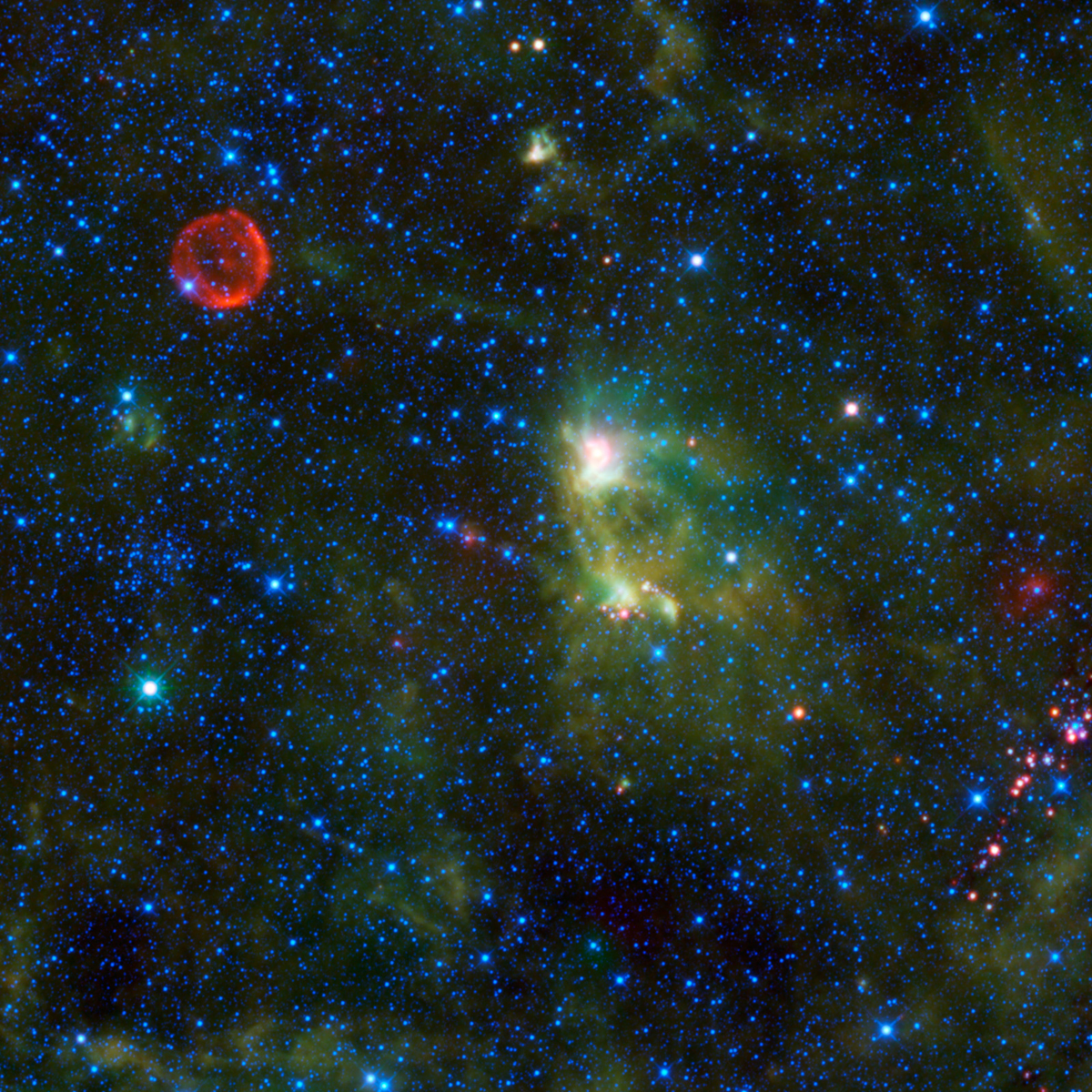 Tuesday, November 2, 2010: This image from NASA's Wide-field Infrared Survey Explorer (WISE) shows the constellation Cassiopeia. The red circle visible in the upper left part of the image is SN 1572, often called "Tycho's Supernova." This remnant of a star explosion is named after the astronomer Tycho Brahe, although he was not the only person to observe and record the supernova.
Into the Smog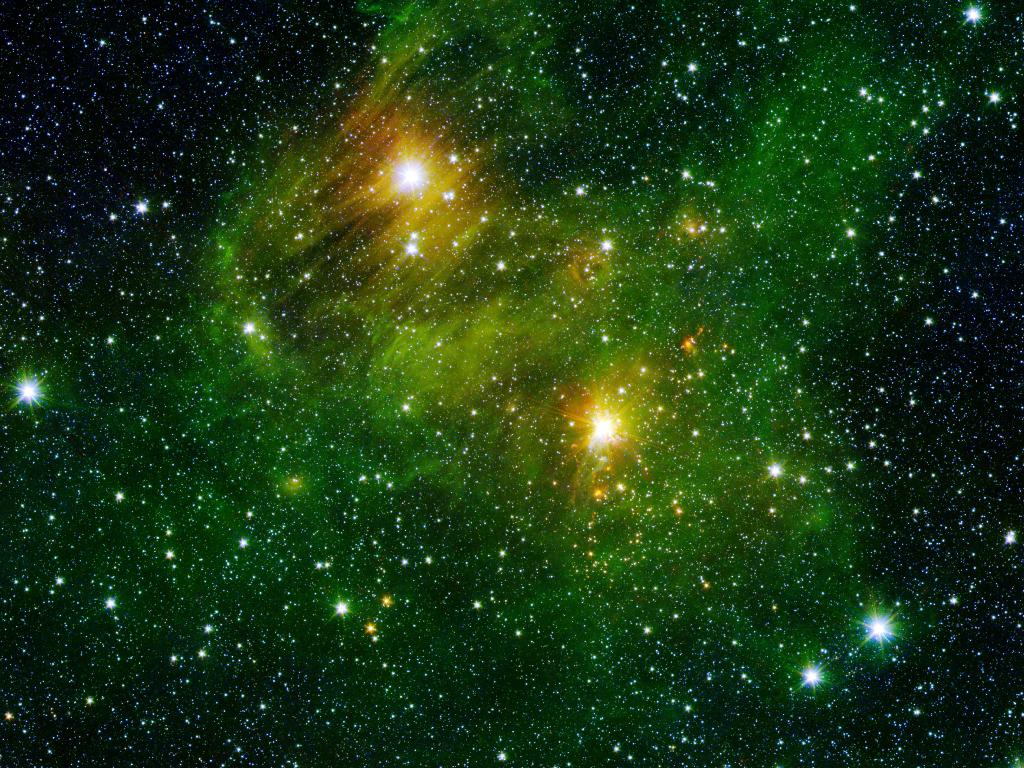 Wednesday, November 3, 2010: Two extremely bright stars illuminate a greenish mist in this image from the Spitzer Space Telescope's "GLIMPSE360" survey. This mist is comprised of hydrogen and carbon compounds called polycyclic aromatic hydrocarbons (PAHs), which also are found here on Earth in sooty vehicle exhaust and on charred grills.
Sunshine Life for Me (Sail Away)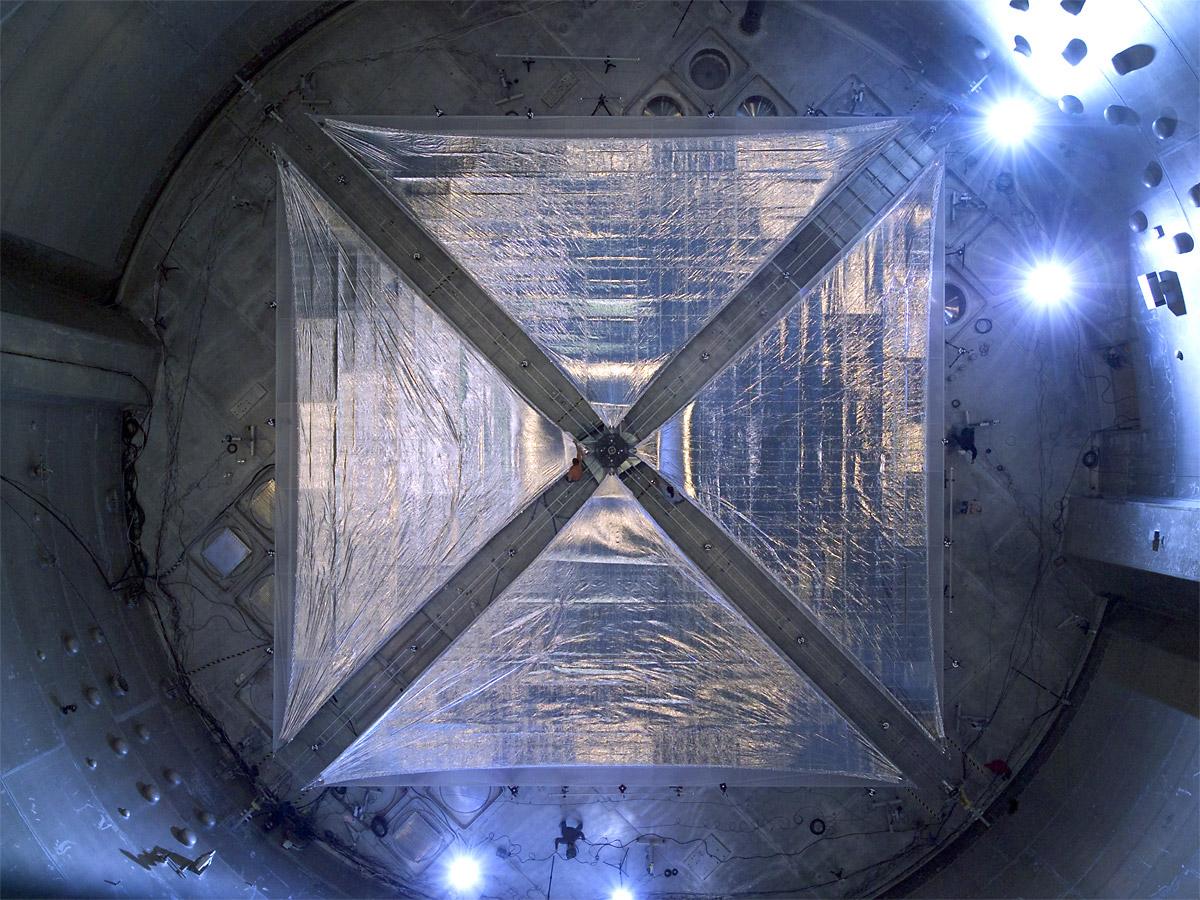 Thursday, November 4, 2010: NASA engineers are testing solar sails, a unique propulsion technology which rely on sunlight to propel vehicles through space. The sail captures solar particles, called photons. This image is of a four-quadrant solar sail system, measuring 66 feet on each side, being tested in the world's largest vacuum chamber at NASA's Glenn Research Center at Plum Brook Station in Sandusky, Ohio.
As Real as It May Seem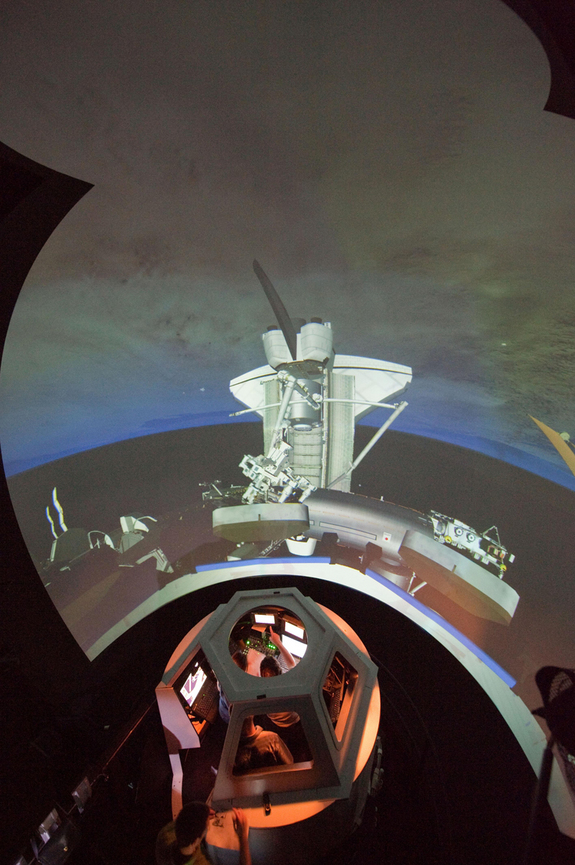 Friday, November 5, 2010: STS-133 astronauts Michael Barratt and Nicole Stott, both mission specialists, participate in an exercise in the systems engineering simulator in the Avionics Systems Laboratory at NASA's Johnson Space Center. The facility includes moving scenes of full-sized International Space Station components over a simulated Earth.
That Must Be Tinkerbell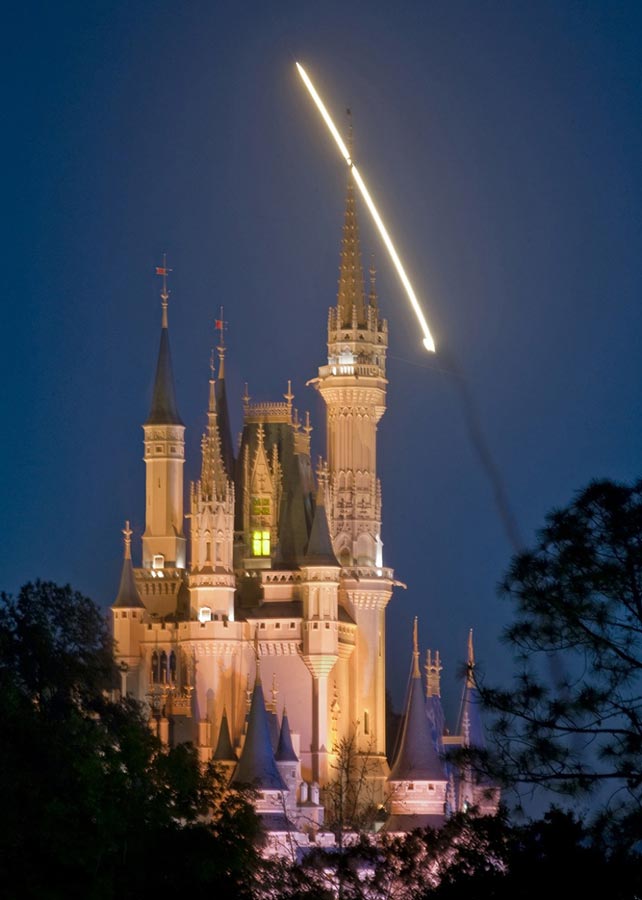 Tuesday, November 9, 2010: NASA launched the space shuttle Discovery's STS-131 mission on April 5, 2010 to kick off a two-week delivery flight to the International Space Station. Here Disney photographer Kent Phillips catches the shuttle launch from Kennedy Space Center, Fla., as it appeared from Walt Disney World in Orlando.
Worlds in Collision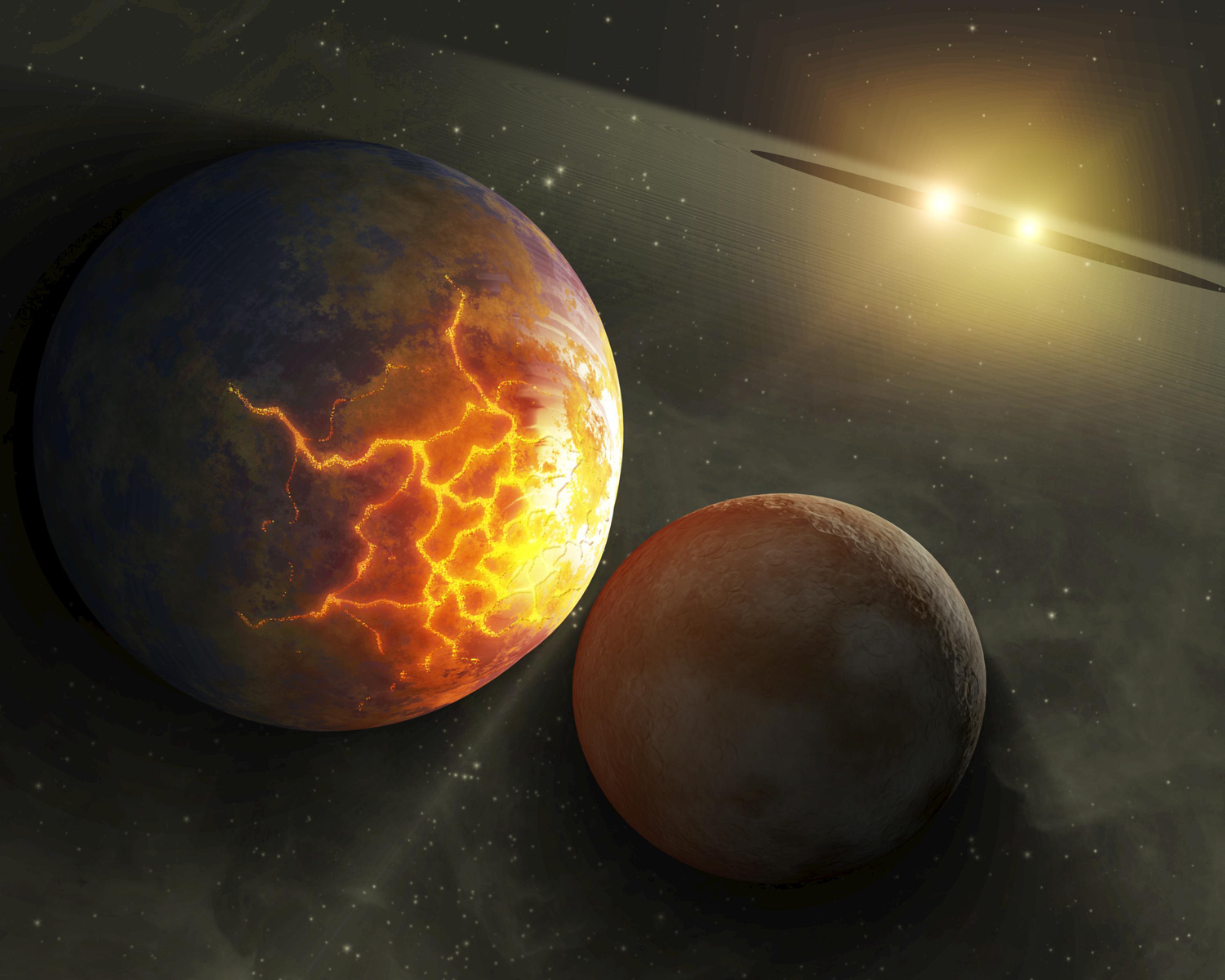 Wednesday, November 10, 2010: This artist's concept illustrates an imminent planetary collision around a pair of double stars. NASA's Spitzer Space Telescope found evidence that such collisions could be common around a certain type of tight double, or binary, star system, referred to as RS Canum Venaticorums or RS CVns for short.
Spinning Away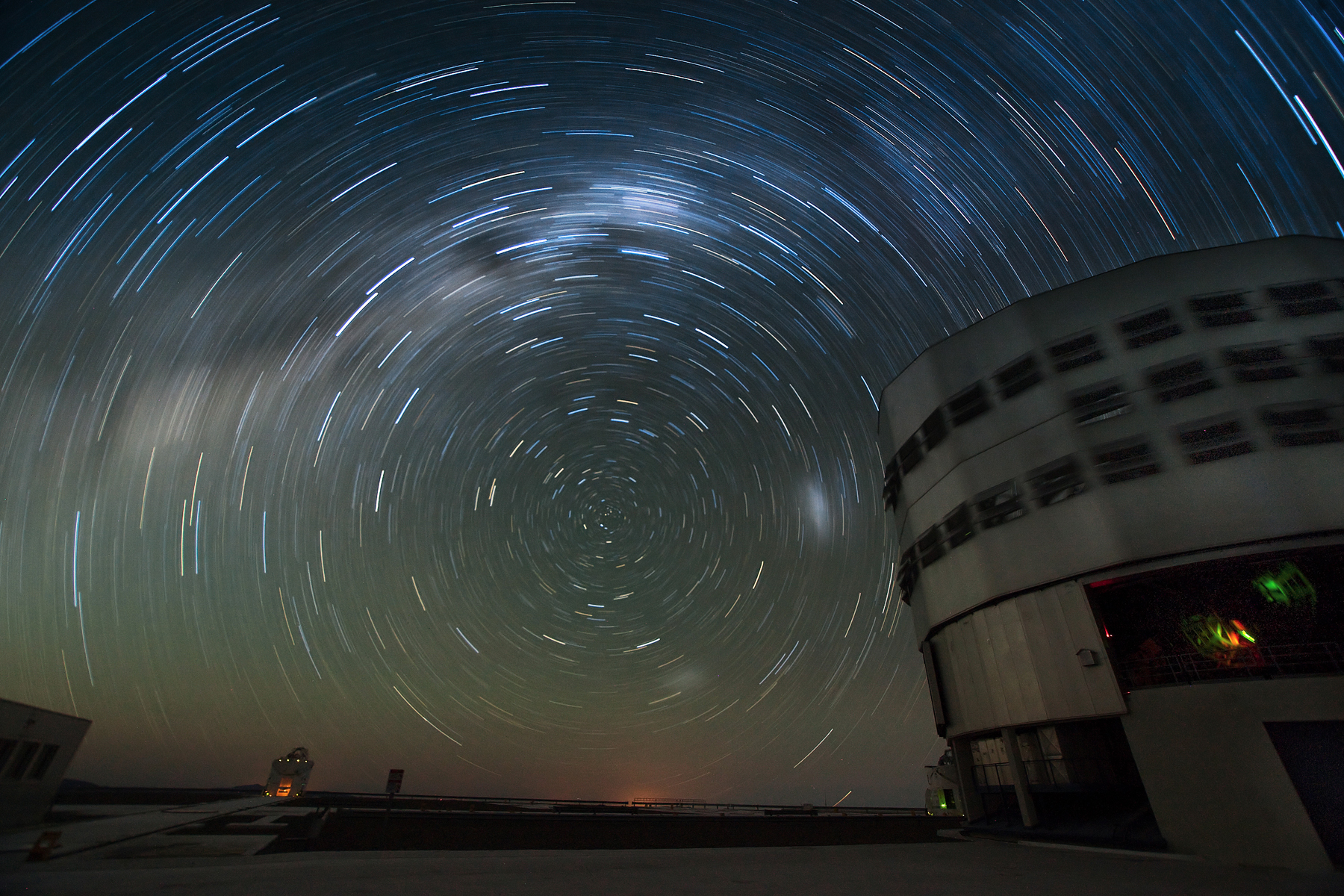 Thursday, November 11, 2010: During a night at ESO's Very Large Telescope (VLT), the stars seem to rotate around the southern celestial pole. The skies over Paranal provide splendid observing opportunities for the astronomers below. At the observatory on Cerro Paranal in the dry Atacama Desert of Chile, one of the observatory's four 8.2-metre telescopes can be seen on the right performing its nightly task of looking at the heavens.
Let the Water Hold Me Down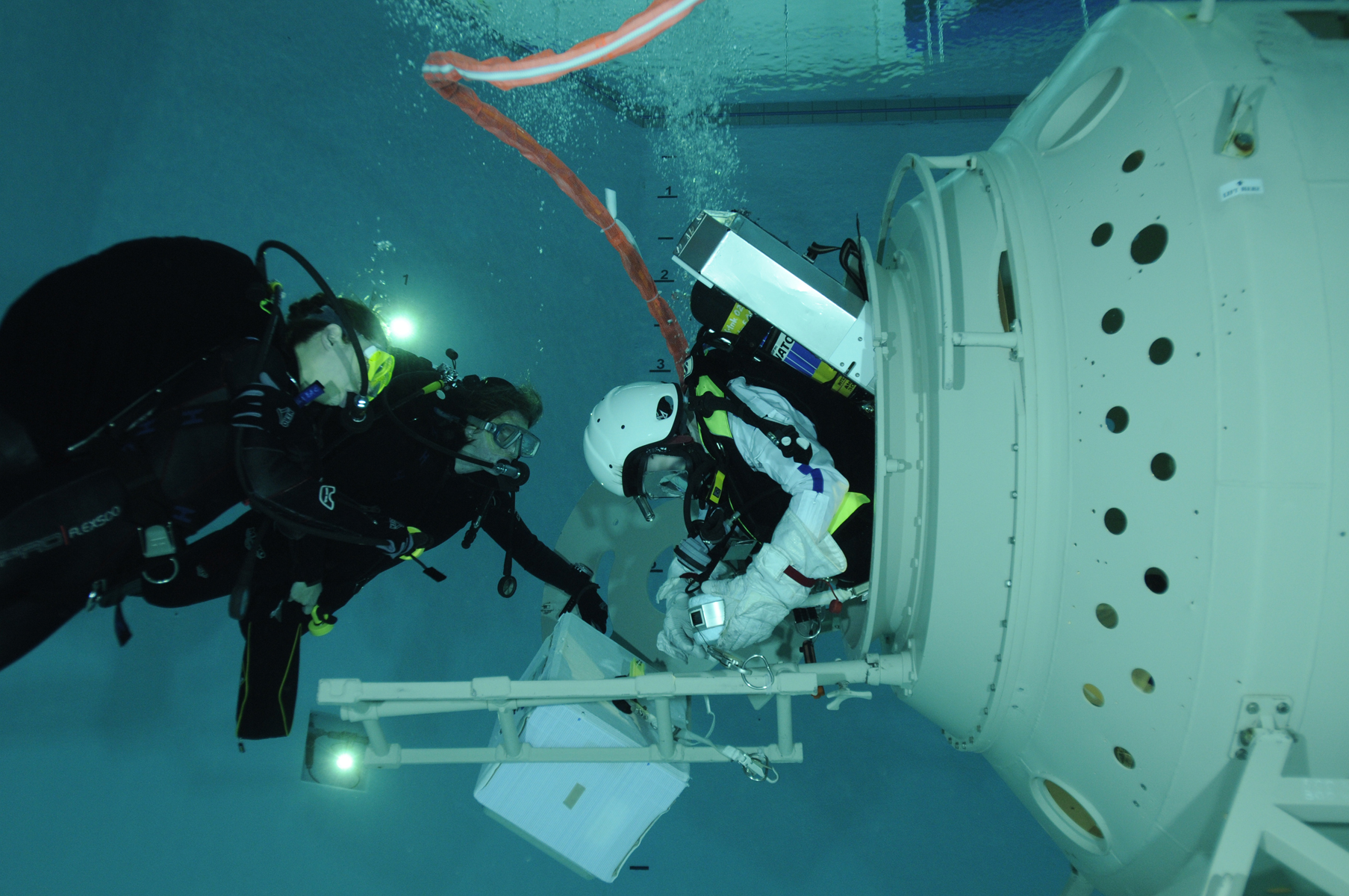 Friday, November 12, 2010: ESA astronaut Samantha Cristoforetti, from Italy, undergoes EVA pre-familiarisation training at ESA's Neutral Buoyancy Facility at the Astronaut Center, in Cologne, Germany, June 9, 2010. This course teaches ESA astronauts basic spacewalk concepts and skills, such as tethering to the Station, the use of special EVA tools, communicating with an EVA crewmate and with the control room and how to keep full situational awareness.
Dark Skies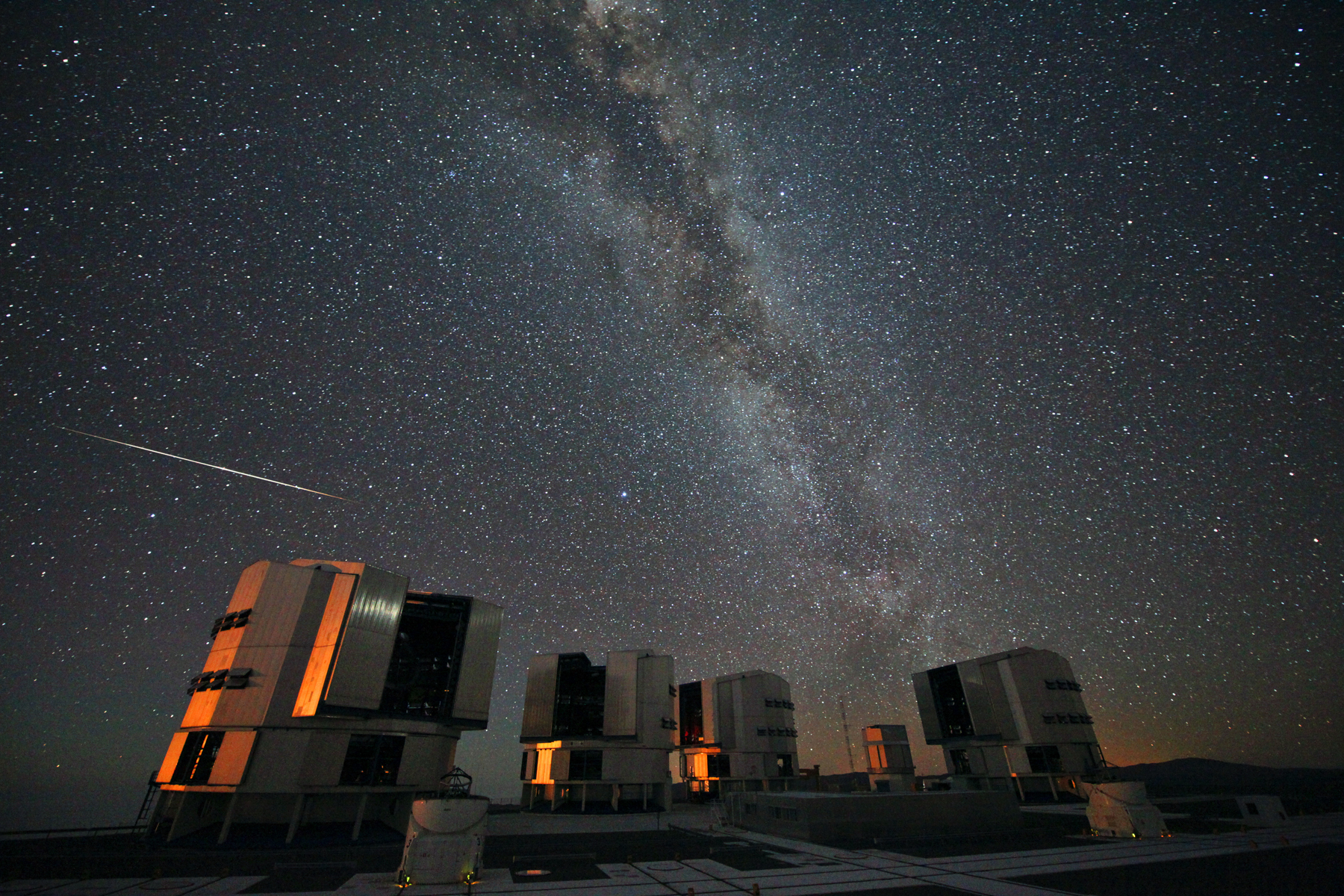 Monday, November 15, 2010: Despite the Perseid meteor shower being more visible in the northern hemisphere, due to the path of Comet Swift-Tuttle's orbit, the shower was also spotted from the exceptionally dark skies over ESO's Paranal Observatory in Chile.
Get in the Picture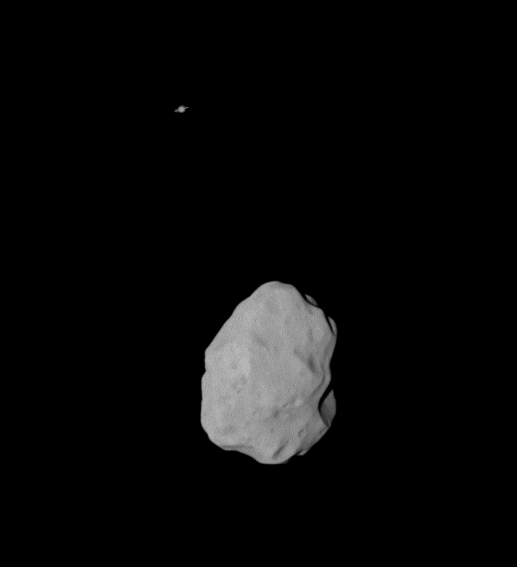 Tuesday, November 16, 2010: At a distance of 36000 km the OSIRIS Narrow Angle Camera (NAC) on ESA's Rosetta spacecraft took this image of the asteroid Lutetia on July 10, 2010, catching the planet Saturn in the background.
The Thin Red Line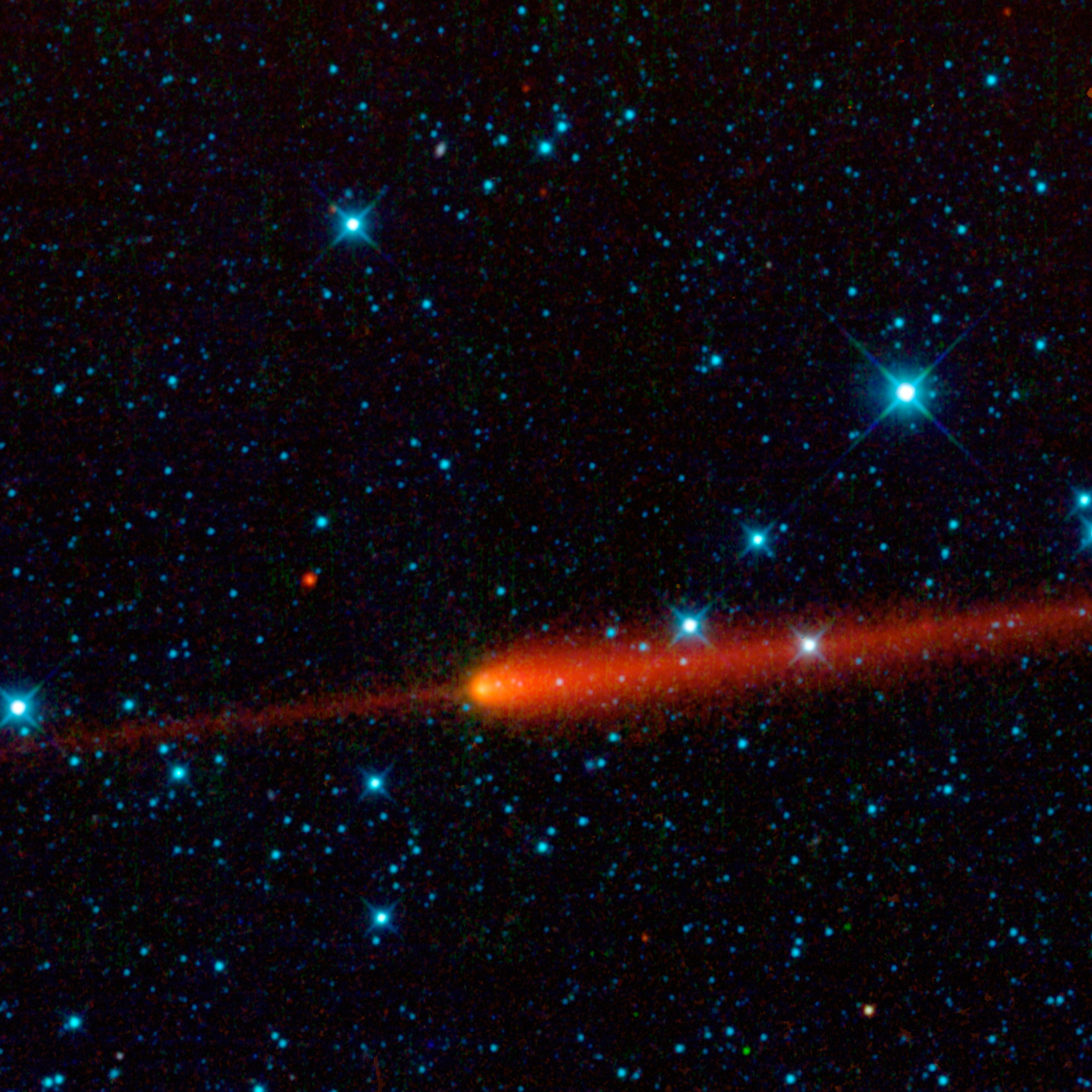 Wednesday, November 17, 2010: This image from NASA's Wide-field Infrared Survey Explorer (WISE) features comet 65P/Gunn. Comet 65P/Gunn's tail is seen here in red trailing off to the right of the comet's nucleus (at center).
Cool Places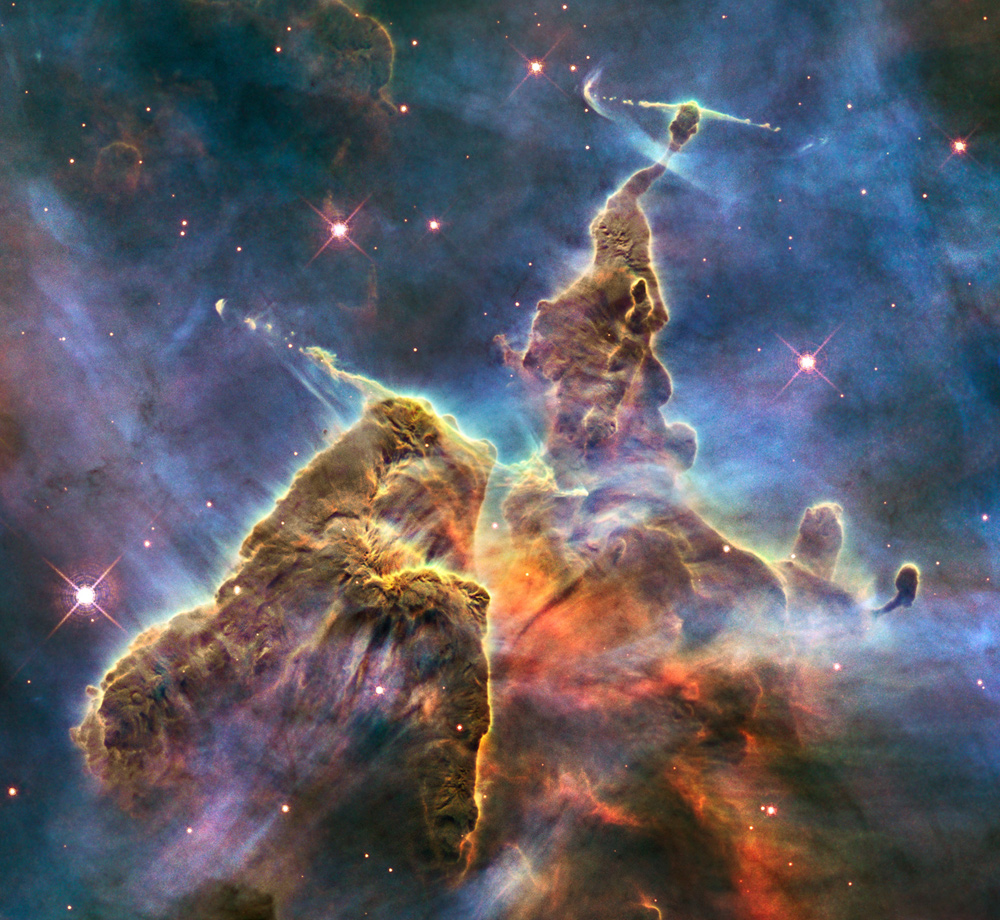 Thursday, November 18, 2010: This Hubble Space Telescope photo released in April 2010 for its 20th birthday is of a small portion of one of the largest seen star-birth regions in the galaxy, the Carina Nebula. Towers of cool hydrogen laced with dust rise from the wall of the nebula. The scene is reminiscent of Hubble's classic "Pillars of Creation" photo from 1995, but is even more striking in appearance. The image captures the top of a three-light-year-tall pillar of gas and dust that is being eaten away by the brilliant light from nearby bright stars. The pillar is also being pushed apart from within, as infant stars buried inside it fire off jets of gas that can be seen streaming from towering peaks like arrows sailing through the air.
Odd Man Out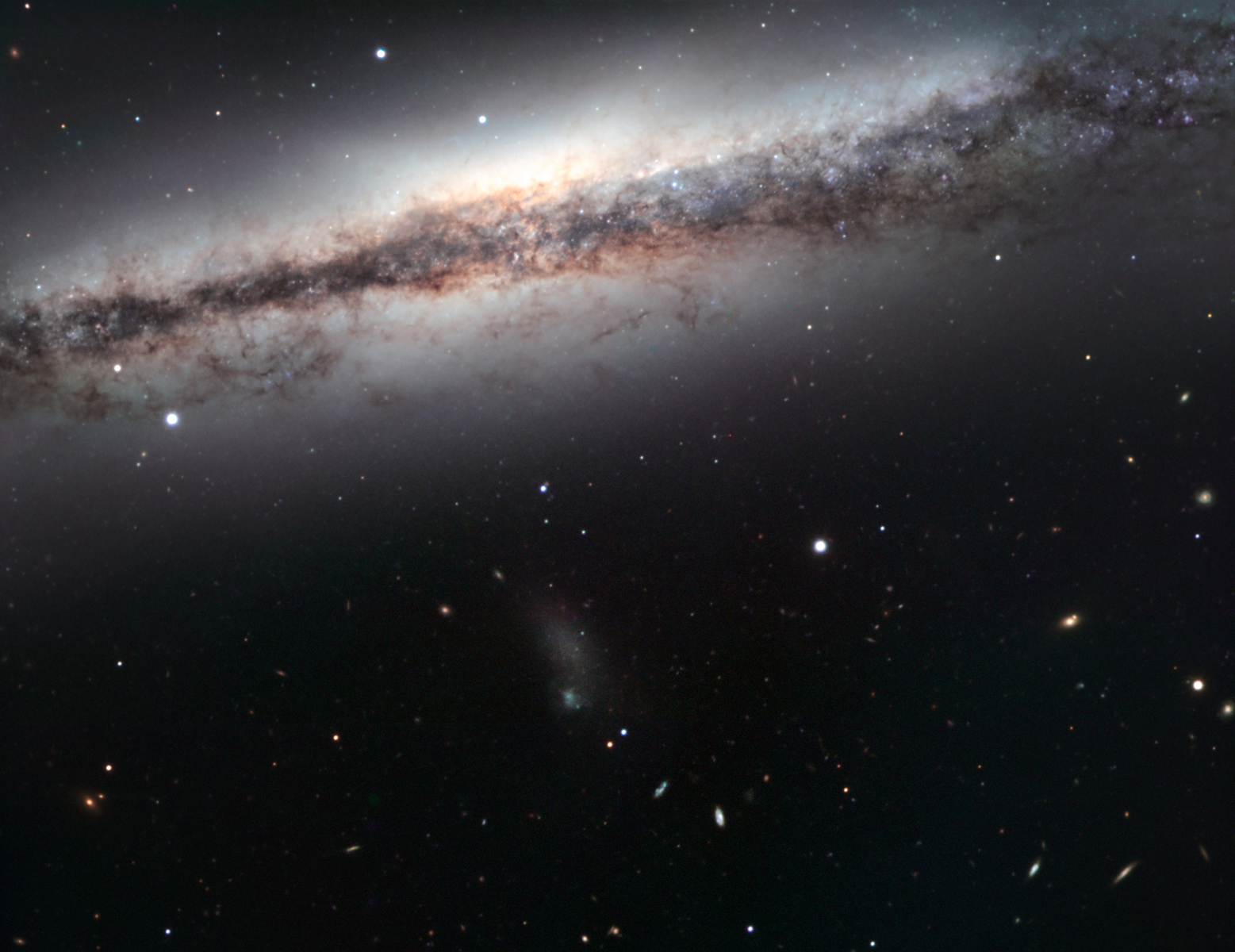 Friday, November 19, 2010: NGC 3628 is a spiral galaxy and a member of a small but conspicuous group of galaxies located about 35 million light-years away, toward the constellation of Leo (the Lion). It makes up the Leo Triplet along with spiral galaxies, Messier 65 and Messier 66 (not seen in this image), which were discovered in 1780 by French comet hunter Charles Messier. NGC 3628 is the faintest of the trio and escaped Messier's observations. It was discovered and catalogued by William Herschel four years later. NGC 3628 hides its spiral structure because it is seen perfectly edge-on. Its unusual feature is a dark band of dust that lies across the plane of the disc, visibly distorted outwards as a consequence of gravitational interaction between NGC 3628 and its companions.
Everybody Get in Line!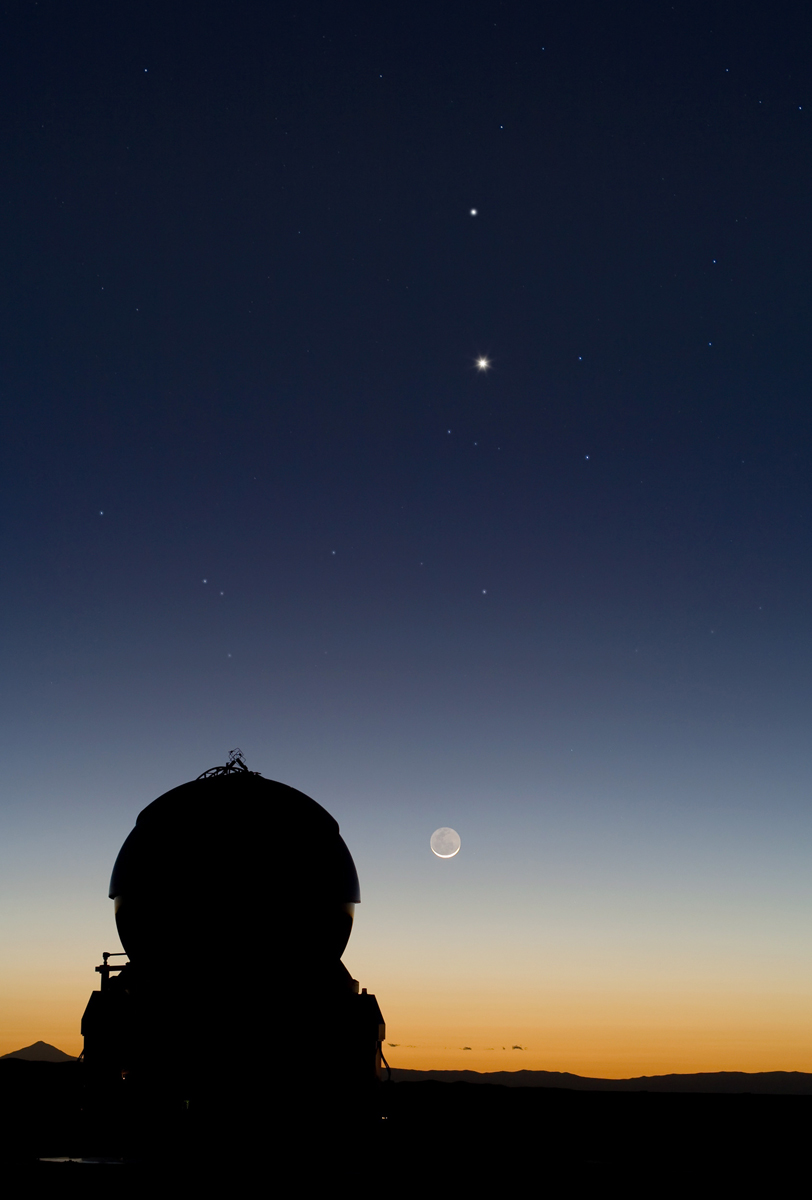 Monday, November 22, 2010: In March 2008, Yuri Beletsky, astronomer at ESO's Very Large Telescope (VLT) observatory at Paranal in northern Chile, caught this rare sight. In the sky above the observing deck, the planets Mercury (highest) and Venus were in alignment above the Moon, creating a celestial event known as a conjunction.
Let Me Go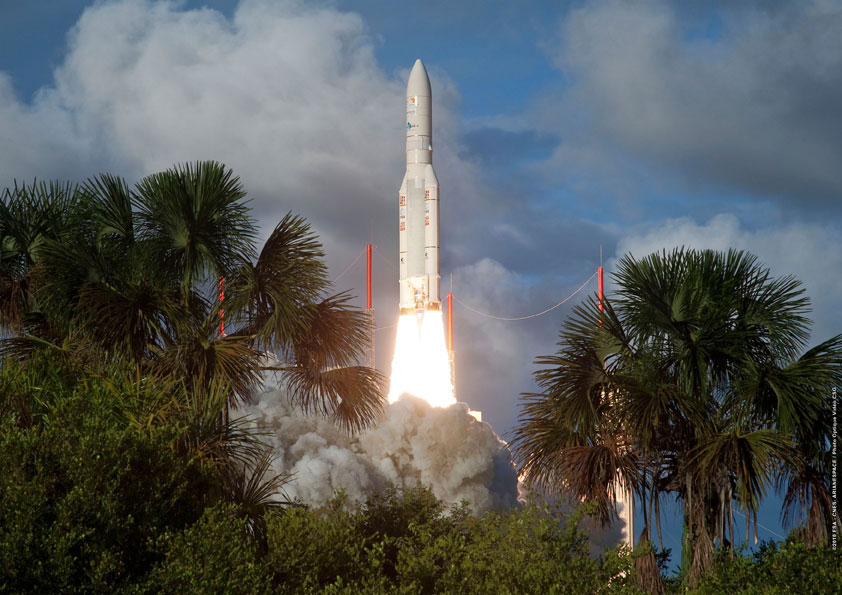 Tuesday, November 23, 2010: An Ariane 5 rocket launches on Aug. 4, 2010 with NILESAT 201 and RASCOM-QAF1R was performed from the Spaceport's ELA-3 launch zone at the Guiana Space Center in Kourou, French Guiana.
One Summer Dream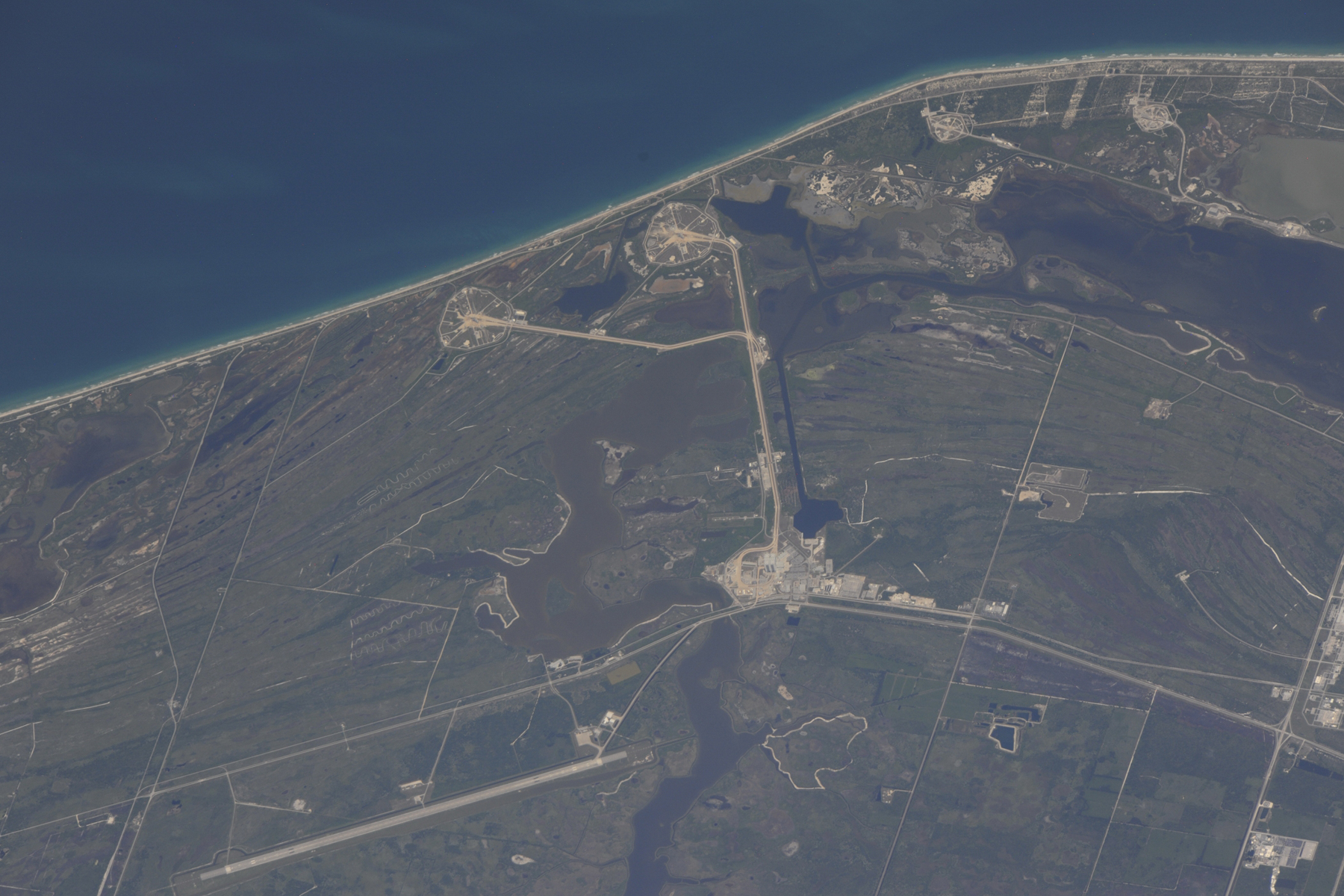 Wednesday, November 24, 2010: Kennedy Space Center as seen from International Space Station by NASA astronaut Douglas Wheelock, who posted this photo on Aug. 22, 2010 from space with the comment: To all of my friends and teammates on the 'Space Coast' … a beautiful summer day over Cape Canaveral, Florida . This is a magical place…an inspiring display of nature and technology in complete harmony. Launch Complex 39 sitting proudly in the middle of a thriving wildlife refuge. A unique place that launched a generation of scientists, engineers, explorers and dreamers. We cannot let this place fall silent … "
Lake Eerie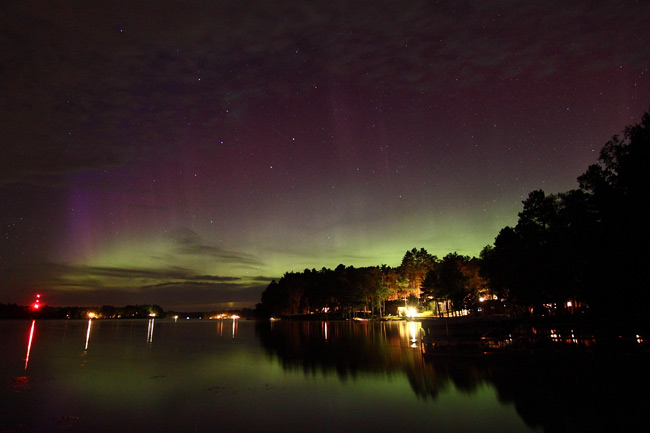 Monday, November 29, 2010: Derek Weston was vacationing in northern Wisconsin when he photographed the aurora that was caused by an Aug. 1 solar flare.
Fly Me to the Moon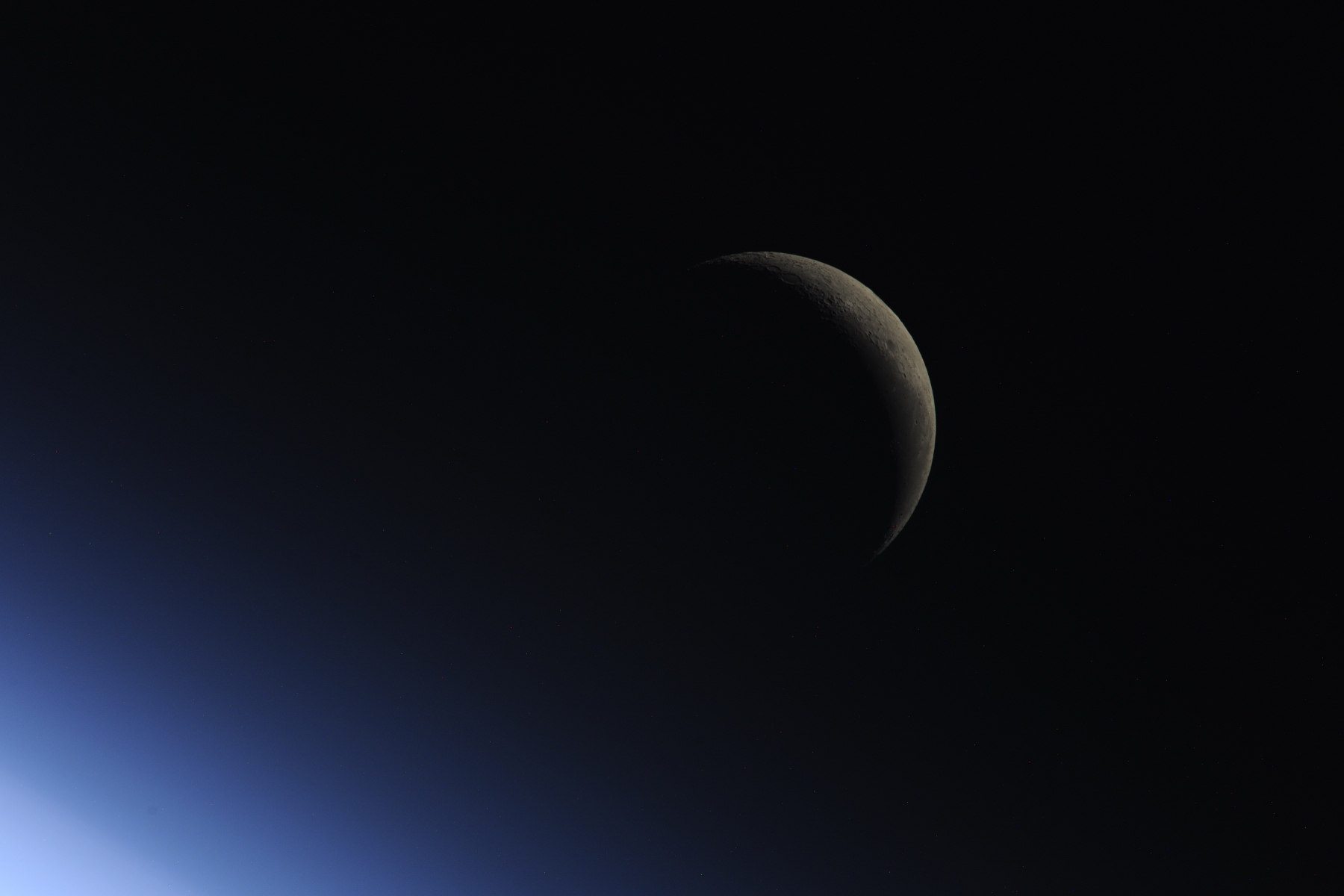 Tuesday, November 30, 2010: "Fly me to the moon … let me dance among the stars … " I hope we never lose our sense of wonder. A passion for exploration and discovery is a noble legacy to leave to our children. I hope we set our sails and venture out one day. That will be one glorious day …