Disney opens Space 220 restaurant with (g)astronomical menu, views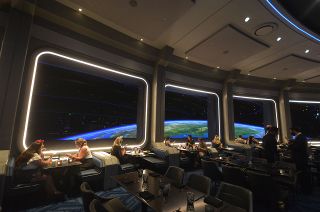 (Image credit: collectSPACE.com)
Disney is now serving up its own take on "space food," and to try it all you need to do is take a quick trip off the planet.
Space 220 opened its doors — and space elevator — to visitors at Walt Disney World's Epcot Center in Florida on Monday (Sept. 20), redefining what it means to dine with a view. The new restaurant is situated aboard a space station orbiting 220 miles above Earth (hence the name "Space 220") and patrons can marvel at the planet below as they enjoy such "(g)astronomical" dishes as "Starry Calamari" and "Terra-Bolognese."
"Epcot is all about the magic of possibility, and it does feel like this dining experience could only happen here at Epcot," Kartika Rodriguez, vice president of Epcot, said at an opening ceremony on Monday. "Space 220 is a celebration of the endless possibilities of technology, space exploration and human ingenuity."
"I can't wait to see the wonder on our guest faces as they travel up 220 miles for a meal that they'll never forget," said Rodriguez before Mickey and Minnie Mouse joined the celebration for a brief daytime fireworks display.
Related: Space food photos: What astronauts eat in orbit
Of course, guests do not really leave the ground. The effect of being in orbit and the views that affords is part state-of-the-art technology and part Disney magic.
Diners enter Space 220 through the Mission: SPACE pavilion, which since 2003 has offered a simulated, centrifuge-powered trip to Mars. The restaurant has its own ride, though far less intense than the pavilion's title attraction. Guests board a space elevator — a "Stellarvator" — that is a cross between the "Mission to Mars" ride of yesteryear Tomorrowland and the hydrolators that "submerged" guests in The Living Seas (now The Seas with Nemo & Friends) found elsewhere at Epcot.
The climb into orbit is impressive — portholes on the floor and ceiling provide a view of where you came from and where you are going — but the real attraction is what awaits diners on board space station Centauri (a nod to Horizons, the pavilion Mission: SPACE replaced, which featured a space station called Brava Centauri).
Floor-to-ceiling windows, which line the "exterior" wall of the restaurant, look out into space and down at Earth. More than a simple digital screen, the view has depth and movement. Watch long enough and astronauts will float by, futuristic spacecraft and other space stations.
Trips up to Centauri are available for lunch and dinner, as well access to the space station's lounge. Both meals are prix fixe — lunch, which includes one "Lift-Off" (appetizer) and one "Star Course" (entree) is $55 per person, while dinner adds a "Supernova Sweet" (dessert) for $79 each.
Selections include the aforementioned fried squid and pasta, as well as Neptuna Tartare (yellowfin tuna), "Slow Rotation" short ribs, "X2" duck (a nod to the X2 spacecraft in Mission: SPACE) and the "Centauri Burger." Though the desserts forego spacey names, the lemon mousse has white chocolate planet-like rings.
Drinks, for which there are a wide selection of "atmospheric spirits" (alcoholic mixes), "zero-proof cocktails" (non-alcoholic beverages), "crew brews" (beers) and "worldly wines," are available at an additional price. The drinks and "flight bites" (small dishes) are also available in the lounge.
Subtle touches enhance the feeling that guests are aboard a space station, from the style of the cutlery to the physical boarding passes used to assign guests to an elevator. Signs for the bathrooms feature spacesuited figures, while other signs advise what will happen in the "unlikely event of an artificial gravity malfunction."
Guests exit Space 220 the same way they came, now boarding a "Stellarvator" to return to Earth as Epcot grows larger in the downward-facing porthole.
Operated by the Patina Restaurant Group, part of Delaware North Companies, Space 220 is available for walk-ins only during its first week open, Monday through Sunday (Sept. 26). Reservations will be available, and Disney says they are strongly recommended, starting Sept. 27 (reservations can be booked now).
Park admission and an Epcot reservation for the same date is required for access to Space 220.
Click through to collectSPACE for more photos from the opening of Space 220.
Follow collectSPACE.com on Facebook and on Twitter at @collectSPACE. Copyright 2021 collectSPACE.com. All rights reserved.
Get the Space.com Newsletter
Breaking space news, the latest updates on rocket launches, skywatching events and more!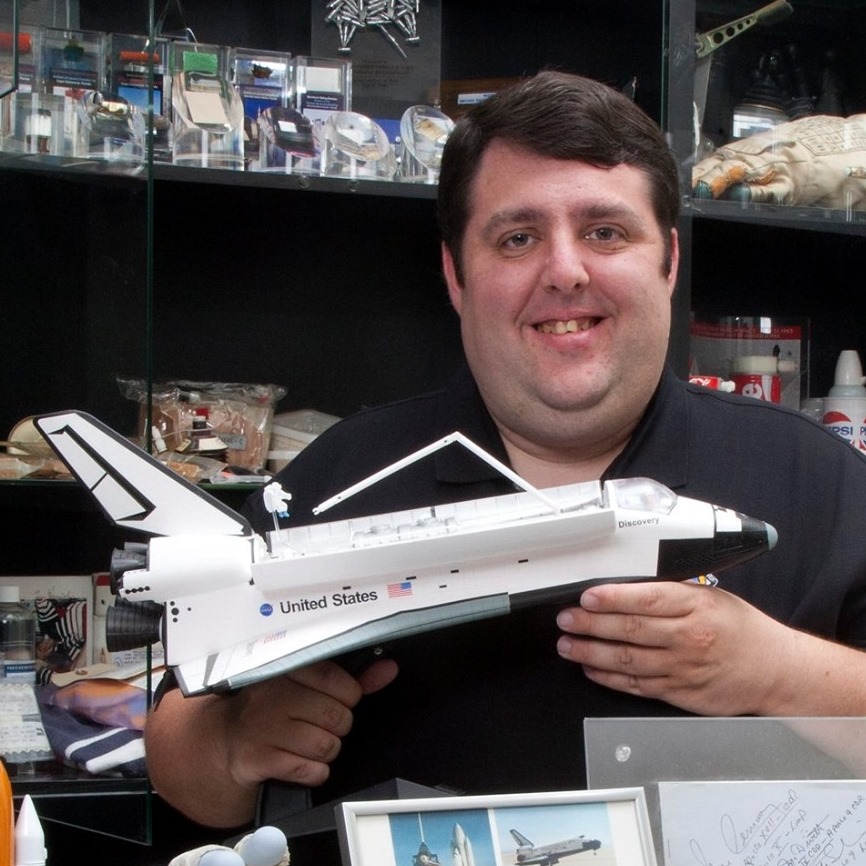 collectSPACE.com Editor, Space.com Contributor
Robert Pearlman is a space historian, journalist and the founder and editor of collectSPACE.com, an online publication and community devoted to space history with a particular focus on how and where space exploration intersects with pop culture. Pearlman is also a contributing writer for Space.com and co-author of "Space Stations: The Art, Science, and Reality of Working in Space" published by Smithsonian Books in 2018. He previously developed online content for the National Space Society and Apollo 11 moonwalker Buzz Aldrin, helped establish the space tourism company Space Adventures and currently serves on the History Committee of the American Astronautical Society, the advisory committee for The Mars Generation and leadership board of For All Moonkind. In 2009, he was inducted into the U.S. Space Camp Hall of Fame in Huntsville, Alabama. In 2021, he was honored by the American Astronautical Society with the Ordway Award for Sustained Excellence in Spaceflight History.