European Mars Lander Suffers Parachute Damage in Test
The craft is scheduled to launch next summer.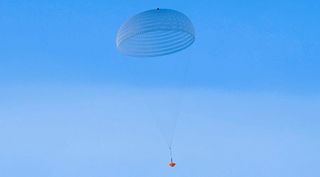 (Image credit: ESA)
TITUSVILLE, Fla. — Development of a European-Russian Mars lander suffered a setback when the spacecraft's parachutes malfunctioned in a recent test, but project officials said they still have time to correct the problem before its launch in a year.
In a June 28 statement, the European Space Agency said that two parachutes suffered "unexpected damage" during a high-altitude test a month earlier in Sweden of the system that will slow down the ExoMars 2020 lander.
The lander makes use of two main parachutes, each deployed with the assistance of a smaller pilot parachute. The first parachute, 15 meters in diameter, is deployed when the descending spacecraft is traveling at supersonic speeds in the thin Martian atmosphere. It is released and the second parachute, 35 meters across, is deployed once the spacecraft slows to subsonic speeds.
Related: How the European-Russian ExoMars Missions Work (Infographic)
A May 28 test of the parachute system used a high-altitude balloon above the Swedish Space Corporation's Esrange test site in northern Sweden. The test was intended to demonstrate the end-to-end performance of the entire system, including both the pilot and main chutes as well as the mortars used to extract the pilot chutes.
ESA said that the first main parachute suffered several radial tears in its fabric, all occurring before reaching its maximum load. The second main parachute also suffered a single tear, also before peak loading.
The other parts of the parachute system worked as expected, and ESA said "a good level of the expected aerodynamic drag was nevertheless achieved" despite the damage sustained by the parachutes. However, the agency acknowledged that the problem needs to be understood and corrected prior to the mission's launch in one year.
"We will implement design improvements to the parachute bags to ensure smoother extraction of the parachute, as well as reinforcements to the parachute itself to limit tear propagation in case some would still occur," said Francois Spoto, ExoMars team leader, in a statement. "The complex process of folding and packing the parachutes and hundreds of lines will also be examined."
Two additional tests of the parachute system are planned for later this year, but the agency didn't state when those tests would take place and what the planned corrective actions would do to the schedule. "We are working harder than ever to keep on track for our launch window next year," Spoto said.
ExoMars 2020 features a Russian-built landing platform, called Kazachok, that will bring to the surface the European rover Rosalind Franklin. Kazachok arrived in Italy in March for payload integration activities with a separate European-built cruise stage, while technicians are installing instruments on the rover in the U.K. The integrated spacecraft will be shipped to Kazakhstan for launch on a Proton rocket in July 2020.
The spacecraft will land on Mars in March 2021, likely in a region of the planet called Oxia Planum. If that landing is successful, the solar-powered rover will then explore the surface, equipped with scientific instruments and a drill capable of sampling material up to two meters below the surface to look for evidence of life.
ExoMars 2020 is ESA's second attempt to land a spacecraft on Mars. In October 2016, ESA's Schiaparelli spacecraft attempted a landing on Mars to test entry, descent and landing technologies, but crashed into the surface. An investigation concluded that a software problem caused the lander to prematurely shut down its landing thrusters while still several kilometers above the surface.
A British-built lander, Beagle 2, was flown on ESA's Mars Express mission, but was not heard from after landing in December 2003. Images of the landing site taken by NASA's Mars Reconnaissance Orbiter more than a decade later suggest the spacecraft landed intact, but was unable to deploy all its solar panels or its communications antenna.
ESA currently has no Mars landers planned after 2020. The agency is considering participating in a NASA-led Mars sample return effort that will start with NASA's Mars 2020 rover, which will cache samples for later return to Earth. ESA, in one concept, would provide a "fetch rover" on a later NASA lander that would collect the Mars 2020 samples and load them into a Mars ascent vehicle to place them into orbit. An ESA orbiter would then collect that sample canister and return it to Earth.
NASA and ESA signed July 2 a "statement of intent" regarding the science benefits of a joint Mars sample return mission, although the agencies released few additional details about that statement. ESA plans to seek approval from its member states to pursue a role on a Mars sample return mission at its "Space19+" ministerial meeting in November.
This story was provided by SpaceNews, dedicated to covering all aspects of the space industry.
Get the Space.com Newsletter
Breaking space news, the latest updates on rocket launches, skywatching events and more!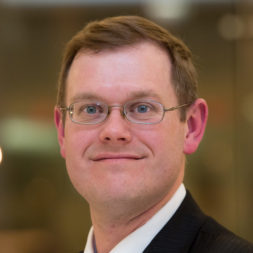 SpaceNews Senior Staff Writer
Jeff Foust is a Senior Staff Writer at SpaceNews, a space industry news magazine and website, where he writes about space policy, commercial spaceflight and other aerospace industry topics. Jeff has a Ph.D. in planetary sciences from the Massachusetts Institute of Technology and earned a bachelor's degree in geophysics and planetary science from the California Institute of Technology. You can see Jeff's latest projects by following him on Twitter.