Commercial spaceflight research needs a code of ethics, scientists say
Space travelers are likely going to participate in research, but no clear ethical guidelines exist.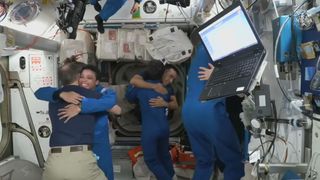 (Image credit: NASA TV)
As commercial spaceflight operations ramp up and potentially thousands of passengers take to space in the coming decades, there will be ample opportunity for these passengers to participate in research programs and scientific studies. However, there are currently limited ethical guidelines around such research, and a team of experts are expressing urgency in laying the groundwork for such rules now.
Prospective space voyagers present a golden opportunity to advance research essential for ensuring the safety of future space operations and addressing vital health issues that may occur in orbit and back on the ground as a result of exposure to microgravity. However, a panel assembled by the Center for Medical Ethics and Health Policy, Baylor College of Medicine, Houston, argues in a new paper in the journal Science that the challenge lies in the nascent stage of ethical frameworks specific to research in commercial space flights.
"There has been a long tradition of astronauts from NASA and other national space agencies of volunteering for research, and the agencies have established tradition on how this research is done," paper co-author Dr. Michael A. Williams, professor of neurology and neurological surgery at the University of Washington School of Medicine in Seattle, said in a statement. "But how such research is going to be done aboard commercial flights, where incentives might be different, hasn't really been explored."
Related: Private space station: How Axiom Space plans to build its orbital outpost
The panel proposes the institution of guidelines centered on four foundational principles. Foremost is the imperative of social responsibility, asserting that research in commercial spaceflights, borne of significant public investment, ought to yield benefits for the broader society.
Second, the scientists argue that any research should be scientifically rigorous: "Poorly designed, duplicative, and low- priority studies beget poor-quality data. They cloud the evidence base, endanger participants, and waste resources," the author's write.
Third, the panel suggests that any research risk should be proportional to the possible benefit of the research in question; and finally, they stress that the benefits of the research should "be enjoyed by all" and embody the idea of "global stewardship."
Most medical ethics frameworks typically emphasize informed consent, with the utmost priority being individual autonomy, but given the limited number of potential participants available, promoting the benefits of such future research efforts to participants must also be emphasized.
"All prospective commercial space flight participants should be fully informed about the social value of any proposed research protocols and be encouraged to participate," the authors argue. "Incentivizing participation may be justified, so long as the incentive is calibrated with the risks and does not create undue inducement. Commercial companies may give preference to those commercial space flight participants willing to participate in research, but further ethical attention is needed to determine whether commercial space flight participants should remain flight eligible even if they decline research participation."
Fortunately, NASA can serve as a guide for future research participation. The space agency offers individuals flying to space the opportunity to engage in as many as 40 to 50 studies, Williams said, but gives them the autonomy to choose which ones they want to participate in.
Get the Space.com Newsletter
Breaking space news, the latest updates on rocket launches, skywatching events and more!
John is a science and technology journalist and Space.com contributor. He received his B.A. in English and his M.A. in Computer Science from the City University of New York, Brooklyn College, and has bylines with TechRadar, Live Science, and other publications. You can find him on Twitter at @thisdotjohn or seeking out dark sky country for spectacular views of the cosmos.
Our experts are the ones that need the ethics training.

Reply