Astronaut-artist Karen Nyberg unveils quilt portraits of first women to fly in space
Each of the portraits is a quilted collage made out of pieces of cloth.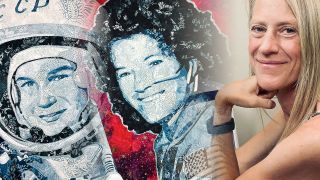 (Image credit: Karen Nyberg/collectSPACE.com)
The 50th woman to fly into space has paid tribute to the first woman and first American woman to do so with a pair of original works celebrating the first 60 years of women in space.

Former NASA astronaut Karen Nyberg was at the Kennedy Space Center Visitor Complex in Florida on Thursday (Aug. 17) to unveil her portraits of Soviet-era cosmonaut Valentina Tereshkova and American astronaut Sally Ride. The public reveal was held under the retired space shuttle Atlantis.

"Women have played an integral role in furthering the mission of space exploration and discovery," Therrin Protze, chief operating officer of the Kennedy Space Center Visitor Complex, said in a statement. "We're thrilled to host this event with Karen Nyberg as part of our 'Women in Space' summer event to reveal two of the fantastic art pieces she's created."

Nyberg's depictions of Tereshkova and Ride are in her chosen medium of fabric. Each of the 25.5-inch-wide by 28.5-inch-tall (64.8-by-72.4-centimeter) portraits is a quilted collage made out of small pieces of cloth.
Related: Pioneering women in space: A gallery of astronaut firsts
Female flyers in fabric
"I went through several iterations before I got to where I did," Nyberg said in an interview with collectSPACE.com. "One my last steps was deciding to use a very simple version of their spacecraft [the Vostok or space shuttle] in the background."

Once she had her desired layout, Nyberg created a pattern and then picked out fabrics to fill each part of the two portraits.
"I use a fusible web that is ironed onto the fabric to keep it in place. Then I cut out all the little pieces of the fabric that I thought would make the best fit and collage it together," she said. "Once I got both of those completely done, then I did the actual quilting, where I put batting in the middle, so it's actually quilted like a quilt, and machine quilt the layers together."

The result are vibrant images that look like they could have been silkscreened onto the cloth but were formed from the patterns and shades of the fabric itself. Perhaps just as impressive is that Nyberg used material she had on hand, instead of seeking out new fabric for the project.

"I used almost all fabrics from my stash, so I didn't have to buy new fabrics. I like to do that for my art quilts and just use up what I have rather than using new stuff if I can," she said.

Nyberg's passion for the textile arts made headlines during her six-month stay aboard the International Space Station in 2013. Using materials that she brought with her and others that she found around the station, Nyberg became the first person to sew and quilt in space, leading an international quilting challenge and sewing a toy dinosaur for her son, among other projects.
Since returning to Earth and leaving NASA, she has continued to use her talents to design apparel and create her own line of fabrics styled after the photos of Earth she took while in space. In fact, the Tereshkova and Ride portraits are also a premiere, of sorts, of her new collection, "Orbital Sunrise," created with Robert Kaufman Fabrics.

"I have a new line that just came out in July and will be available in stores next year. The backgrounds, or the colorful part of these portraits, are from my design fabric," said Nyberg.
Source of inspiration
Although neither of Nyberg's subjects could sit for their portraits (Ride died in 2012 and Tereshkova, 86, lives in Russia), they were still intimate subjects of the artist. Nyberg never met Ride, but the first American woman to fly in space helped shape Nyberg's career goals.

"When Ride was selected with Anna [Fisher], Rhea [Seddon], Kathy [Sullivan], Shannon [Lucid] and Judy [Resnik] as NASA's first women astronauts in 1978, I had just turned eight years old. That is about the exact same time that I said I wanted to be an astronaut," said Nyberg. "I just think watching all of them and then Ride in particular being the first to fly, it impacts a little kid."

Like Ride, Nyberg first launched into orbit on NASA's space shuttle. But Nyberg's second flight was on Russia's Soyuz spacecraft, which led to an encounter with Tereshkova.

"I did meet Valentina, but it wasn't a very long meeting," Nyberg said. "My Russian was never really great, conversationally. So we exchanged pleasantries, but I never sat down and had a conversation with her. But I did get to meet her, which was amazing."
Nyberg hopes her portraits can also serve as a source of inspiration, especially for the next generation of astronauts.

"If they can inspire anybody to to get going in that direction, hopefully they will do that," she said. "NASA is striving for an equal representation of men and women, but the applicant pool is not there yet, so it starts with engaging young people."
Follow collectSPACE.com on Facebook and on Twitter at @collectSPACE. Copyright 2023 collectSPACE.com. All rights reserved.
Get the Space.com Newsletter
Breaking space news, the latest updates on rocket launches, skywatching events and more!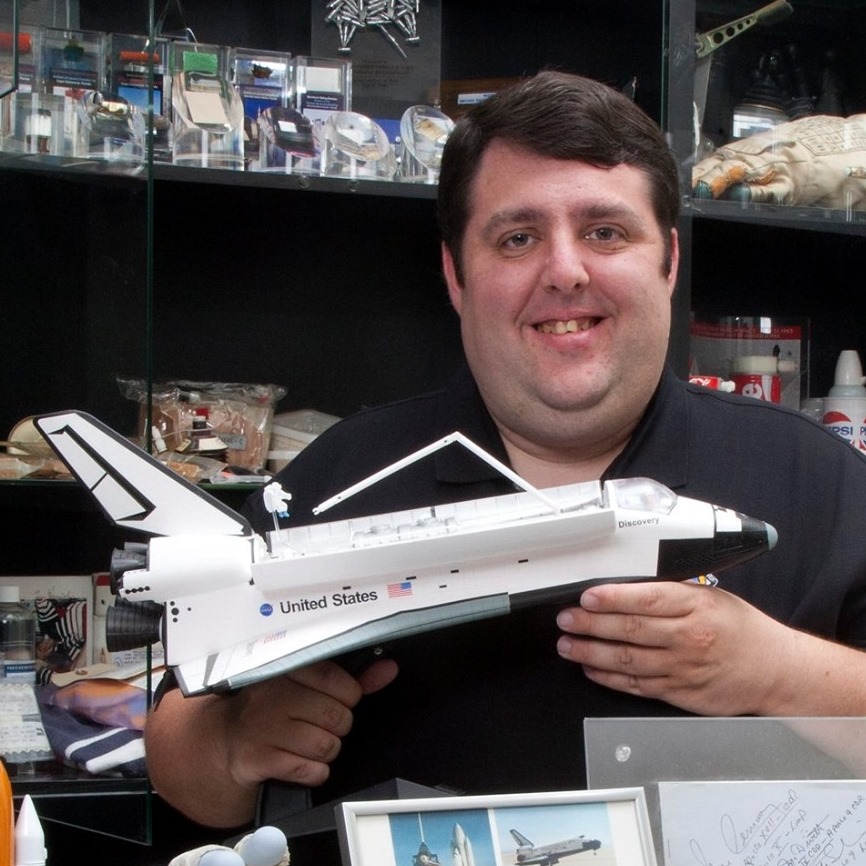 collectSPACE.com Editor, Space.com Contributor
Robert Pearlman is a space historian, journalist and the founder and editor of collectSPACE.com, an online publication and community devoted to space history with a particular focus on how and where space exploration intersects with pop culture. Pearlman is also a contributing writer for Space.com and co-author of "Space Stations: The Art, Science, and Reality of Working in Space" published by Smithsonian Books in 2018. He previously developed online content for the National Space Society and Apollo 11 moonwalker Buzz Aldrin, helped establish the space tourism company Space Adventures and currently serves on the History Committee of the American Astronautical Society, the advisory committee for The Mars Generation and leadership board of For All Moonkind. In 2009, he was inducted into the U.S. Space Camp Hall of Fame in Huntsville, Alabama. In 2021, he was honored by the American Astronautical Society with the Ordway Award for Sustained Excellence in Spaceflight History.