Moon Shadow Seen From Space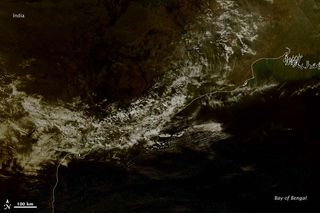 (Image credit: NASA/GSFC/Aqua satellite/Jeff Schmaltz)
On Friday, Jan. 15, a solar eclipse graced parts of Asia and Africa. The moon got between Earth and the sun and blocked out most of the sun.
From space, looking down, the moon cast a big shadow on our planet. At 1:15 p.m. Calcutta time (7:45 UTC) on Jan. 15, NASA's Aqua satellite made an image of the moon shadow falling on India and the Bay of Bengal. The picture was released Saturday.
Unlike a total solar eclipse, when the moon perfectly and completely blocks out the sun, the moon was too far from Earth Friday and so it was too small to create a complete shadow. That left a fiery ring of sunlight around the edges of the moon. So the shadow on Earth was dark, but not complete.
The shadow spanned a north-south distance of about 185 miles (300 kilometers) on the surface, according to NASA, with the darkest part near the mid-point of the span. Even in the darkest part of the shadow, clouds are so reflective that the small amount of sunlight escaping around the edge of the moon's disk is enough to illuminate them for the satellite's view.
Toward the edges of the shadow, Earth is the color of dark tea.
The shadow followed a roughly west-to-east arc from central Africa to eastern China. At the height of the eclipse, which occurred over the Indian Ocean, the complete disk of the moon was visible against the sun for 11 minutes and 8 seconds, making this the longest annular eclipse to occur over the next 1,000 years.
Cool Photos of 2008 Solar Eclipse
How Solar Eclipses Work
Get the Space.com Newsletter
Breaking space news, the latest updates on rocket launches, skywatching events and more!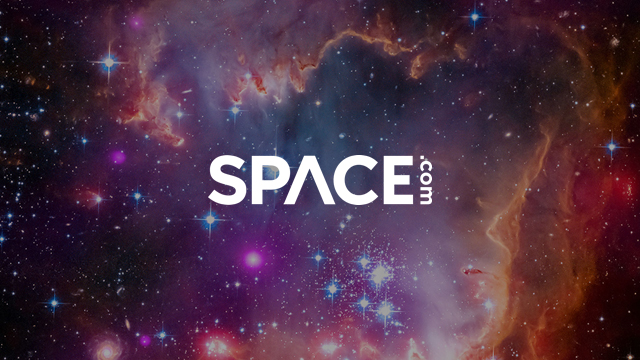 Space.com is the premier source of space exploration, innovation and astronomy news, chronicling (and celebrating) humanity's ongoing expansion across the final frontier. Originally founded in 1999, Space.com is, and always has been, the passion of writers and editors who are space fans and also trained journalists. Our current news team consists of Editor-in-Chief Tariq Malik; Editor Hanneke Weitering, Senior Space Writer Mike Wall; Senior Writer Meghan Bartels; Senior Writer Chelsea Gohd, Senior Writer Tereza Pultarova and Staff Writer Alexander Cox, focusing on e-commerce. Senior Producer Steve Spaleta oversees our space videos, with Diana Whitcroft as our Social Media Editor.