Senate Committee Approves Bill for Extra Shuttle Mission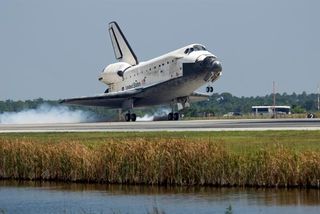 (Image credit: NASA/Mike Gayle)
The SenateCommerce, Science and Transportation Committee approved a NASA authorizationbill this week that would forbid the U.S. space agency from retiring the spaceshuttle before completing all remaining missions, including an additionalflight to deliver the Alpha Magnetic Spectrometer (AMS) to the International SpaceStation.
A similarprovision was included in the NASA authorization bill alreadyapproved by the U.S. House of Representatives. But the Senate version,approved Tuesday, differs in that it would direct NASA to keep all spaceshuttle contracts open through 2010, the date NASA intends to stop flying thevehicle.
NASA Administrator Mike Griffin told Sen. Bill Nelson(D-Fla.), the authorization bill?s main sponsor, during a June 23field hearing in Florida, that requiring NASA to keep all shuttle contractsopen until it completes itsflight manifest would cost $3 billion to $4 billion the agency has notbudgeted. Griffin also said it such a step would not be necessary in order toensure NASA can fly the AMS since it has the hardware it would need for such amission already in the pipeline. However, Griffin said flying AMS would stillcost NASA $300 million to $400 million that it does not have.
The WhiteHouse Office of Management and Budget has said it is strongly opposed toCongress requiring NASA to fly the AMS mission but stopped short of threateningto veto legislation containing such a provision.
Theone-year NASA authorization bill moving in the Senate, like its House-adoptedcounterpart, also recommends funding NASA at over $20 billion for 2009 - anamount more than $2 billion above both what the White House requested and whatthe House and Senate Appropriations Committees included in the spending billsthat would actually fund NASA.
Images: NASA's Next Spaceship
Get the Space.com Newsletter
Breaking space news, the latest updates on rocket launches, skywatching events and more!
Editor-in-Chief, SpaceNews
Brian Berger is the Editor-in-Chief of SpaceNews, a bi-weekly space industry news magazine, and SpaceNews.com. He joined SpaceNews covering NASA in 1998 and was named Senior Staff Writer in 2004 before becoming Deputy Editor in 2008. Brian's reporting on NASA's 2003 Columbia space shuttle accident and received the Communications Award from the National Space Club Huntsville Chapter in 2019. Brian received a bachelor's degree in magazine production and editing from Ohio University's E.W. Scripps School of Journalism.