Shuttle Endeavour Docks at Space Station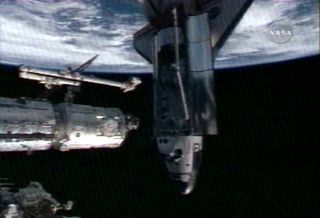 (Image credit: NASA TV)
HOUSTON ? NASA's space shuttle Endeavourended a high-speed chase of the International Space Station (ISS) lateWednesday, poising the orbiter's seven-astronaut crew to kick off two busyweeks of construction in space.
Veteranspaceflyer Dominic Gorie, commander of the STS-123 shuttlemission crew, backed Endeavour into docking position at about 11:49 p.m.EDT (0349 GMT March 13), just as the sun crept over the Earth and illuminatedit into a bright blue ball.
"Endeavourarriving," said space station commander Peggy Whitson, ringing aceremonial bell inside the ISS to signal the shuttle crew's arrival.
"Peggy,that's sweetest bell I've ever heard," Gorie said in response as the twospacecraft flew in tandem 213 miles (343 kilometers) over Singapore.
NASA pushedback the shuttle's expected arrival time by 24 minutes, but Gorie successfully easedit onto the station's U.S. Harmony node.
"Dom dida perfect job," said Mike Moses, lead shuttle flight director, of Gorie'spiloting job. "He had it right on the money."
Orbitalacrobatics
Prior todocking the space shuttle, the veteran commander guided the 100-ton orbiterinto an orbital back flip at 10:26 p.m. EDT (0226 GMT March 13) ? anow-standard procedure used to expose the orbiter's heat-resistant belly tospace station photographers.
Whitson andflight engineer Yuri Malenchenko each shot hundreds of photos of the blacktiling covering Endeavour's underside. Shortly after the maneuver, Whitson madequick work of beaming the digital images down to Johnson Space Center (JSC).
"Itlooks just spectacular," said Terry Virts, spacecraft communicator, ofWhitson's photographic work.
LeRoy Cain,chair of NASA's mission management team, said engineers will pore over theimages to look for any signs of damage to Endeavour's heat shield.
Newcargo, crewmember
Shortlyafter the two crews with hugs and cheers, shuttle robotic arm operators beganon-orbit construction by transferring a pallet holding Canada's two-armed robotnamed Dextre from the shuttle's payload bay to a space station.
Astronautswill spend most of their upcoming mission day building the 1.72-ton robot aswell as installing the Japanese Logistics Pressurized (JLP) module ? the firstof three pieces of Japan's school bus-sized Kibo laboratory.
Mission specialists Rick Linnehan andGarrett Reisman will perform the 6.5-hour choreographed excursion outside ofthe space station. Reisman, who traded places with European astronautLeopold Eyharts Thursday morning as a member of the Expedition 16 spacestation crew, said he can't wait for the spacewalking activities.
"Thespacewalk is going to be, I think, the highlight for my entire time upthere," Reisman said in a preflight NASA interview. "I don?t thinkanything that I?ll do will be able to compare to going outside in a spacesuitand floating free of the station."
So far,so good
Speaking toreporters in an early morning press conference here at JSC, Moses said apreliminary look at data from a scan of Endeavour's heat shield with asensor-tipped boom showed nothing of major concern so far.
"Everythinglooked really good," Moses said, noting that Endeavour's crew can performa second and more detailed inspection if needed. "They don't suspect thatwe're going to have any focused inspection requirements."
Spaceshuttle Endeavour launched from Kennedy Space Center at 2:28:14 a.m. EDT(0648:14 GMT) on March 11, and mission managers expect the spacecraft to returnto Earth the evening of March 26. At 16 planned mission days, the mission isthe longest ISS-bound ever attempted by NASA.
NASA is broadcastingEndeavour's STS-123 mission live on NASA TV. Click here for SPACE.com'sshuttle mission coverage and NASA TV feed.
NEW GALLERY: Launch Day for Shuttle Endeavour
VIDEO: ESA's New Science Laboratory
Get the Space.com Newsletter
Breaking space news, the latest updates on rocket launches, skywatching events and more!
Former Space.com contributor
Dave Mosher is currently a public relations executive at AST SpaceMobile, which aims to bring mobile broadband internet access to the half of humanity that currently lacks it. Before joining AST SpaceMobile, he was a senior correspondent at Insider and the online director at Popular Science. He has written for several news outlets in addition to Live Science and Space.com, including: Wired.com, National Geographic News, Scientific American, Simons Foundation and Discover Magazine.