Spacewalkers Inspect Space Station's Solar Wing Joints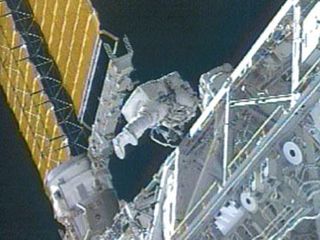 (Image credit: NASA TV.)
Thisstory was updated at 3:00 p.m. EST.
Twospacewalking astronauts took a close look at a pair of balky solar array jointsoutside the International Space Station (ISS) Tuesday to help engineers onEarth draw up repair plans.
Expedition16 commanderPeggy Whitson and flight engineer Dan Tani found widespread contaminationinside a massive gear that rotates both of the station?s starboard solararrays, but no sign of damage to a joint at the base of one of those solarwings, during nearly seven hours of orbital work.
?Hopefullywe got a good amount of data for the folks on the ground,? said Tani, who ledthe spacewalk, after the reentering station?s Quest airlock.
Whitson andTani began Tuesday?s spacewalk at 4:50 a.m. EST (0950 GMT), marking the fourthfor their Expedition 16 mission. The excursion was initially scheduled as anextra spacewalk during NASA?s STS-122mission aboard the shuttle Atlantis, but the flight?s planned Decemberlaunch was thwarted twice by faulty fuel tank sensors.
As theExpedition 16 crew worked in orbit high above Earth, engineers at NASA?s Kennedy Space Center in Florida fueled Atlantis? external tank to test the erratic sensors.Shuttle workers hoped to recreate, and then isolate, persistent glitches withthe fuel gauge-like sensors in order to proceed with Atlantis? rescheduledJan. 10 launch.
Fact-findinginspection
Whitson and Tani focusedmost of their spacewalk on a massive gear designed to rotate the station?sstarboard solar arrays like a paddlewheel to keep its power-generating wingscontinuously facing the sun.
Engineers will use theastronauts? findings as a reference for any plans to repair the joint?sbearings, motors and metal race ring. Solving the station?s solar array jointwoes is vital to allow the outpost to support the addition of a largeJapanese-built laboratory and other modules, mission managers have said.
?We didn?t find anythingthat stood out,? said NASA?s space station program manager Mike Suffrediniafter the spacewalk. ?It would be really nice if something stood out and said, ?Hey,I?m the cause of your problem,? and we didn?t get that. But we do know moreabout the condition of the ring.?
Tani first discoveredmetal grit inside the joint, known as a Solar Alpha Rotary Joint (SARJ),during a late October spacewalk after flight controllers noticed odd vibrationsand power spikes in the mechanism?s telemetry. A second inspection byspacewalkers last month confirmed the contamination, which Tani and Whitsonfound to be widely distributed around the 10-foot (3-meter) wide joint duringtoday?s excursion.
?You cansee the motion of the gear because the debris is kind of walking across thehousing,? said Tani, adding that magnetized metal shavings appeared to walkend-over-end on one of the SARJ motors. ?It?s hilarious?it?s animated, likethey?re alive. They?re like ants.?
Thespacewalkers retrieved a suspect set of bearings, one of 12 on the joint, whichmay be responsible for the contamination. They also used orange Kapton tape totake samples of the metal grit and clean the SARJ gear?s damaged metal racering.
?I am getting almost all ofthe debris off,? Whitson said. ?It seems less splotchy.?
Using a mirror, Tani andWhitson looked inside the SARJ gear to find that two sides of its three-sidedrace ring were untouched by damage, boosting hopes that engineers can find away to continue using the joint in short spurts while continuing to study theglitch.
?If we can figure out tolive with this, maybe roll on it for awhile when we have to?it gives us moretime to figure out root cause and figure out what the real issue is,?Suffredini said. By taking that extra time, engineers could determine whether amajor switch to a backup race ring, which could potentially take up to fourspacewalks and be performed during a fall 2008 space station mission, will berequired, he added.
Tuesday?sspacewalk marked the 100thoutside the ISS and the 23rd this year alone, tying the all-time record forexcursions in a single year. The spacewalk was the fifth career outing for bothTani and Whitson, who set a new world record during the outing for the mostspacewalking time for a female astronaut.
?Congratulations, there isno pressure now because you are the queen of EVA,? Mission Control toldWhitson, using NASA?s abbreviation for extravehicular activities.
?It?s just being in theright place at the right time,? replied Whitson, who is the space station?sfirst female commander and beat NASA astronaut Sunita Williams? benchmarkof 29 hours and 17 minutes to nab the title.
Huntingfor damage
In additionto their SARJ joint inspection, the spacewalkers also surveyed cables and otherhardware for a beta gimbal joint that swivels one of the station?s starboardsolar wings on a different axis from the SARJ. The joint suffered tripleelectrical failures on Dec. 8, prompting concerns on Earth of a possiblemicrometeorite strike.
?EverythingI can see is nominal,? Tani said. ?There is no damage, no frays that I cansee.?
Despite herbulky NASA spacesuit, Whitson squeezed herself inside the station?sbackbone-like truss to reach the gimbal joint?s power cables. Missioncontrollers warned her that it would be a tight fit, prompting a laugh from thespacewalker.
?Does this[spacesuit] make me look fat,? she joked.
Spacestation managers said they are now confident that the gimbal joint?s glitchlies in its motor box. A spare for the unit is aboard the ISS and Tani istrained to replace the motor.
Whitsonended Tuesday?s spacewalk with 32 hours and 36 minutes of spacewalking timeunder her belt across five career excursions. Tani, meanwhile, ended with 32hours and one minute as he concluded his fifth career spacewalk.
VIDEO: ISS Commander Peggy Whitson Takes Charge
IMAGES: The STS-120 Shuttle Mission from Orbit to Earth
SPACE.com Video Interplayer: NASA's STS-122: Columbus Sets Sail for ISS
Get the Space.com Newsletter
Breaking space news, the latest updates on rocket launches, skywatching events and more!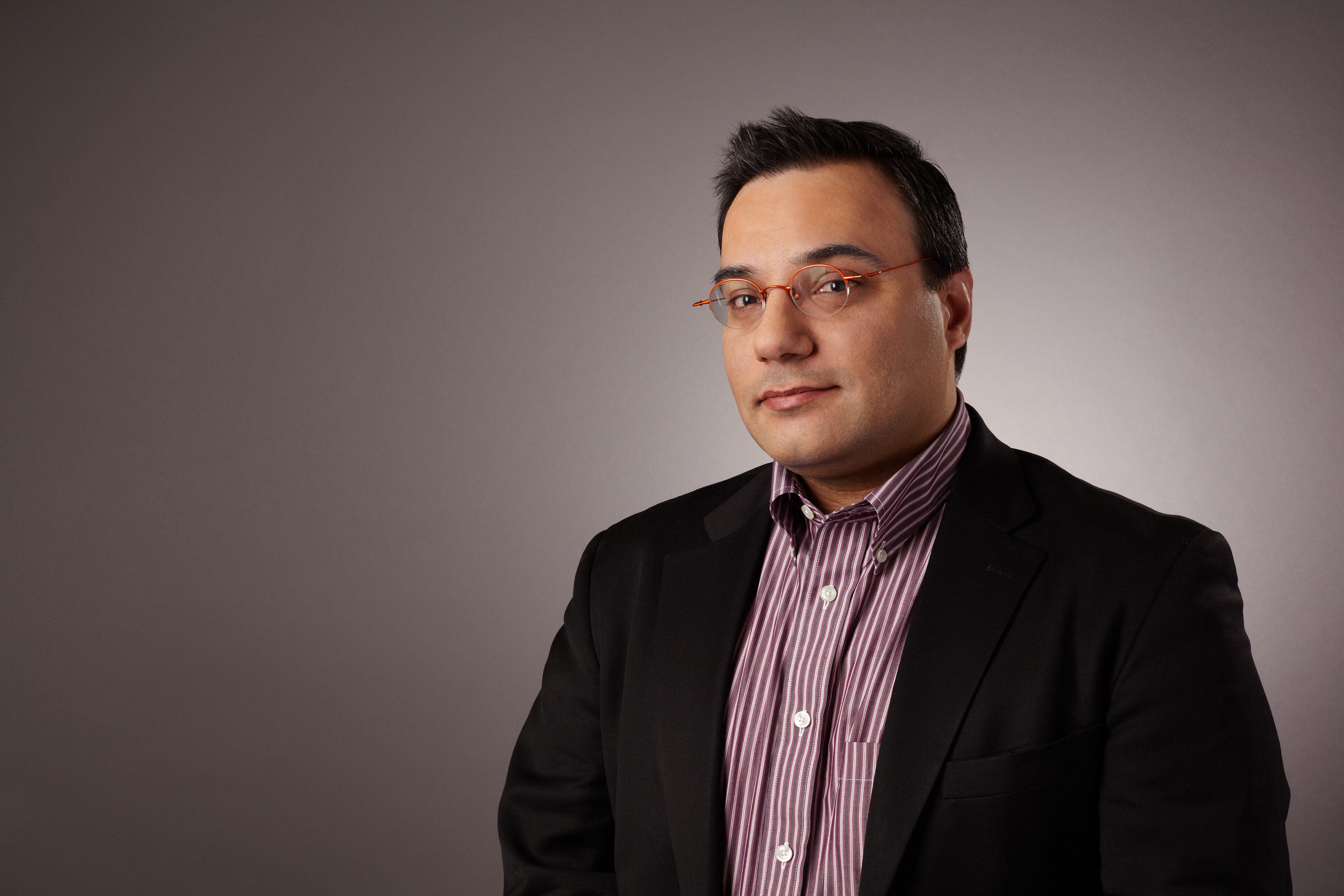 Tariq is the Editor-in-Chief of Space.com and joined the team in 2001, first as an intern and staff writer, and later as an editor. He covers human spaceflight, exploration and space science, as well as skywatching and entertainment. He became Space.com's Managing Editor in 2009 and Editor-in-Chief in 2019. Before joining Space.com, Tariq was a staff reporter for The Los Angeles Times covering education and city beats in La Habra, Fullerton and Huntington Beach. In October 2022, Tariq received the Harry Kolcum Award for excellence in space reporting from the National Space Club Florida Committee. He is also an Eagle Scout (yes, he has the Space Exploration merit badge) and went to Space Camp four times as a kid and a fifth time as an adult. He has journalism degrees from the University of Southern California and New York University. You can find Tariq at Space.com and as the co-host to the This Week In Space podcast with space historian Rod Pyle on the TWiT network. To see his latest project, you can follow Tariq on Twitter @tariqjmalik.