Win a Trip to Outer Space!!!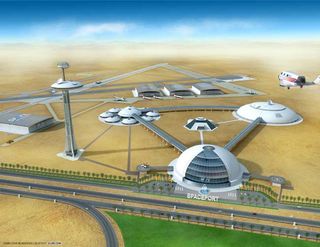 (Image credit: Space Adventures.)
In RobertHeinlein's 1958 novel HaveSpace Suit, Will Travel, a high school senior can't believe his eyeswhen his father shows him a contest announcement at breakfast:
"Dad looked over his paper at me. 'Clifford, here'ssomething in your line...'
Itwas a soap ad.
Itannounced that tired old gimmick, a gigantic super-colossal prize contest. Thisone promised a thousand prizes down to a last hundred, each of which was ayear's supply of Skyway Soap.
ThenI spilled cornflakes in my lap. The first prize was -
"- AN ALL-EXPENSE TRIP TO THEMOON!!!"
That'sthe way it read, with three exclamation points - only to me there were a dozen,with bursting bombs and a heavenly choir."
Well, hold on to yourcornflakes. It turns out that Gillette has a similar contest going on rightnow.
Ordinary space-crazyyoungsters (well, anyone 18 or older) can enter Gillette's Hitch a Ride toOuter Space contest and win a sub-orbitalspace flight.
The first (and only) prizeof a sub-orbital flight will be provided by Space Adventures. After a flight tothe Space Adventures spaceport at Ras Al-Khaimah in the UAE and three days oftraining, you will receive the following:
In an unprecedented sensory experience, rocket engines boostyou beyond the normal limits of flight to regions above 62 miles (100kilometers) - where space begins. After the engines shutdown, you willexperience up to five minutes of continuous weightlessness, all the whilegazing at the vast blackness of space and the blue horizon of the Earth below.
Not quite a trip to themoon, but it sounds cool to me. And even better - you can keep your spacesuit as a memento of your trip.
Heinlein would be sopleased.
There's only one catch -only Canadian citizens can enter. That's right; universal health care andfree trips to space. It's just not fair.
Read more about Heinlein's ideas andinventions (110), books andstories (30) and ideas cometo life (75). Gaze longingly at the Gillette Hitch A Ride to Outer Space registration site;thanks to Edward Willett for the tip on this story.
(This Science Fiction inthe News story used with permission from Technovelgy.com - where science meetsfiction.)
Get the Space.com Newsletter
Breaking space news, the latest updates on rocket launches, skywatching events and more!
Bill Christensen is the founder and editor of Technovelgy, a website dedicated to cataloguing the inventions, technology and ideas of science fiction writers. Bill is a dedicated reader of science fiction with a passion about science and the history of ideas. For 10 years, he worked as writer creating technical documentation for large companies such as Ford, Unisys and Northern Telecom and currently works to found and maintain large websites. You can see Bill's latest project on Twitter.