ESA Plans to Privatize Robotic Space Plane by 2025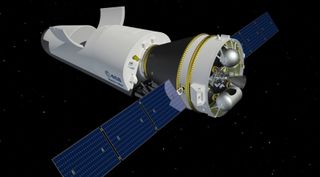 (Image credit: ESA)
LE BOURGET, FRANCE — Although Europe's Space Rider reusable space plane is three years or so from its debut, the European Space Agency (ESA) is already making plans to privatize the unmanned orbital vehicle.
By 2025, ESA officials said, Space Rider could be operating commercially, flying science payloads and bringing them back to Earth for roughly $4,200 per pound ($9,200 per kilogram).
Arianespace, the Evry, France-based launch services provider, would likely serve as Space Rider's operator, offering industry and government customers the opportunity to fill the space plane's 1,760-lb. (800 kg) payload capacity with microgravity science, materials testing, telecommunications and robotics demonstrations. [Space Planes: Evolution of the Winged Spaceship (Infographic)]
Space Rider is being developed by Thales Alenia Space and Lockheed Martin under the direction of the Italian Aerospace Research Centre, Cira. Funding for the program's design phase was approved in December by ESA's 22 member states.
A 2020 test flight would see Space Rider launch atop Arianespace's Vega-C rocket (which makes its own debut in 2019) and land on a runway on one of the Atlantic's Azores islands, Santa Maria.
During operational flights, Space Rider will orbit 250 miles (400 kilometers) above the Earth for a few months at the time, opening its payload bay doors to expose experiments to the space environment. Customers will pay roughly $4,200 per pound ($9,200 per kg) to fly their payloads on Space Rider, according to Giorgio Tumino, ESA's Space Rider and Vega rocket development program manager.
"This cost is usually only to go into orbit, but in this case [with Space Rider] it is to go and come back to Earth," Tumino told SpaceNews here. "We really believe there is a market, a niche, that will drive this. We have already done preliminary studies, analyses, and we see that it [Space Rider] is a very convenient tool."
Tumino said Arianespce, as the commercial partner for the Vega rocket, will likely operate Space Rider as well.
Space Rider, at an expected 13 feet to 16 feet (4 to 5 meters) in length, will be about half the size of the U.S. Air Force's X-37B unmanned orbital space plane. X-37B completed its fourth classified mission in May, landing at NASA's Kennedy Space Center just shy of a two-year stay in orbit.
After Space Riders's first mission in 2020, it would fly five more missions spaced six to 12 months apart, according to Tumino. During these first few years of operations, a decision would be made about how many Space Riders to build for commercial operations; Arianespace, he said, might decide to operate a fleet of them.
During development, a full-scale Space Rider model will be dropped in 2019 from an atmospheric balloon or helicopter to test the vehicle's parafoil landing system.
Space Rider is based on ESA's successful suborbital re-entry test vehicle, the Intermediate Experimental Vehicle (IXV). In 2015, the IXV flew halfway around the planet in 100 minutes before parachuting into the Pacific Ocean for recovery.
This story was provided by SpaceNews, dedicated to covering all aspects of the space industry.
Get the Space.com Newsletter
Breaking space news, the latest updates on rocket launches, skywatching events and more!
Rob Coppinger is a veteran aerospace writer whose work has appeared in Flight International, on the BBC, in The Engineer, Live Science, the Aviation Week Network and other publications. He has covered a wide range of subjects from aviation and aerospace technology to space exploration, information technology and engineering. In September 2021, Rob became the editor of SpaceFlight Magazine, a publication by the British Interplanetary Society. He is based in France. You can follow Rob's latest space project via Twitter.