Bill Nye to President Trump: Keep Shooting for Mars, Boost NASA Budget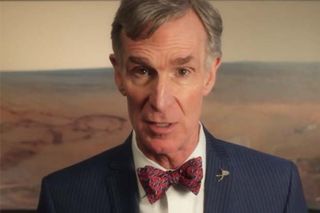 (Image credit: Planetary Society)
President Donald Trump should increase NASA's budget and let the space agency keep working to send astronauts to Mars, former TV "Science Guy" Bill Nye said.
Those are just two of five NASA-related recommendations that Nye gave the president today (March 14) in an "open letter" video that represents the views of the Planetary Society. (Nye is CEO of the nonprofit organization, which seeks to advance space science and exploration.)
Here's a brief rundown of the five recommendations, as relayed by Nye. [What President Trump Means for NASA]
1. Keep NASA's human-spaceflight efforts focused on Mars
NASA is already working to get astronauts to the vicinity of the Red Planet sometime in the 2030s, as directed by then-President Barack Obama in 2010. President Trump should let the agency continue in this vein rather than impose a change of direction, Nye said.
"We strongly recommend against starting over," he said. "Let's maintain all of the existing programs — robotic missions, crew capsules and rocket programs already in development. Let's keep this momentum going and get humans to Mars in our lifetimes."
2. Get people to Mars orbit first
NASA's first crewed Mars mission should orbit the Red Planet rather than touch down on the Martian surface, Nye said. That's the approach NASA took with its Apollo moon program, he pointed out: Before launching the famous Apollo 11 landing mission in July 1969, NASA sent two crews to orbit the moon (Apollo 8 in December 1968 and Apollo 10 in May 1969).
Independent evaluations suggest that, if given small budget increases to keep pace with inflation, NASA could get a crew to Mars orbit by 2033, then put boots on the Red Planet a few years later, Nye said.
3. Prioritize NASA science
Nye also advised President Trump to help strengthen all four of NASA's science divisions: astrophysics, planetary science, solar physics and Earth science. (Earth science appears to be the most vulnerable of these divisions; shortly after the election, a Trump adviser said the president wants to eliminate NASA's climate-change research, and several high-profile Republicans in Congress have voiced similar desires to "rebalance" the agency's priorities away from Earth science and toward exploration.)
"I urge you to embrace the full potential of all of NASA's science programs so they can continue to lead the world in science, technology and exploration," Nye said.
4. Keep fostering the private spaceflight revolution
Private spaceflight has taken a big leap recently. For example, two American companies (SpaceX and Orbital ATK) are now delivering cargo to the International Space Station (ISS) for NASA. Two different private spaceships (built by SpaceX and Boeing) are scheduled to start crewed flights to the ISS for the space agency in the next two years.
SpaceX founder and CEO Elon Musk recently announced that the company plans to send two paying customers around the moon in late 2018. And Musk's fellow billionaire Jeff Bezos' company Blue Origin is apparently working to start delivering human habitats and other hardware to the moon in 2020 or so.
Nye said he hopes the Trump administration works to accelerate such progress.
"Let's unleash private investment in low-Earth orbit and find ways to encourage this next generation of entrepreneurs and inventors to blaze a trail to Mars and beyond," Nye said.
5. Increase NASA's budget
Finally, the Planetary Society would like President Trump to propose a 5 percent boost to NASA's budget every year for the next five years, Nye said. If such a plan took effect, the agency's budget would rise from about $19 billion today to $24.2 billion in 2022.
"Without these budget increases, NASA won't have the ability to send humans anywhere — not to the moon, not to Mars, not anywhere," Nye said. "In Congress, there is bipartisan support to increase NASA's budget. Your administration has the opportunity to lead by taking this critical first step."
Nye offered to meet in person with President Trump, Vice President Mike Pence or members of the White House staff to discuss the ideas further.
"You have the opportunity to provide clear direction to our nation's space program," Nye said. "The advances and discoveries made on your watch could be historic."
Follow Mike Wall on Twitter @michaeldwall and Google+. Follow us @Spacedotcom, Facebook or Google+. Originally published on Space.com.
Get the Space.com Newsletter
Breaking space news, the latest updates on rocket launches, skywatching events and more!

Michael Wall is a Senior Space Writer with Space.com and joined the team in 2010. He primarily covers exoplanets, spaceflight and military space, but has been known to dabble in the space art beat. His book about the search for alien life, "Out There," was published on Nov. 13, 2018. Before becoming a science writer, Michael worked as a herpetologist and wildlife biologist. He has a Ph.D. in evolutionary biology from the University of Sydney, Australia, a bachelor's degree from the University of Arizona, and a graduate certificate in science writing from the University of California, Santa Cruz. To find out what his latest project is, you can follow Michael on Twitter.