NASA Rover on Mars May Have Ringside Seat to Europe's ExoMars Mission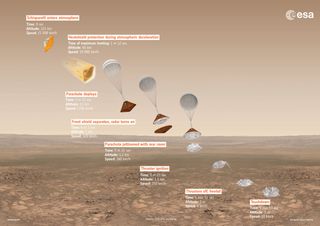 (Image credit: ESA/ATG Medialab)
The European Space Agency's ExoMars 2016 mission is set to launch Monday (March 14) from the Baikonur Cosmodrome in Kazakhstan, and it just might have a surprise in store for NASA's Opportunity rover already at the Red Planet.
ExoMars is a joint endeavor between ESA and Russia's Roscosmos space agency, and comprises the Trace Gas Orbiter (TGO) and Schiaparelli, an entry, descent and landing demonstrator. Turns out that NASA's Opportunity rover might have a ringside seat to view Schiaparelli's descent and landing.
Schiaparelli is designed to demonstrate a range of technologies to enable a controlled landing on Mars in preparation for future missions. That lander will separate from the TGO on Oct. 16 and land on Mars on Oct. 19. [How the ExoMars Double Mission Works (Infographic)]
Schiaparelli's primary landing site is a plain known as Meridiani Planum. This area interests scientists because it contains an ancient layer of hematite, an iron oxide that, on Earth, almost always forms in an environment containing liquid water.
Sky show?
The veteran Opportunity rover landed in Meridiani Planum on Jan. 25, 2004.
Opportunity is roughly 790 miles (1,275 kilometers) away from the center of Schiaparelli's landing ellipse.
There has been some contact between the Opportunity rover planners and ExoMars scientists on whether or not the U.S. rover would be in a position to capture the descent. "We will do it if possible," notes Ray Arvidson of Washington University in Saint Louis. He is Mars Exploration Rover Deputy Principal Investigator.
Meridiani Planum is of interest to scientists because it contains an ancient layer of hematite, an iron oxide that, on Earth, almost always forms in an environment containing liquid water.
Smectite signature
Opportunity remains busy on Mars.
"We have been spending a lot of time mapping Knudsen Ridge, one of the southern walls bounding Marathon Valley," Arvidson told Inside Outer Space. There are interesting structures with tan or dark rocks interwoven with recessive bright red rocks, he adds, with the latter perhaps carrying the smectite signature."
Smectite is a clay mineral that yields information about the ancient environment of Mars.
Opportunity is exploring Marathon Valley on the rim of Endeavour crater. The rover is up on the very steep slopes of Knudsen Ridge.
Interesting and unique geology
Opportunity has been investigating the western rim of a 14-mile-wide (22-kilometer-wide) crater named Endeavour since 2011. This winter, it is examining rocks on the southern side of Marathon Valley which slices through Endeavor Crater's rim from west to east. This is a location where observations by NASA's Mars Reconnaissance Orbiter have mapped concentrations of clay minerals that would have formed under wet, non-acidic conditions.
Arvidson says that as the spring season arrives, Opportunity controllers will finish investigations at the current location with the rover wheeling to the northern side of Marathon Valley to finish up characterization of the dark boulder field.
"Still very interesting and unique geology for Marathon Valley," Arvidson explains, "with the valley floor red rocks very unusual."
Leonard David has been reporting on the space industry for more than five decades. He is former director of research for the National Commission on Space and is co-author of Buzz Aldrin's 2013 book "Mission to Mars – My Vision for Space Exploration" published by National Geographic with a new updated paperback version released in May 2015. Follow us @Spacedotcom, Facebook or Google+. Originally published on Space.com.
Get the Space.com Newsletter
Breaking space news, the latest updates on rocket launches, skywatching events and more!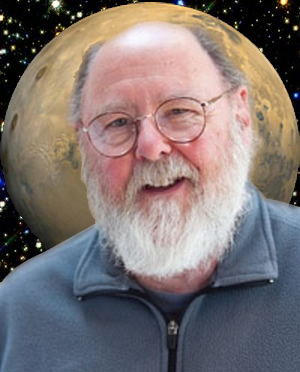 Leonard David is an award-winning space journalist who has been reporting on space activities for more than 50 years. Currently writing as Space.com's Space Insider Columnist among his other projects, Leonard has authored numerous books on space exploration, Mars missions and more, with his latest being "Moon Rush: The New Space Race" published in 2019 by National Geographic. He also wrote "Mars: Our Future on the Red Planet" released in 2016 by National Geographic. Leonard has served as a correspondent for SpaceNews, Scientific American and Aerospace America for the AIAA. He was received many awards, including the first Ordway Award for Sustained Excellence in Spaceflight History in 2015 at the AAS Wernher von Braun Memorial Symposium. You can find out Leonard's latest project at his website and on Twitter.