Satellite Images Show Possible Debris from Malaysia Flight 370 (Photos)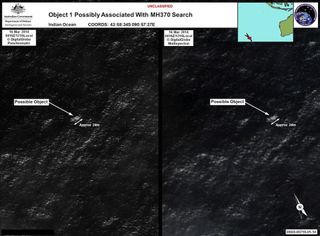 (Image credit: Digital Globe/Australian Maritime Safety Authority)
In what may be the first break in the case of the mysterious March 8 disappearance of Malaysia Airlines flight MH370, satellite images from DigitalGlobe now show possible plane debris in the Southern Indian Ocean.
The satellite images of possible debris, captured on March 16 but only released this morning (March 20) due to the high volume of imagery coming in, show two objects possibly related to the missing Malaysian aircraft, according to a statement by the Australian Maritime Safety Authority (AMSA). The objects (marked by arrows in the satellite images) measure up to 79 feet (24 meters) long and 16 feet (5 m) long, respectively, according to a Reuters report.
"The images have been assessed as being credible but it is possible they do not relate to the search," the AMSA statement reads. [See Images of Possible Flight 370 Debris & Search Area]
The Australian Maritime Safety Authority sent four aircraft on Thursday to an area spanning nearly 9,000 square miles (23,000 square kilometers) located approximately 1,550 miles (2,500 km) southwest of Perth.
The craft sent include: two Royal Australia Air Force AP-3C Orions, a U.S. Navy P8 Poseidon, and a Royal New Zealand Air Force P-3K2 Orion. A RAAF C-130J Hercules aircraft was also slated to drop datum marker buoys around the area, the AMSA stated.
"These marker buoys assist RCC Australia by providing information about water movement to assist in drift modeling," reads another AMSA statement. "They will provide an ongoing reference point if the task of relocating the objects becomes protracted." (The objects may have drifted since their March 16 appearance in the satellite images.)
Since the disappearance of the plane, with 239 people onboard, less than an hour after it took off from Kuala Lumpur en-route for Beijing, vast areas of the ocean have been screened with no substantial leads.
"Yesterday I said that we wanted to reduce the area of the search. We now have a credible lead," Malaysian Transport Minister Hishammuddin Hussein said in Kuala Lumpur, as quoted by Reuters.
The mysterious disappearance has spawned several theories from experts and armchair analysts, all with varying degrees of credibility, including pilot suicide, pilot conspiracy, in which the plane was intentionally rerouted and hidden from radar view, some sort of terrorist plot or hijacking gone wrong. Some had even suggested, with no real evidence, the missing plane was somehow related to the Bermuda Triangle.
In addition to these other craft, which will continue their search of the newly targeted area on Friday, China's icebreaker for Antarctic research, called Xuelong ("Snow Dragon"), now anchored in Perth, is prepared to set off to the waters where the possible debris was spotted, according to the State Oceanic Administration (SOA) of China, as reported by Xinhua, China's state news agency.
Follow Jeanna Bryner on Twitter and Google+. Follow us @livescience, Facebook & Google+. Original article on Live Science.
Get the Space.com Newsletter
Breaking space news, the latest updates on rocket launches, skywatching events and more!
Jeanna is the managing editor for LiveScience, a sister site to SPACE.com. Before becoming managing editor, Jeanna served as a reporter for LiveScience and SPACE.com for about three years. Previously she was an assistant editor at Science World magazine. Jeanna has an English degree from Salisbury University, a Master's degree in biogeochemistry and environmental sciences from the University of Maryland, and a science journalism degree from New York University. To find out what her latest project is, you can follow Jeanna on Google+.