NASA's Budget Could Get Infusion from Other U.S. Departments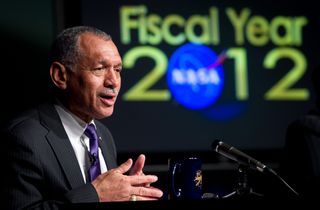 (Image credit: NASA/Bill Ingalls)
WASHINGTON — Congressional appropriators could tap the funding accounts of the U.S. departments of Commerce and Justice to help cover what some see as a $1 billion shortfall in NASA's $18.7 billion spending plan for 2012, which allocates less money for a heavy-lift rocket and crew capsule than Congress directed last year.
"There's over a billion-dollar difference between the budget request and the authorized levels in [20]12 for the launch system and the crew vehicle, and now that falls squarely back on the shoulders of [the appropriations committees] to try and figure out where to come up with that money," said a panelist at a March 23 breakfast on Capitol Hill. Sponsored by Women in Aerospace (WIA), the breakfast was held under the Chatham House Rule, an 84-year-old protocol fashioned by the London-based nonprofit think-tank to promote frank discussion through anonymity. [What Obama and Congress Should Do for Spaceflight]
The panelist, one of six whose names and job titles were circulated by WIA prior to the meeting, said funding requested in NASA's 2012 spending plan does not square with levels Congress set in the NASA Authorization Act of 2010 that U.S. President Barack Obama signed into law in October. Specifically, the request called for spending $1.2 billion less than the $4 billion Congress authorized for the heavy-lift launch vehicle and crew capsule in 2012. At the same time, the request includes $350 million more than the $500 million Congress authorized to nurture development of commercial vehicles to deliver cargo and crews to the International Space Station after the space shuttle retires later this year.
Consequently, the panelist said, it is now up to congressional appropriators "to find a billion dollars in other places in NASA to pay for those activities or to decide to make those tradeoffs and take that money out of the departments of Commerce or Justice or the other agencies that are funded in the same bill as NASA."
NASA's annual appropriation is part of a broader spending package totaling nearly $65 billion that funds the U.S. Commerce and Justice departments, the National Science Foundation, the National Institute of Standards and Technology and related agencies.
But with NASA and other federal agencies operating in a fiscally constrained environment, the panelist said Congress could struggle to fund new multibillion-dollar programs next year.
"It's not impossible but the ability to do that is severely constrained in the environment we're working in now, and that's exacerbated by budget requests coming up from the administration that don't track with the authorization," the panelist said.
Congress has yet to pass an appropriations bill for 2011, leaving NASA and most federal agencies to subsist at 2010 spending levels in the current budget year. The panelist said passing spending legislation for NASA "is a complicated and challenging thing this year, and it will be again next year" given a fiscal climate that has changed dramatically authorized funding levels for the space agency were set last fall.
However, the panelist said the appropriations subcommittees that fund NASA are "very supportive of the agency, they're supportive of the authorization, they want to see NASA get as close as possible to those authorized levels, so that will be a work in progress."
This article was provided by Space News, dedicated to covering all aspects of the space industry.
Get the Space.com Newsletter
Breaking space news, the latest updates on rocket launches, skywatching events and more!
Amy Svitak is a writer for Space Intel Report, covering the global space industry. Her older work can also be found in Aviation Week & Space Technology, where she covered European space and defense news, as well as in Space News, where her articles tracked the development of regulations on the up-and-coming commercial space sector, among other topics.