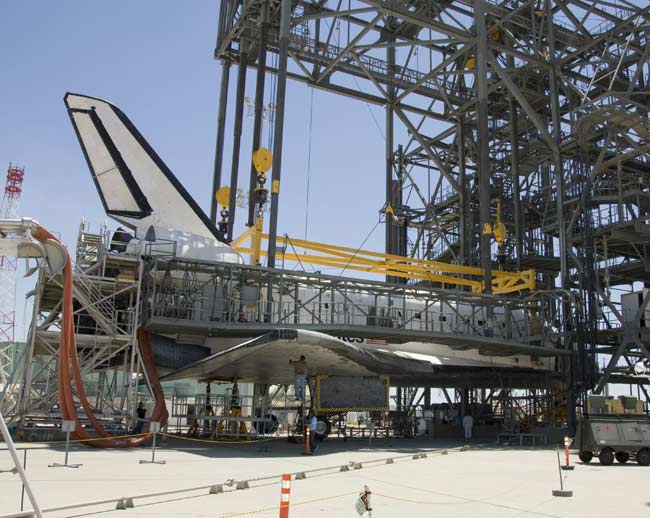 The space shuttle Atlantis may begin a cross-country trek atop a tricked out jumbo jet as early as Sunday to fly from a California landing site to its Florida home, weather permitting, NASA officials said.
Atlantis will ride piggyback atop a modified Boeing 747 jumbo jet during the planned ferry flight, a $1.8 million trip aimed at returning the shuttle home from California?s Edwards Air Force Base in Southern California. The shuttle landed on backup desert runway there last Sunday to end a 13-day mission that overhauled the Hubble Space Telescope for the last time.
Bad weather prevented several attempts to land at NASA?s primary shuttle runway at the Kennedy Space Center in Cape Canaveral, Fla. The center is the launch site and home port for NASA?s three-shuttle fleet.
Tracy Young, a spokesperson for NASA?s Florida spaceport, said weather in California and across the country may also play a role in Atlantis? trip home.
NASA currently plans to try and begin ferrying Atlantis home at about 9:00 a.m. EDT (1300 GMT) Sunday, which will be before local sunrise in California. High winds at Edwards have delayed some ground processing work, but the agency is still hopefully to make that departure target. NASA?s Dryden Flight Research Center at Edwards is overseeing the work.
?It?s depending on weather, just like during a shuttle launch,? Young told SPACE.com from the California landing site.
While local conditions are expected to be favorable for a Sunday takeoff, NASA is on the lookout for harsh weather ahead of the shuttle-carrying mother ships, known as Shuttle Carrier Aircraft, as they hop across the country from military air base to air base. The heavily laden aircraft can sometimes fly as low as 10,000 feet (3,048 meters) in order to seek out favorable weather, NASA officials have said.
NASA typically does not fly the modified 747 jumbo jet carrier vehicle through turbulence or rain during ferry flights to avoid damage to the 100-ton space shuttle strapped to its back. A weather spotter plane will fly about 100 miles (160 km) ahead of the shuttle-carrier combo to make sure conditions are right en route to the next pit stop, Young said.
Shuttle mission managers prefer to land orbiters in Florida because it saves about a week of transport time and the associated $1.8 million cost of the process. The agency tried three times to land Atlantis in Florida last week, but thunderstorms repeatedly thwarted each attempt.
The weather is still foul at the seaside spaceport and has delayed preparations to move Atlantis? sister ship Endeavour from Launch Pad 39B to the nearby Pad 39A for a planned June 13 blast off toward the International Space Station. NASA kept Endeavour on standby atop Pad 39B during the recent Hubble repair mission in case Atlantis suffered critical damage and its crew required rescue. No such space rescue was needed.
Once Atlantis returns to Florida, shuttle engineers plan to study a short circuit in that orbiter that occurred during its May 11 launch. The glitch afflicted one of four redundant electronics boxes governing Atlantis? flight control surfaces. Engineers want to be sure a similar issue does not occur aboard Endeavour during its upcoming flight, mission managers said.
If the weather falls in Atlantis favor, the ferry flight could return the shuttle to Florida by Monday, Young said. The last shuttle to catch a piggyback ride home atop a jumbo jet was the shuttle Endeavour, which returned home from the California landing site last December after its STS-126 mission to the space station.
?We?re just waiting to see how it works out with the weather,? she added.
New Video - Drink Up! Astronauts Toast With Recycled Urine

New Video - Home Movies From Hubble - Telescope's Release

New Video Show - Hubble's Final Shuttle Service Call