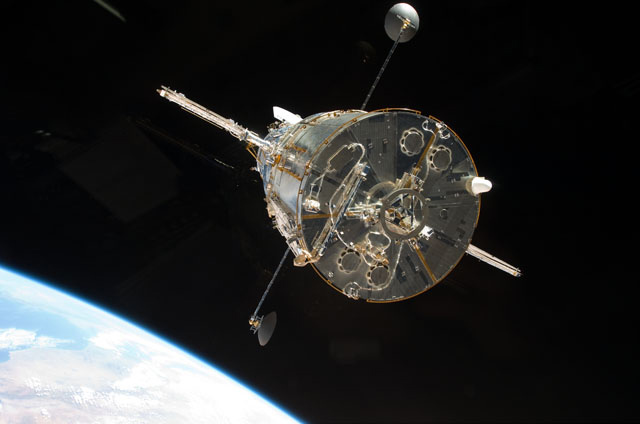 This story was updated at 10:40 a.m. EDT.
CAPE CANAVERAL, Fla. - Astronauts aboard the space shuttle Atlantis are headed home to land on a backup runway in California after bad weather thwarted earlier attempts to land in Florida.
The astronauts are now set land at 11:39 a.m. EDT (1539 GMT) at the Edwards Air Force Base in California to end a 13-day mission that gave the iconic Hubble Space Telescope one last service call. Rain showers within 30 miles of the shuttle?s landing strip here at NASA?s Kennedy Space Center prevented landing attempts earlier today, as well as on Friday and Saturday.
After clinging to hope the weather would improve in Florida, entry flight director ultimately opted to send Atlantis in California, where conditions are clear for a shuttle landing.
?The Edwards weather is great,? Mission Control radioed the Atlantis astronauts, adding that they should have clear skies and good communications all the home.
?Copy that,? Atlantis commander Scott Altman replied. ?A beautiful day in the desert.?
Atlantis fired its twin rocket engines at about 10:24 a.m. EDT (1424 GMT) to begin the descent back to Earth.
Altman and his crewafter overhauling the Hubble Space Telescope for the last time. The shuttle launched toward the 19-year-old space telescope on May 11.
Set to return to Earth with Altman are shuttle pilot Greg C. Johnson and mission specialists Michael Good, Megan McArthur, John Grunsfeld, Michael Massimino and Andrew Feustel.
During five back-to-back spacewalks, Atlantis astronauts installed two powerful new instruments, replaced aging gyroscopes and batteries, and repaired a pair of long-broken instruments that were never designed to be fixed in space.
The orbital work is expected to extend Hubble?s cosmic vision and life for at least five or 10 years. The astronauts also installed a docking ring on Hubble that will allow a robotic spacecraft to latch on sometime after 2020 and sent it plunging into the Pacific Ocean to end its mission.
The mission is NASA?s fifth and final flight to Hubble and cost about $1.1 billion. In all, about $10 billion has been invested in Hubble since its inception.
SPACE.com is providing continuous coverage of NASA's last mission to the Hubble Space Telescope with senior editor Tariq Malik in Cape Canaveral, Fla., and reporter Clara Moskowitz in New York. Click here for landing coverage, mission updates and SPACE.com's live NASA TV video feed. Live coverage begins at 6:30 a.m. EDT.
New Video - Home Movies From Hubble - Telescope?s Release

New Video Show - Hubble's Final Shuttle Service Call

Image Gallery - Hubble?s Latest Views of the Universe: Part 1, Part 2